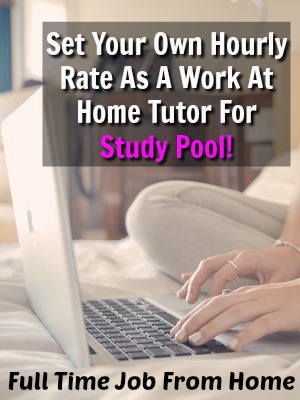 Please check comments on negative experiences from tutors and students. 
One popular way for many people to make money online is through tutoring. Well, I recently came across a pretty cool site called StudyPool that will pay you to help students with their questions.
StudyPool is a bit different than the other tutoring jobs that I've reviewed because you dictate the price you'll get paid for answering a student's question.
Tutoring online is a great way to make money from home, but I prefer a much more passive way to earn a full-time income, check out My #1 Recommendation, it's how I made over $13,000 online last month!
In this StudyPool Tutor Review, I'll show you the requirements, how it works, how much you get paid, and the other important details of this online tutoring job.
VIPKid is an ESL tutoring site paying up to $21 an hour. Make sure to read my VIPKid review!
---
StudyPool Tutor Requirements & Signing Up
I was a bit surprised to see that anyone can join StudyPool as a tutor, but you'll be bidding on jobs so just because you sign up doesn't mean you can get any jobs.

After signing up with your email or with a social media account such as Linkedin, you'll need to fill out your profile.
This will consist of a picture, name, short description of tutoring experience, and specific subjects you specialize in.
You'll then need to verify your identity by uploading your ID and verify your education (optional).
Once you're done you'll have to accept a pledge of excellence and no plagiarism policy. Once you're done you can start to bid on tutoring sessions.
---
How Does Tutoring At StudyPool Work?
Once you've joined StudyPool as a tutor here are the steps, you'll go through to get work and get paid to tutor.
1) Find Students That Need Help
When you log in, you'll see all the questions students have asked. You'll be able to see the category and the exact problem the student is having issues with.
2) Place A Bid On Helping
If you think you can help, you can put in a bid to help the student with the question. If the student accepts your bid, you'll enter a tutoring session next and be paid 40% of the bid price up front.
3) Enter A Tutoring Session
Once your bid is accepted, you'll enter a tutoring session with the student. It's your job to instruct the student and answer their question. Once the student understands and you've provided all the tutoring necessary the session will end.
4) Complete and Get Paid
Once the tutoring session is complete and the student is satisfied you'll be paid the remaining 60% of the bid price. At that time earnings show up in your account.
---
How Much Does A Tutor Get Paid?
Since you bid on tutoring sessions, there's no set amount you can earn hourly or for tutoring at StudyPool. Income is dependent on how many tutoring sessions you can get. Next, I'll cover how to earn more, so make sure to check it out.
But StudyPool takes a flat rate of 15% of all transactions, so if your bid of $50 gets accepted, you'll earn 85% or $42.50.
Payments are made by check or via PayPal within five days of requesting payment.
---
Tools To Earn More As A StudyPool Tutor
StudyPool does give you a few tools and site features to earn more. I've covered them all below.
Build A Network
When you join as a tutor, you'll have an online profile that students can add as a friend and suggest you to other students.
As you complete tutoring sessions, request students to add you as a friend and suggest you to others. Eventually, you might have enough friends to keep you busy tutoring.
Reputation
There is a reputation score that all students can see when you post a bid. Your reputation score is out of 5 stars and will be the key to getting jobs and making money on StudyPool.
You can raise your reputation by being friendly and helping out the students. Ask for positive feedback after sessions and your reputation score will rise.
Verify Education
An excellent way to get more tutoring jobs and make more money is to verify your education. When you verify your education, it shows up on your profile as a badge, so students know that you're legit and know about the subject.
You'll need to upload documentation about your education; StudyPool will approve it and add it your profile.
Easy Questions
Another way to earn more with StudyPool is through quick questions. These are quick and easy questions that students ask that might not need a full tutoring session to be answered. Any tutor can submit a reply and when your answer gets "bested" (chosen as the best answer) you earn some extra cash along with a boost in your reputation score!
---
StudyPool Tutor Concerns and Complaints
There seems to be a lot of complaints from students and teachers. Several accounts get banned and you can't withdraw any money you've earned or money you added to your account to pay for tutoring. 
The biggest concern is getting paid for tutoring sessions. Students do have the ability to give you a bad score and withhold payments if they don't like the tutoring they received, but there's also some protection set up for you, which I cover below.
First off they require students to pay 40% of the bid cost up front, so you know that you're going to get that.
They also have a review process. So if a student is unhappy and wants to withhold payments, you can put in a review, most of the time if you put out great tutoring and have a good reputation you should have no problem getting paid.
As long as you take pride in helping students, you should have no problems!
---
Is StudyPool Tutoring a Scam or Legit?
There seems to be a lot of negative stories about StudyPool. I would check this list of online education jobs before joining here.
To learn more or to sign up visit Become A StudyPool Tutor.
If online tutoring isn't for you, here are some other great ways to earn an extra income online in your free time. You might be interested in how you can build a full-time online income, check out My #1 Recommendation, it's how I made over $13,000 online last month!
Do you think tutoring at StudyPool is a scam? Let me hear your thoughts on this tutoring review in the comments section below!