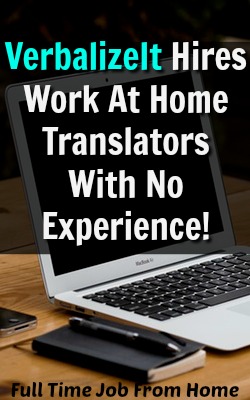 If you're looking to become a translator and need a flexible schedule VerbalizeIt might be the perfect job for you. VerablizeIt is a site that offers translation services in over 150 languages and hires translators from around the world.
It seems that they have had some negative feedback in the past, so I had to put out a VerbalizeIt Translator Review to cover all the important details. From what I found, it looks like VerbalizeIt is legit, but has had some problems recently.
Earning an online income as a translator is great, but I prefer a much more passive way to work from home, check out My #1 Recommendation to learn how I made over $13,000 online last month!
In this review, I'll cover the requirements, how to apply, how much they pay, and why this translator job is legit!
---
VerbalizeIt Requirements
As you probably guessed you need to fluent in at least two languages that VerbalizeIt offers translation services in. I've included a screenshot of all the available languages below:
As long as you can translate in two of these languages you should be able to meet the requirements for VerbalizeIt.
The computer requirements are a computer with internet access, Microsoft Office, and access to an online dictionary/thesaurus for the languages you'll be translating.
---
VerbalizeIt Application And Training
Signing up for VerbalizeIt is very simple, but after signing up you'll need to complete a written and audio proficiency tests in the languages you're fluent in. From the look of things, these usually take around two hours to complete altogether.
After you pass the tests you'll need to tell them your skills and past experience, along with adding your payment information and completing your profile.
If all goes well on your tests you'll be accepted and can begin to work.
---
How The Translator Job Works
They do a very good job of explaining it on their website so I've decided to include the graphic below:
As you can see, once you're accepted you can log on at any time to complete work. When work is available they'll notify you. All you need to do is complete the translation to get paid. All files range in length and difficulty. Pay rate depends on these factors.
---
How Much Does Verbalizeit Pay?
Unfortunately, I can't find an exact rate of how much VerbalizeIt pays, but I do know the pay is per translation file and not hourly. In the forums, I've seen "low pay" mentioned multiple times, but I'm not sure how much it really is.
They do pay via PayPal twice a month on the 15th and 30th. You'll be hired as an independent contractor, so earnings over $600 need to be reported come tax time.
---
VerbalizeIt Translator Schedule
Once you're accepted this is one of those log on at any time and work sites, as long as work is available of course. From what I can see there seems to be a good amount of work available for most translators, but I don't think you could keep yourself busy as a full-time translator with VerbalizeIt.
---
VerbalizeIt Concerns and Complaints
Most of the work at home jobs I review do have some negative feedback, but it's usually people complaining about little things. But I ran across a few reviews on VerbalizeIt that mentioned not getting paid for a few months of work.
Now I don't know if it's completely true or not, but it is something to keep in mind. There is a lot of positive feedback about the company over the last few years as well.
---
Is VerbalizeIt A Scam?
I don't think VerbalizeIt is a scam, but it seems that they've built up some negative feedback from past and current workers. I'm not going to say pass on VerbalizeIt completely, but you should know of the complaints from current workers. With that being said there's also a lot of positive feedback over the last few years.
If you have the skills and are looking for a flexible work at home translator job VerbalizeIt is an option that you should check out. I wish I could give you an estimate of what most members are making hourly, but I can't find anything like that in the forums other than "low pay" or "fair pay".
If you'd like to learn more or to start the application process visit VerbalizeIt become a translator.
Want to see the extra income jobs that I highly recommend? Visit all scam free extra income sites or see how to make a full-time income online with My #1 Recommendation it's how I made over $13,000 online last month!
If you didn't find what you were looking for here, check out these helpful links to other ways to make money from home:
How I Made Over $13,000 Online Last Month
Extra Income Sites I Use and Recommend
Work From Home Jobs Hiring Now
Do you think VerbalizeIt is a scam? Worked For them? Let me hear your thoughts on this VerbalizeIt Review in the comments section below!
Summary
Reviewer
Review Date
Reviewed Item
Author Rating