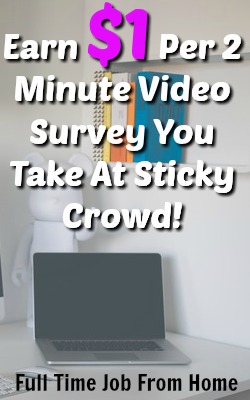 Sticky Crowd is a new kind of survey site that is similar to usability testing. Sticky Crowd will pay you to take short surveys by watching a video and recording where you're eyes go during the video.
This isn't a new concept, but I haven't seen many sites that will pay you for your time. I decided to write this Sticky Crowd Review to show you that this is a scam free way to make money online that seems to be more fun then taking the normal, long, and boring traditional surveys.
In this review, I'll show you how it works, how much you're paid, and answer is Sticky Crowd a scam!
---
What Is Sticky Crowd?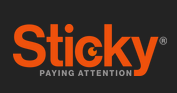 Sticky Crowd is a company that provides research for website owners. Being able to track where your website visitors eyes go while viewing your content is a very helpful piece of information that can help to understand your readers and improve conversion rates.
Since Sticky Crowd provides this service to businesses, they need people to actually view the content!
This is where you come in and can get paid. Here's how Sticky Crowd works:
1) Sign Up
To begin the sign-up process you'll need to calibrate your webcam. You first need to allow access to your webcam. After you'll be required to calibrate your webcam, by looking at different areas of the screen.
They require your computer to be on a flat surface and would like you to be sitting up straight. It's best that you're always in the same location to make tracking your eyes easier!
After calibrating your webcam, there's a sample video to watch. It's just a few minutes long, and Sticky Crowd will track where your eyes go during the video.
After the sample video, you fill out some information about yourself so you can log on in the future.
2) Wait For New Surveys
When new surveys are available, you'll be notified via email, or you can log on and check at anytime. When a new survey comes in, visit their website. You'll watch a short video, usually under 5 minutes, and then have a few questions to answer.
Most of the time the whole process takes 5-10 minutes to complete.
3) Get Paid For Your Time
After your feedback has been submitted, it will be reviewed. As long as you provide quality feedback and followed instructions, you'll be paid for your time. Most surveys pay $1.
---
Sticky Crowd Requirements
Sticky Crowd is only available within the US. As you probably guessed, you'll need a computer with internet access and a webcam. The webcam can be built in, but an aftermarket webcam will work just fine as well. I recommend this high-quality webcam from Amazon.
The only other requirements are being dedicated to giving accurate and helpful feedback. If you don't, you'll be removed from the panel!
---
How Much Does Sticky Crowd Pay?
Sticky Crowd pays via PayPal and Amazon Gift Card once your account reaches $12.50. From what I can see most videos take 2-5 minutes to complete and usually pay $1 each.
They do give you an option on how many surveys you'd like to receive. I'd suggest selecting the maximum to increase your earnings!
---
Sticky Crowd Concerns And Complaints
Recording
To complete surveys for Sticky Crowd, you're required to record yourself. Now they say all recordings are kept private and that they never record unless your watching a video on their website.
I have no problem recording myself, but some people won't be comfortable. If it bothers you, Sticky Crowd isn't for you.
You can see some other ways to make an extra income online here.
PayPal Payments
I love that Sticky Crowd has PayPal payments as an option, but I found in the forums that PayPal does take a fee out of the payment.
It's not a huge amount, but it does suck you won't get paid your full earnings if you choose PayPal.
To avoid the fee, you can cash out via Amazon Gift Card.
---
Is Sticky Crowd Legit or A Scam?
Sticky Crowd is a legit and scam free site that pays you to take "surveys with your eyes." It's a pretty unique way to take surveys and is similar to usability testing.
I like that it's a break from the normal boring surveys, and that they do pay via PayPal. There're a few concerns, and at this time Sticky Crowd isn't super popular.
But if you do decide to join they do actually pay and it's a pretty fun way to take surveys.
If you'd like to learn more or to join visit Sticky Crowd and start the application process.
If you're not comfortable recording yourself, Sticky Crowd isn't for you. But here's some other great ways to earn an extra income online!
If you combine a few of my extra income site recommendations you can make a decent online income, but here's the best way to make a full-time income from home!
Have you taken any Sticky Crowd Surveys? Have proof it's legit? Let me hear your thoughts on this Sticky Crowd Review in the comments section below!
Summary
Reviewer
Review Date
Reviewed Item
Author Rating