23
Lucky Day App Scam Review: Do They Pay?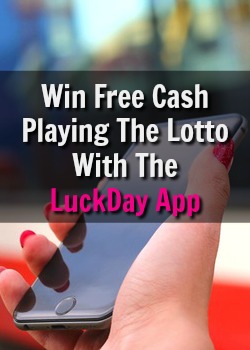 Update 11/1/17: LuckyDay is not legitimate. Here're the Legitimate Extra Income Sites I Recommend. 
I recently came across a really cool app called Lucky Day. This app gives you the chance to earn cash every single day through lotto, slots, and scratch offs.
The best thing is it's completely free to use and actually does pay! I decided to write this Lucky Day App Review because there's a few people out there saying that this app is a scam.
This app isn't going to be a huge income, but will actually pay you your earnings if you do win!
In this Lucky Day review I'll cover how it works, how you're paid, and see if this app is legitimate or just another scam!
Update 5.6.16: The Lucky Day App is starting to have issues paying its members. I no longer recommend this app. Please visit the ways to make an extra income I Recommend. 
---
How To Earn With the Lucky Day App?
Scratcher

This is basically a scratch off. If you match three identical items you'll earn a cash prize that's randomly generated. This costs one credit and gives you 5 chances to win.
Slots
Match 3 items across a horizontal line to win a random cash prize. Slots cost 1 credit and gives you 5 chances to win.
Lotto
This costs 2 credits, but does give you the biggest income opportunity. Pick 6 numbers and wait for the daily lotto number drawing.
If you match 3 or less you'll earn play credits, but match 4 and earn $5, match 5 and win $50, get all 6 right and you'll win the jackpot!
---
How To Earn Play Credits?
To play the games listed above you need credits. There's 3 different ways to earn credits and they're all completely free. I cover them below!
Free Daily Credits
Every 24 hours you can open the Lucky Day app and get free credits. The first day you'll receive 2 credit and the amount goes up if you log in multiple days in a row. This is the easiest way and most likely how you'll earn the most credits.
Referring Friends
Another way to earn credits is through referring your friends. When you download and sign up you'll have a place to enter a referral code. Mine is:ZACGTGU. When your friends enter in your code they'll earn a free bonus and you earn 5 play credits for every friend you refer!
Codes
Occasionally there will be bonus codes, listed on their social media accounts, that can be entered inside the app to earn some bonus credits.
---
How To Get Paid By Lucky Day?
Once you win money through LuckyDay you can get paid via PayPal once your account reaches $10. You can also donate your earnings to charity at any time.
From what I've seen payments are usually in your account within 24 hours after you cash out through the app.
---
Lucky Day App Review

App: LuckyDay
Price: Free
Score: 80 Out of 100 I no longer recommend this app!
Verdict: Legit  Having Major Issues With Payments
Update 5.6.16: Although I've been paid by this app many months ago, they're starting to have payment issues and aren't very responsive with support. I no longer recommend this app, it's not worth taking a chance of not getting paid! Here's the apps I do recommend. 
In this Lucky Day App Review I gave them a good score and marked the app legit. I'm not usually a fan of sites that consist of being lucky and winning sweepstakes, but this is a legitimate app that can earn you some extra bucks for a few minutes of your time.
There's no guarantee you'll win anything, but it's completely free so you might as well give it a shot with the free credits you'll earn.
Do not expect this app to pay for your bills, but it can be a fun way to earn some extra cash. You can join by downloading the app and entering the referral code: ZACGTGU for a special bonus and free credits!
---
Lucky Day App Concerns and Complaints
Random Winning Amounts
One major concern is that the winning amounts are randomly generated when you play a game. Some people think this means the app is fixed. Now I'm not going to say you have a big chance of winning, but I've used the app and have won a few cash payments of $3.
I'd say it's not fixed to where you can't win, but winning the jackpot is very unlikely, just like it would be at a casino.
No Income Guarantee
I'm not a huge fan of sites that don't guarantee you an income. Obviously there's no guarantee you'll win cash through this app.
I can say that I've used the app for a few weeks and have won twice so far. It's completely free so I can't complain really.
But don't count on this app as an income to cover expenses. It should just be a fun way to make some extra income.
$10 Cash Out Amount
Another concern with this app is that you can't get your money until you earn $10. From what I can see it should only take you a few winnings to reach that amount, but there's no guarantee you'll ever reach the cash out amount.
As soon as I reach $10 I'll make sure to update this review with payment proof, but there's proof across the web with people sharing payments!
---
Is the Lucky Day App Legit or a Scam?
The Lucky Day App is completely legit and will pay you your winnings once you reach $10. There's not really anything about this app that makes it seem like a scam, other then the idea that it might be fixed. I don't think it is, it's just the odds are obviously against you like most gambling. Luckily for us Lucky Day is completely free and you don't need to spend money!
If you'd like to try the Lucky Day App, just download it in your mobile device's app store. Enter the referral code: ZACGTGU, to earn some extra play credits. I no longer recommend this app: Here are the extra income sites I recommend.
Leaving your income to chance not for you? I have to agree with you, you can see some other ways to earn a guaranteed income with these smartphone apps or extra income sites that I recommend.
Would you like to make a large income? Here's how to Work At Home Full-Time!
Do you think the Lucky Day App is a scam? Have proof it's legit? Let me hear your thoughts on this Lucky Day App Review in the comments section below!
Summary
Reviewer
Review Date
Reviewed Item
Author Rating