I recently came across a cool app called Lucky Day. This app gives you the chance to earn cash every single day through raffles, lotto, and scratchers.
I decided to write this Lucky Day App Review because there are a few people out there saying that this app is a scam and I wanted to find out for myself.
Please understand that this app won't be a huge income, and you're leaving your earnings to chance. If you're interested in making a full-time income online, check out My #1 Recommendation, it's how I made over $13,000 online last month!
In this Lucky Day review, I'll cover how it works, how you're paid and see if this app is legitimate or just another scam!
Known Scam: On Instagram fake accounts are contacting people saying they have won millions of dollars and will ask you to pay to receive your money. These Instagram accounts are not associated with the Lucky Day App. Lucky day accounts use the handle @luckydayapp, and the company said they only reach out to users via emails ending with  @luckydayapp.com.
With that being said, I still have complaints about the app, so stick around to see why this might not be the best app to use.
---
Lucky Day App Review
App: Lucky Day
Type: Lotto/Scratcher
Verdict: It's Okay
In this Lucky Day App review, I marked them okay. There's a ton of mixed feedback with this app, and please understand that it's not going to earn you a ton of money. You'll need to be logging in the app each day and completing scratchers to win.
For this company to pay you, they have to be earning money somehow. Obviously, they aren't just giving people free money, and they achieve this with ads. Expect to view several ads before you win.
They also have a $10 cash amount which is going to take some time to reach, again they have to make money to pay you money, so they need to earn some ad revenue from you before you're going to win.
There's also a lot of complaints about getting close to the cashout amount quickly, then being stuck without winning for a long time. Which again, ties into the company needed to make money.
Overall, this is not an app I'm going to use, you're leaving your earnings up to chance, there's a lot of mixed feedback, and I know of much better ways to make an extra income.
---
How To Earn Cash With the Lucky Day App?
There're a few ways to earn actual cash inside the Lucky Day app; Cash is what you need to cash out via PayPal once you earn $10.
Raffles
LuckyDay holds daily and monthly raffles. Most daily raffles are $500, and most monthly raffles are $5,000. For the daily raffle, you earn one entry for free (you must claim your entry each day.) If you'd like to more entries you'll need to buy them with tokens; each extra entry costs 10,000 tokens.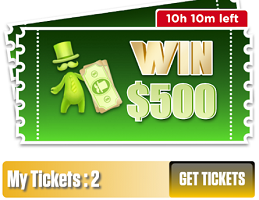 With the monthly raffle, you can claim one free entry per month and will need to purchase more entries for 10,000 tokens to increase your chance of winning.
Lotto
LuckyDay has a daily lotto where you pick 6 numbers. If you match 1-3 numbers, you'll earn tokens which you can exchange for more raffle entries. If you match 4-6, you'll earn a cash reward. Just like Raffles, you'll need to open the app and pick your numbers each day to have a chance of winning. Below I've included how much you'll earn in the Lotto. Unfortunately, I could not find how much the Jackpot was anywhere.
Scratchers
Scratchers are the main way you can earn cash and tokens when you log on to the app. They have scratchers that give you the chance to win cash or tokens. You'll be able to see how much you could win before you complete a scratcher. If you match 3 symbols, you'll earn the scratcher amount plus some additional tokens.
Even if you do not match three, all scratchers pay out tokens under the bonus section of the scratcher.
Please note, that after every few scratchers you'll have to watch a video ad before you can do more.
---
How To Earn Tokens?
Tokens are a currency that you can exchange for more Raffle entries and gift cards (gift cards start at $2 and cost 3 million tokens.) Here're the ways to earn tokens.
Scratchers
They have scratchers where the main payout, if you match three symbols, is tokens. Also, each scratcher has a bonus section that earns you tokens each time.
Refer Friends
You can also earn tokens by referring friends (you do not earn cash for referring friends.) You can invite friends via text, email, social media, and they will give you a referral code you can give to anyone.
You'll earn 100,000 tokens for every friend that you refer.
Black Jack
Another way to earn tokens is by playing BlackJack; you can not earn cash for winning. You can bet the tokens you earn up to three hands at a time. As you guessed, the dealer seems to be pretty damn lucky.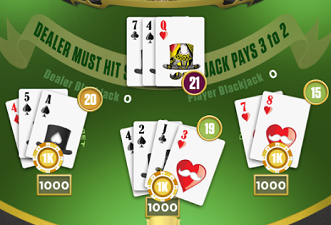 Free Tokens
In this section, you can earn free tokens by completing offers, surveys, and watching ads. This is very similar to how you would earn at a Reward Site such as Swagbucks. These are unskilled tasks that will earn you a few tokens a piece.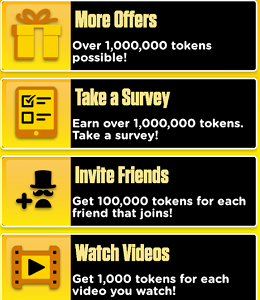 ---
How To Get Paid By Lucky Day?
So there're two ways to get paid by LuckyDay, Cash and gift cards. Let me make it clear that you can not exchange tokens for cash; they are two separate currencies.
Once you earn $10 Cash, you can exchange it for a PayPal payment. Their FAQs state that it could take up to 7 business days to get paid.
Tokens are used to buy more Raffle entries (which gives you a chance of earning cash), or you can exchange them for gift cards.
The cheapest gift cards cost 3,000,000 tokens and only gives you a $2 gift card, plus the selection is limited. Starting at 5,000,000 tokens the selection is better, and you'll earn a $5 gift card.
Again, their FAQs state that it can take up to 7 days to receive your gift card.
---
Lucky Day App Concerns and Complaints
Not A Guaranteed Income
My first complaint with the LuckyDay app is that it's not a guaranteed income. There're tons of apps that will pay you to watch ads, and they guarantee you'll get paid for watching them. With that being said, with LuckyDay you have a chance of winning big, but there's no guarantee you'll ever win.
Ads, Ads, and More Video Ads
LuckyDay isn't just giving away free money; they have to earn the money that they pay out, so get ready to watch video ads. After every few scratchers, they will prompt you to watch a video ad that's 15-30 seconds long. If you click "not now" all it does is make you watch a video the next time you click on a scratcher.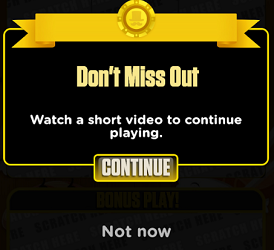 I Made $9.25! $10 Cashout Amount
You can't get paid cash until you earn $10, so even if you match 4 numbers on the lotto and earn $5, you won't be paid a thing until you earn over $10. I have seen several complaints of users earning close to the cashout amount rather quickly than being stuck at that amount for a long time.
Making $9 with this app is great, but you won't get paid a cent until you earn over $10!
Love To Give You Tokens For Another CHANCE of Winning
I'm not a fan of "make money apps" that have more than one currency. Everything you do should earn you the same currency, and it should be redeemable for all rewards. With LuckyDay cash and tokens are two completely different currencies. You need $10 cash to get paid via PayPal and tokens can be exchanged for more raffle entries, or for $2 gift cards once you earn 3,000,000 tokens.
They love to give you tokens after each scratcher, which is great, but all that they can be used for is another chance of winning cash.
Not a Long Term Method To Make Money
If you're looking for a consistent online income, Lucky Day is not the app for you. It's going to take some time to win, and there's no guarantee of ever reaching the cashout amount. To me, it looks like you'll be spending a lot of time in this app if you want a chance to win big.
I prefer making money with extra income sites that I can count on to pay me every month. But even the legitimate apps are just an extra income.
If you're looking for a large online income, Lucky Day isn't for you, check out My #1 Recommendation, it's how I made over $13,000 online last month!
---
Is the Lucky Day App Legit or a Scam?
So now the answer that you've been waiting for, I can't say that the Lucky Day App is a complete scam, because I've seen a few payment proofs from reputable people that I trust, but winning and earning money through the Lucky Day App is not as easy as they want you to think.
It's going to take many weeks if not months to win enough to reach the cashout amount; again they have to earn money so viewing ads is going to be required for you to continue to earn.
If you want to earn money on your phone by viewing ads, several other apps will do that, and they guarantee that you'll earn. Of course, the chance of earning big is not an option with those apps.
Overall, I don't see the LuckyDay app being worth my time, but you might feel differently. If you decide to join, please understand that this won't be a quick income and there're several complaints that current members have.
If you'd like to join, visit LuckyDayApp.com to get signed up for free.
I won't be using the Lucky Day App because I don't want to leave my earnings up to chance and I don't want to be stuck near the cashout amount not getting paid. If you agree and would like to see some legitimate ways to earn an extra income and proof they pay, visit All The Extra Income Sites That Pay Me!
Please understand that the LuckyDay App and other extra income sites won't be a large income. If you're interested in making a full-time income online, check out My #1 Recommendation, it's how I made over $13,000 online last month!
If you didn't find what you were looking for here, check out these helpful links to other ways to make money online:
Work From Home Companies Hiring Now
Extra Income Sites That Pay Me Each Month
How I Made Over $13,000 Online Last Month
What is your experience with the LuckyDay App? I'd love to hear your thoughts on this review in the comments below!
Summary
Reviewer
Review Date
Reviewed Item
Author Rating