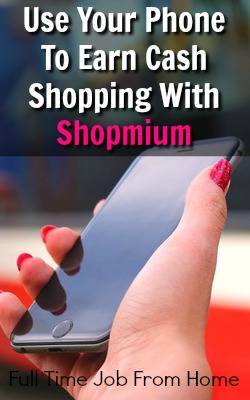 NO LONGER AVAILABLE. CHECK OUT IBOTTA
If you follow my site you know I'm a huge fan of getting paid cash for things I already do. One thing that you and I always do is grocery shop. Unfortunately it's something that has to be done, so why not get paid cash back for your grocery shopping.
One really cool app that pays you for this is Shopmium. It's very similar to Ibotta, but does have some minor difference, mainly with how the payments work. Since Shopmium is another great option to get paid for grocery shopping I had to write a review.
In this Shopmium App Review I'll cover how it works, how you get paid, what items you get paid for, what stores you can buy items at, and answer is this legit or just another shopping scam!
NO LONGER AVAILABLE. CHECK OUT IBOTTA
---
How Does Shopmium Work?
1) Download The App
The first step to getting paid for grocery shopping is downloading the app. You can visit their website or download the app on your Apple or Android device in the app store. To get a bonus when signing up use the referral code: KUYCGMHP
2) Find Stores Near You
The app will pull up all the available stores near you, using your location. You can see exactly what products they'll pay you to buy at each store near you!
3) Find The Products You Get Paid For
Once you've found the stores near you, search through the products they pay you for. Find the products you'd like to buy and go to the store to make the purchase.
4) Purchase & Upload Receipt
Purchase the items Shopmium will pay you cash back for. Make sure to keep your receipt! Upload the receipt by scanning the bar code or by taking a picture with your mobile device.
5) Get Paid
It may take up to 72 hours for your cash back to be approved, but once it is, payments are made via PayPal or Direct Deposit right away!
Here's a video explaining the whole process:
---
Shopmium App Review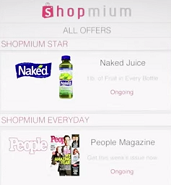 App: Shopmium
Price: Free
Score: 90 Out of 100
Verdict: Legit Use Referral Code: KUYCGMHP
In this Shopmium App Review I gave them a really good score and marked it legit. Like I mentioned this app is very similar to Ibotta. I recommend both apps honestly, but you can try both and see which one you prefer.
I really like that it's very simple to see what items they pay cash back on and how much they pay. The app is super easy to use and uploading receipts could not be easier.
Either app is scam free and a great option to get paid for your grocery shopping!
---
What Stores Are Available?
Almost any store is available on Shopmium. Once you download the app you can see all the stores close to you that pay cash back. Stores like Walmart, Target, Kroger and other leading grocers are all available. Along with some of the discount grocery stores.
Really any store that's not a home town, mom and pop store, is listed on Shopmium. You should have no problem finding a store near you that pays cash back!
---
What Items Pay You Cash Back?
Most of the items that pay you cash back are grocery items, but from time to time you'll find things like magazines and beauty products. Items are updated each week so you never really know what items are going to pop up as cash back.
But most items you find will fall into the grocery category with an occasional health and beauty product.
---
How Does Shopmium Pay?
The best thing about Shopmium is the payment system. You can choose to get paid via PayPal or Direct Deposit.
There's no minimum cash out amount with Shopmium. Which means, as soon as your cash back is approved they'll send it to you via the payment system of your choice!
---
How To Earn More With Shopmium
The Shopmium App offers a referral program that can earn you more money! Here's how it works.
You'll earn $2 for every friend you refer after they complete their first shopping rebate. For example if you refer your friend and they upload a receipt for cashback, you'll earn $2 once it's approved!
They give you a few easy ways to invite your friends via text, email, and Facebook which includes your referral link. You're also given a referral code that can be entered in on the app when your friends join. Mine is  when your friend joins through you, they'll also get some special bonus freebies!
---
Is the Shopmium App A Scam?
The Shopmium App is not a scam. It's actually a completely legitimate way to earn money while grocery shopping.
I really like that the app is super easy to use, it's available at almost any store, and the payments are instant! You can also earn a few extra easy bucks just for inviting your friends.
NO LONGER AVAILABLE. CHECK OUT IBOTTA
If you're looking to make money while you shop, Shopmium is a great option! To join all you need to do is download the app on your mobile device's app store. If you enter the code KUYCGMHP you'll earn a special freebie for joining!
NO LONGER AVAILABLE. CHECK OUT IBOTTA
If Shopmium interests you, check out Ibotta, it's very similar and you might be able to earn cash back in two places at the same time!
Do you like making money for things you already do? Here's some other ways to earn an extra income from home, you don't even have to do anything special!
If an extra income doesn't excite you, here's a way you can be your own boss, work at home, and make a full-time online income.
Do you think the Shopmium app is a scam? Have you been paid for your grocery shopping already? I'd love to hear your thoughts on this Shopmium review in the comments section below!
Summary
Reviewer
Review Date
Reviewed Item
Author Rating