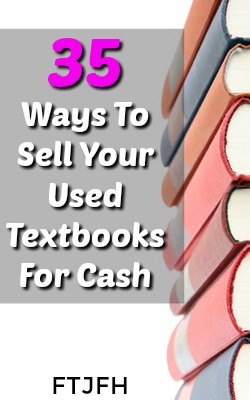 Do you have old used books or textbooks laying around? You might as well sell them online for some quick cash!
Today I'm going to show you how you can sell your used books and give you the best sites to do so. I've put together a little guide on how most of the sites work and how to maximize your earnings.
Now, this isn't going to make you rich, but if your books are sitting around, you might as well get a quick buck out of them. If you're looking for a large online income, check out My #1 Recommendation, it's how I made over $13,000 online last month!
Let's go ahead and get started, here's how you can turn your used books into quick cash by selling them online.
---
How Does Selling Used Textbooks Work?
The process of selling used books online is very simple with the sites that I list below. Here're the steps for most of the sites.
1) Enter In The ISBN Number
The first step to selling your used books is to visit the sites below and enter your book's ISBN number. Most sites also let you search by the title.
2) See How Much They'll Pay
If a site buys back your used book, they'll show you the exact price they will pay as long as the book is in good condition.
3) Accept The Price
If the price is reasonable, you can accept the price. Refer to the next section on how to get the most cash out of your books. I'll show you an easy way to find out who pays the most!
4) Ship Your Books
Most of the sites pay for shipping. Some will send you a box that you can use, but other requires you to use your own shipping materials. If they pay for shipping, you can easily print a pre-paid label off their site. Simply ship the books back!
5) Get Paid!
After the site receives your books, they'll review the condition and order. You will then get paid the agreed upon price for your used textbook via PayPal or mailed check, depending on the site.
---
How To Get The Most Cash For Your TextBooks?
You could go through the long list of sites that I list below and see what each will pay for your book, but why do that when there're sites that will compare the price across all the buyback websites. Below I've listed two sites that can help you get the most money for your used books!
BookScouter *recommended*
Bonavendi (suggested by reader in comments)
Visit either of these sites, type in your ISBN number, and see a price comparison from the top book buy back sites. You can see an example of how it works below: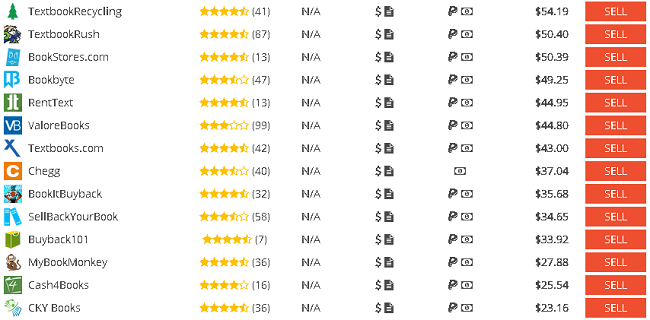 ---
35 Sites That Pay Cash For Used Textbooks
Here's a full list of scam free legit sites that pay you for used books and textbooks. They are not listed in any particular order. Almost all have the option to pay with PayPal or mailed check, but I've marked them if they only pay via mailed check.
[one_third_first]
eCampus (check only)
SellBackBooks (check only)
BookEmporium (check only)
[/one_third_first][one_third]
[/one_third][one_third_last]
BooksIntoCash (check only)
[/one_third_last]
---
Other Options To Sell Your Books Online
If for some reason none of the sites are buying your textbook back, there're a few other options that I'll cover below.
Amazon
Amazon does have a program where they buy back books called their trade in program, but the only way they pay is with Amazon Gift Cards. Another option is to become an Amazon Seller and list your books for sale. If you're just selling a few textbooks, becoming a seller probably isn't worth the time, but they do offer a program where you can ship them your items, and if they sell they handle the whole shipping process for a cut of the selling price.
As I mentioned, if you're just selling a few textbooks this probably isn't worth it, but if you have a large collection of genre books, selling on Amazon might be the best option for you!
eBay
Another option is selling your books on eBay. These days you can list a book on eBay in just a few minutes by entering in the ISBN number. Of course with this option, you're responsible for shipping the items that sell, and there's no guarantee your items will ever sell.
---
Hopefully, this post will help you get paid cash for your used books. I did my best to give you tons of options on where to sell your used textbooks and give you a few tricks to easily compare prices. If you can't find your books listed on the sites, there are a few other options with Amazon and eBay. But, those are more work and usually require you to do some shipping which takes some time.
If you're looking to make quick and easy cash, I'd stick with one of the 35 sites that pay cash for used books that I've listed. Personally, I've only used Chegg to sell a few books back, but all of the sites seem to be legit and have some positive feedback across the internet.
Now it's time for you to make some money from your old books, but you might be interested in some other great ways to earn extra cash online. If you're looking for a full-time online income, check out My #1 Recommendation, it's how I made over $13,000 online last month!
Did you sell your used textbooks for cash? Used any of these online sites before? Let me hear your thoughts on this selling used books for cash guide in the comments section below!