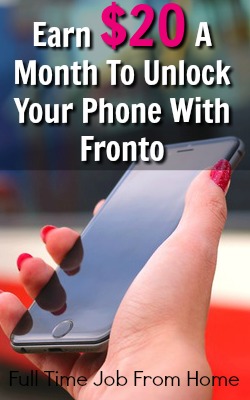 Did you know you can get paid to unlock you smartphone? Today I'm going to show you a smartphone app called Fronto Lock Screen that will show you targeted ads and pay you for them.
Every time you go to unlock your phone you'll be shown an ad. When you view the ad by unlocking your phone, you'll earn points that can be exchanged for gift cards and PayPal payments.
I decided to write this Fronto Lock Screen App review because I wanted to be sure this wasn't a scam.
In this review I'll show you how it works, what rewards are available, and decide if this app is legit or a scam.
---
How Does The Fronto App Work?
1) Download the App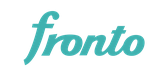 The Fronto Lock Screen app is only available on Android Mobile Devices. You can download the app within the app store on your mobile device.
2) Fill Out Your Profile
Once you join you need to fill out your profile so Fronto can show you ads that you're interested in. This only takes a few minutes.
3) Start Unlocking Your Phone
Soon Fronto will start showing you ads when you go to unlock your phone. You can swipe left to interact with the ad, or swipe right to continue unlocking your phone.
You do get paid when you ignore the ad, but will be paid more if you interact with the ads.
4) Exchange Points For Rewards
Once you've built up some points for unlocking your phone you can exchange points for gift cards and PayPal payments.
---
Fronto Lock Screen App Review
App: Fronto Lock Screen
Price: Free 
Score: 80 Out Of 100
Verdict: Legit
In this Fronto Lock Screen App Review I gave them a good score and marked them legit. I like that you get paid to view the ad even if you don't interact with it.
I like that they have PayPal as an option for payments, but I do have a few concerns.
Quite a few similar apps have stopped paying members eventually. At this time Fronto is still paying so hopefully they will be for a long time.
This is an app worth downloading if you'd like to get paid to unlock your Android smart phone.
---
Fronto Lock Screen App Rewards
There's a few different ways to get paid by Fronto, exchange your points for PayPal payments, Amazon gift cards, and coupons.
PayPal gift cards start at $5 and most gift cards start at $5-$10.
Coupons can be redeemed easily online. They'll give you the code that can be entered in.
---
Fronto Lock Screen Concerns & Complaints
Not Giving Rewards On Every Ad
Fronto isn't super popular yet, which means there's not that many advertisers. Because of this you won't get rewarded for every ad they show.
Some ads are just filled in and not someone paying for the advertisement.
Not a huge deal since this is just an extra income app, but can be annoying if you don't get a paid advertisement for a while.
Small Income
Obviously unlocking your phone isn't going to give you a full time income. It's a small income for something you do without even noticing really.
I'd say you can reach the cash out amount every 1-2 months.
Other Similar Apps
Now this doesn't really mean that Fronto will go out of business, but I've seen quite a few similar apps stop paying their members and eventually shutting down. I can't say this is going to happen to Fronto, but it's something to be aware of.
---
Is the Fronto Lock Screen App A Scam?
The fronto lock screen app is not a scam. It's a legit way to get paid to unlock your phone. I will say that this is not a lucrative app by any means. But is a unique way to earn a few extra bucks each month.
It concerns me that similar apps have closed up shop, but with any industry, the weaker business eventually close.
If you'd like to get paid by Fronto to unlock your phone you can learn more on their website. Or simply download the app on you Android device.
Don't have an Android phone? Here's some other great ways to make an extra income with your phone.
Tired of making extra income online? Here's how you can work at home full-time!
Do you think the Fronto Lock Screen App is a scam? Let me hear your thoughts on this review in the comments section below!
Summary
Reviewer
Review Date
Reviewed Item
Author Rating