1
Runister App Review: Scam or Legitimate Paid To Run App?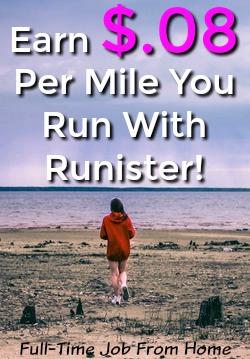 I recently came across a pretty cool app for runners called Runister. It's a new app started in the UK but seems to be available in most countries. Runister pays you to log your outdoor running and walking workouts. *Treadmill workouts do not count.
At this time the app is only available in the App store on IOS devices.
You'll earn $.08 for every workout you log inside their app and get paid via PayPal.
In this Runister App Review, I'll cover how it works, how to get paid, and if this legitimate running app is worth using.
---
Runister App Review
App: Runister
Type: Paid To Workout
Verdict: Legitimate
In this Runister Review, I marked them legitimate. There's no doubt that the Runister app is legitimate, but there're some issues that I'll bring up in this review that doesn't make it super convenient like some other running apps.
If you log your workouts inside the app, you will get paid $.08 per mile and can cash out via PayPal once you earn $5, but if you run on a treadmill or don't like running with your phone, this is probably not a good app for you.
---
How Does Runister Work?
1) Join For Free
Joining Runister is free. You can do so by visiting Runister.com or downloading the app on your IOS device. It only takes a few minutes to get signed up and fill out your profile.
Last Month I Made

$13,841 Online
Make sure to learn how you can get started for free!
2) Fill Your Activity Bar
Before you can earn for running, you need to make sure your activity bar is full. You do this by answering short polls. Every three polls earn you an activity point. It should only take a few minutes to fill up your activity bar entirely. You can see an example of a poll below: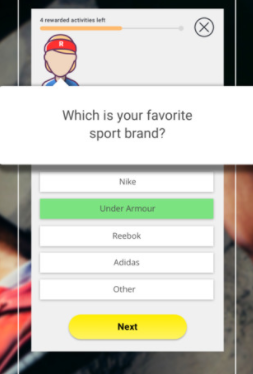 3) Log Workouts
Once your activity bar is full, you can log a workout inside the app. They let you set an open, distance, time, or money earned goal each run. Choose a goal and start running. When you're done, finish your run, and the app will calculate your earnings. You'll earn $.08 for every mile that you run using the app.
*Workouts must be running or walking outdoors using their app's GPS to earn money. Indoor runs on treadmills do not count.
4) Cashout Via PayPal
Once you earn $5, you can cash out your earnings via PayPal. You can also donate your earnings to charity.
---
How Does Runister Pay?
Once you earn $5, you can request a cash out via PayPal. Within 24 hours payment should show up in your account.
They also allow you to donate your earnings to a few charity options.
---
Runister App Complaints
No Sync
At this time, there's no way to sync Runister with other workout apps or fitness watches. All workouts need to be recorded inside the Runister app with your phone on you so it can track you via GPS.
This is a big issue since most runners have switched to having an app on their fitness watch.
Only Outdoor Runs
If you only run or walk indoors on a treadmill, the Runister app is not for you. Your workouts must be outside and recorded inside the app using their GPS.
---
Is the Runister App A Scam?
There's doubt that the Runister app is legitimate, but there're some issues that I see with the usefulness of the app. For you to reach the cashout amount, you'll need to run 62.5 miles inside the app. Most people that could accumulate that amount of mileage quickly already have an app that they use or might even use a fitness watch while running. Yes, you get paid to use the Runister app, but if you're used to using other apps, this might not be as convenient as them.
With that being said the app is legitimate, so if you walk or run outside and don't mind using their app this might be an easy earning opportunity for you.
To learn more or to join, visit Runister.com or download the app on your IOS device.
Runister not for you? Make sure to check out these other ways to get paid to be active and lose weight.
There're 100s of ways to make money online and with apps, make sure to check out the Extra Income Sites I Recommend.
Do you think the Runister App is worth using? I'd love to hear your experiences about this review in the comments section below!
Summary
Reviewer
Review Date
Reviewed Item
Author Rating