RiseSmart is an outplacement and career management service provider, looking to hire skilled resume writers and job search experts. In this review, I will look at both positions.
RiseSmart does require some experience. I'll go over the requirements in detail but if you can't meet them, make sure to check out the other work from home companies hiring now!
---
RiseSmart Requirements for Resume Writers
The resume writing job entails writing resumes from scratch. Clients will provide you with the information. Sometimes you will edit or rewrite existing resumes.
You'll need to have direct interaction with clients by phone and or email to get the info needed to complete their resume. Another part of the job could be providing clients with critiques of their resume according to resume best practices.
Here is what's required to be a resume writer for RiseSmart:
You need to have excellent written and verbal communication skills in English
You'll need to have 5 or more years of experience as a professional resume writer
You need a solid understanding of various industries and job functions, across all ranges of skill level, including entry level, technical, professional, and executive roles
You need to know various resume formats, ATS capabilities, and be able to determine the best formats for each individual
It is preferred if you have a certification from one of the major career organizations (NRWA, CDI, CPRW, CRS etc.)
Of course, excellent customer service skills are needed so you can communicate effectively and professionally with the clients you work with
---
RiseSmart Requirements for Job Search Expert
Job Search Experts help clients with a variety of tasks throughout the process of finding a job. Some of the job functions include strategy consulting, as well as providing mock interviews, salary negotiation coaching, and LinkedIn best practices.
The Job Search Expert is a part-time remote position, but you do need to commute to the office, so you would only want to apply if you are in the vicinity of the following locations:
 Austin, TX
Birmingham, AL
Boise, ID
Columbus, OH
Des Moines, IA
Florence, SC
Indianapolis, IN
Kansas City, MO
Lincoln, NE
Louisville, KY
Memphis, TN
Nashville, TN
Reno, NV
San Antonio, TX
Detroit, MI
Here are the skills you need for this position:
You need to have 3 or more years experience coaching professionals
Ability to coach remotely from a home office
A Bachelor's Degree a must, Master degree desired
It is desired that you have advanced coaching certifications
It is strongly desired that you can provide testimonials from past successful coaching experiences
A recruiting background is also highly desired
You should have excellent communication skills, both written and oral
Great listening skills are needed
You should be able to multi-task and be highly organized
You need to be really good at building rapport
They want you to be able to make clients feel genuinely cared about
You'll basically be cheering someone on who is on the hunt for a new job, so it will be critically important that you can empathize, have a positive outlook, and be able to motivate others
You must demonstrate that you can be proficient at managing administrative tasks that will be crucial to your success in the role; for example, taking detailed notes and managing the coach dashboard
You must maintain efficiency and performance standards, while also delivering high satisfaction
You must be able to respond to client correspondence within 24 hours
You should be able to work 15-25 hours per week, while being available five days a week
Your computer must meet the following specific requirements:

High-Speed internet access (Cable or DSL; no satellite or dial-up)
Windows 8/10, Mac OS Yosemite or above, Chrome or Firefox – latest browsers
---
RiseSmart Application Process
If you want to apply for either of these positions, start here and locate the job you want to apply for. Click on the job that you want to apply for, then scroll down to find the button that says "Apply for this position."
Here's what the application looks like:
You'll start by uploading your resume
Then your name and email
You can then upload a cover letter, and anything else you want to attach, like copies of your certificates
Include how many hours you can commit to per week, specifically during business hours in Pacific time
Last is the Equal Employment Opportunity/Affirmative Action Information, which if you choose, you can decline to self-identify
When you submit, you will see a notification that your application was received. You should also immediately receive an email stating that your application was received and will be reviewed. They will keep your resume on file for 6 months.
Unfortunately there is no indication of how long it could take to hear back from them. In my experience, if you truly are qualified for the position and have the certificates and resume history to prove it, you will hear back from them rather quickly. Good companies don't let good potential matches slip by!
---
How Much Does RiseSmart Pay?
Resume writers for RiseSmart start on hourly basis. When you apply, you need to let them know how many hours you can commit to per week, and specifically how many hours you are available during business hours in Pacific Time.
Job coaches are compensated on an hourly basis for online training. You can work with clients once you've successfully completed training.
Based on Glassdoor salary reviews, RiseSmart resume writers are earning between $21 and $26 per hour. Job search experts are making $36 to $38 per hour. Remember that the job search experts, while they work remotely, they have to commute into the office at times, and there was no indication of how often this is required.
---
RiseSmart Schedule
Both positions are part-time. The job search expert should be able to respond to client correspondence within 24 hours. This is why you will need to have availability 5 days a week, so that you can respond as needed. You'll be working 15-25 hours per week, sometimes more or less.
---
RiseSmart Feedback
I found reviews on Glassdoor, and I narrowed down the reviews to contract and freelance positions. Here's what I found:
Pros:
Work is highly rewarding
Great management team
Great pay
The company makes changes based on feedback
Comprehensive training
Cons:
The company is growing quickly and internal processes don't always keep up
Can't bill for missed calls with clients
Very fast paced (need to prep for call, have the call, and finish documentation, all within 30 minutes)
Work can be sporadic which leads to inconsistent paychecks
You can feel isolated while working remotely
---
Is Writing Resumes for RiseSmart a Scam?
Based on my review, working remotely for RiseSmart is not a scam! If you're qualified for these positions, the pay sounds like it's worth looking into. Here's the link if you want to find a position and fill out the application.
If writing resumes doesn't interest you, check out these helpful links for some other work at home ideas: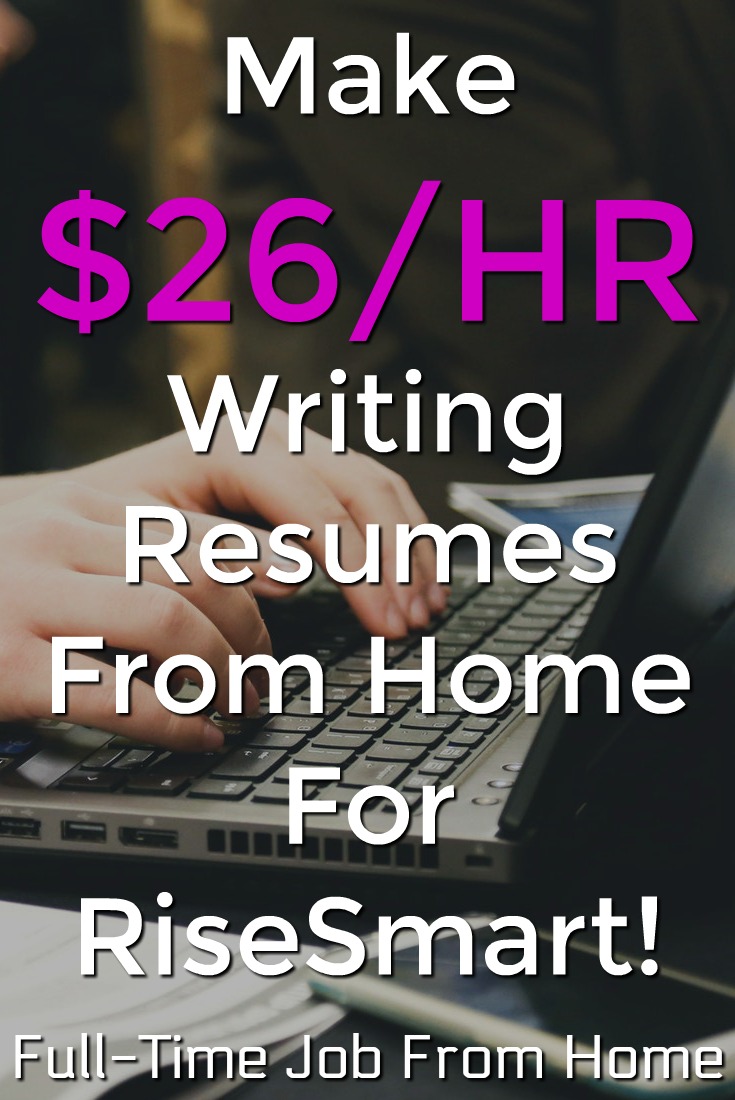 Summary
Reviewer
Review Date
Reviewed Item
Author Rating