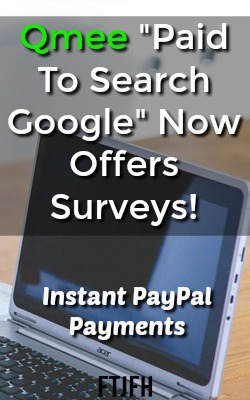 One of the very first extra income opportunities I reviewed on this site was Qmee; that was over two years ago. Since I joined Qmee I've been promoting it on my site, mainly because it's an awesome way to get paid to search Google and other search engines.
Since my first review, Qmee has made a few changes and added new features. Instead of just updating the old review, I thought I'd write a new post sharing how Qmee works and how you can use it to make some extra income.
On this page, I'll show you how to make money searching the internet with Qmee, how to get paid to surveys with qmee, and the updated payment system.
---
How To Earn With Qmee
Qmee Search
I have an extremely detailed post about how searching with Qmee works, so I won't go into a ton of detail, but here're the basics on getting paid to search with Qmee.
Qmee is not its own search engine; it's a browser extension that shows results in a sidebar when you search on Google, Bing, Yahoo, eBay, Amazon, Walmart, and few other major retailers.
When Qmee results come up, it shows the website you'll visit and how much it pays to click on the results. Most results pay from $.04-$.10.
Qmee Surveys
The newest way to make money with Qmee is through their surveys. Most of the surveys take 10-20 minutes and earn you $.50-$1 per survey.
If you've never taken surveys before, you will have to answer some questions before you start the survey. There's no guarantee you'll qualify for the survey after asking the first few questions.
Also, surveys show up randomly, but it seems that you get more surveys if you click on Qmee results and take all the surveys that they send you.
---
Qmee Rewards
When I first joined Qmee the only way to get paid was via PayPal. Of course, that was completely fine with me because it's my favorite way to get paid, but members were looking for new cash out options and Qmee responded.
Qmee now offers payments through PayPal and Amazon, iTunes, and Starbucks gift cards. All gift cards start at $5 while PayPal payments can be cashed out with any amount.
PayPal payments show up in your account within a few hours, and Gift Cards are sent to your email within 24 hours, but usually much quicker.
---
Qmee Tips & Tricks
Searching Tips & Tricks
I've been using Qmee now for a few years, so I'm extremely familiar with what works and what doesn't. Let me first say that you need to be searching the internet normally. If you try to beat the system by just searching over and over, you won't get Qmee results and will most likely get your account banned.
First, understand that Qmee results don't show on every search, they only show up on some results that Qmee gets paid to advertise for. Since they only get paid to advertise certain keywords, there're a few trends I've picked up on.
I almost always receive Qmee results when searching for a product. For example, an iPhone case. Also searching on sites like Amazon/eBay seem to give more results than just a regular Google search.
Surveys Tips & Tricks
I'm not as experienced with Qmee surveys as searching, but with the time I've spent taking them I've found that the more searching you do with Qmee, the more surveys you'll receive. Once you receive a survey, make sure to take it. I did the first three surveys they sent me, and now it seems that I receive more surveys than I was before taking any.
It also appears that some of the first surveys are like profile building surveys, so it's important to take those so they can send more targeted surveys to you.
---
How To Earn More With Qmee
The best way to earn more with Qmee is through the refer a friend program. It's a very simple program to use and can be very profitable. You'll get your own referral link that you can share with your friends on social media or your website. You'll earn $1 for every friend that join, uses Qmee, and cashes out.
The referral program is by far the easiest way to make more, and I've found it's easy to refer people, who can turn down getting paid to search the internet.
*When I first joined the referral program did not become available until a month or two of using the site. I'm assuming it's still the same. Eventually, an Invite Friends tab will appear when you visit the Qmee website. I think you receive an email saying you can now invite friends too.
---
Qmee Payment Proof
If you've been on my site before you've probably already seen proof of payment from Qmee, but I thought I'd go ahead and include it anyways. Just to give you an idea, I usually make around $5 a month on my own and then $10-$20 a month by referring friends. Below is a screenshot of a few weeks earnings sent directly to my PayPal account a few minutes after cashing out!
---
How To Join Qmee
Now that you've seen how Qmee works, the cash out options, and that they do pay, it's time to join. If you're not a member of Qmee yet, you're missing out on easy cash just by searching the internet. Now you can even get paid to take surveys that are short and pay pretty well!
If you'd like to learn more or to join, visit Qmee.com to get started!
Interested in making some extra income online? Make sure to check out some of the ways I make an Extra Income Online!
When I first started making money online, I was all about using extra income sites. I still use them, but I found that you could make a much larger income online blogging. Learn how you can start a profitable blog today. My #1 Recommendation will teach you how to build a website, drive traffic, and make money for free!
Have you used Qmee before? Like the new surveys they offer? I'd love to hear your thoughts about Qmee in the comments section below! 🙂