18
Get Paid To Search Online With SwagBucks and Qmee
Today I'm going to show you exactly how you can get paid to search the internet with a few different sites that I highly recommend. As most of you know, I'm a huge fan of making extra income and getting paid for something I already do!
If you're like me, you probably search the internet every day multiple times! You might as well get paid for it, right?
On this page, I'm going to cover two different options for searching online. One is Qmee and the other Swagbucks. They both are completely different on how they pay you to search, but either is a great option to getting paid to search online!
I'll show you how they both work and exactly what you need to do to get started earning!
---
How To Get Paid To Search Online
Option 1: Qmee
Signing Up For Qmee is completely free and easy. You can join with your email or login with Facebook. Once you confirm your email, you can move to the next step!
2) Download the Browser Extension
Log in to Qmee and download the browser extension. It's safe and easy to use, all it does is enable paid search results and lets you quickly see your account balance.
Last Month I Made

$13,841 Online
Make sure to learn how you can get started for free!
3) Start Searching Normally
Qmee works on Google, Bing, Yahoo, Amazon, and eBay. All you need to do is search normally on these search engines. Qmee will not change the results you see. They'll show their results on a sidebar when searching!
4) Click On Qmee Paid Results
When Qmee has results to show it shows up on the sidebar that doesn't change the standard results. You can ignore them or click on one of the results to get paid. The results all show exactly how much they'll pay you to visit!
5) Get Paid!
When you click paid search results, Qmee will update your balance immediately. Qmee has no cashout amount so you can get paid via PayPal with just a few cents in your account!
Option 2: SwagBucks
Signing up for Swagbucks is super easy and Free! They let you join with your email or login with Facebook. Confirm your email, and you're ready to start earning.
2) Visit SwagBucks Search
Visit the search bar within SwagBucks or set SwagBucks search as your default search engine. To earn with Swagbucks, you'll need to use their search.
3) Start Searching Normally
Begin to search with SwagBucks normally. Occasionally you'll get paid SwagBucks for your search!
4) Get Paid!
SwagBucks you earn for searching are added to your account balance. Swagbucks has gift cards to hundreds of stores including Amazon and PayPal. You can exchange your points for gift cards at any time!
---
Do SwagBucks and Qmee Pay?
As many of you know, there's always people out there promoting sites that are scams just to earn a quick buck. Well, I'm not like that, I want to prove that these sites are legit and do pay. Below you'll find proof that Qmee and Swagbucks do pay!
Qmee Payment Proof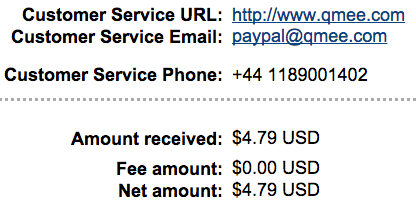 I've been paid multiple times by Qmee, you can see above one of my last payments was $4.79 and went directly into my PayPal account!
SwagBucks Payment Proof

Swagbucks is a site I've been using for over a year now. I've been paid multiple Amazon gift cards and over $100 in PayPal payments. You can see a proof of a $25 PayPal payment above!
Get Paid To Search With SwagBucks Or Qmee!
---
How To Earn More With SwagBucks & Qmee
Everyone is looking to earn as much as possible online. Here's a few tips and pointers on how to make more with each site!
Earn More With Qmee
There are a few different ways to earn more with Qmee. If you're not searching normally, Qmee results will not display. Meaning if you search 100 times in a row just trying to get paid ads to click on you're not going to earn more, and your account will most likely be suspended.
From personal experience, you get the most results by searching for popular items to buy. For example searching for business, like Nike, most likely won't bring up any results. But if you search Men's Nike Shoes there's a much better chance of getting many results! Also searching on sites Amazon and eBay seem to yield the most results, I'm assuming this is because if you're searching on these sites, you're most likely ready to buy!
Another way to earn more with Qmee is through the refer a friend program. For every friend you invite that cashes out, you'll earn $1!
Earn More With SwagBucks
SwagBucks is a "paid to do site" this means that searching the internet isn't the only way to earn! Swagbucks also lets you earn money for taking surveys, completing offers, watching videos, playing games, inviting your friends, and much more!
If you want to earn more with Swagbucks, you have plenty of ways to do so!
Start Earning More With Qmee Or SwagBucks
---
They're Both Legit Which One Should I Choose?
On this page, I've shown you exactly how you can get paid to search with SwagBucks and Qmee. I've also shown you that they're both are legit and do pay! Personally, I use both to make money by searching the internet and recommend trying both.
Both are great options, but it just depends on what you like. SwagBucks won't give you the same results as Google if that's what you're used to. If you'd rather use Google search, Qmee is probably the best option for you, but it is possible to use both at the same time and get paid to search!
Get Paid To Search With Qmee
Get Paid To Search With SwagBucks
Either are great options to get paid to search online! You can join by clicking the buttons above! If you have used either or have questions, make sure to share your experience in the comments below!