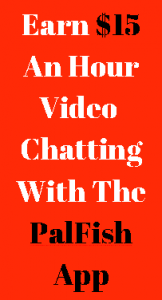 Are you a native English speaker? Well, I have an awesome app called the PalFish Teacher App that will pay you $10 an hour just to have video chats with English students directly on your smartphone.
Now this app does have a bit of an application process, but if you get accepted, you can set your own rate, work whenever you'd like, and build long-term students.
As long as you have a smartphone and are a native English speaker, you can make some decent cash with this app.
Please keep in mind that teaching English on this app can earn you a decent income, but you'll have to adjust your schedule to meet the students you'll be teaching. If you're looking for a full-time income with a flexible schedule, check out My #1 Recommendation, it's how I made over $13,000 online last month!
In this PalFish Teacher App Review I'll cover how it works, the requirements/application process, how much you're paid, how to earn more, and the complaints I have with this app!
VIPKid, another ESL company is actively searching for new tutors. They pay up to $22 an hour! Learn more by reading my full VIPKid Review!
---
PalFish Teacher App Review
App: PalFish Teacher App
Price: Free
Score: 90 out of 100
Verdict: Legitimate
In this PalFish Teacher App Review, I gave them an excellent score and marked it scam free. When I first came across the app, I had a hard time finding information about it, but I eventually found their website and was able to figure out what was going on really.
I like the fact you can get paid to video chat with English students, you can set your own rate and schedule, and you have the ability to build long term students. This app is for almost anyone, but know that the teachers that are charging the really high rates have an actual teaching background. If you don't have a teaching background you can still make good money, you'll just need to charge a lower rate.
There is a bit of an application process to get accepted, but if you do get accepted this is a great app to use to make some extra cash in your spare time!
---
How Does PalFish Work?
Signup Process
The first step to getting started is downloading the teacher's app and signing up; you can do so at PalFish.
The next step is to fill out your name, gender, and profile picture. Before you can go any further, you need to upload a written and recorded bio. The bio should be at least 100 words long and include hobbies, interests, teaching experience, and teaching philosophy.
After you upload your written and recorded bio, PalFish will review the information and verify your account within a few days.
If you're accepted, you're free to start using the app as you please.
Set Your Rate/My Wallet
Next, it's time to set your rate. You can set your rate from around $5-$45 an hour. The average hourly rate is right around $13, but you can change it to whatever rate you'd like. Keep in mind when starting out, you'll probably need to work at a lower rate until you establish yourself on the app.
You can only change your rate twice a month, but I'd still start low and gradually increase your hourly rate.
Set Your Schedule
The next step is setting your schedule or the times you'd like to have appointments set up to tutor. You can change your schedule at any time, but this gives students an idea of what time you're available. But even with your schedule made, you can log in at any time and talk; you don't have to wait for your scheduled times to make money chatting.
I recommend when starting try to keep as many time slots open as possible!
Get To Work Chatting
Once you have your account fully set up, you're ready to start getting students. As mentioned, students can either set up appointments, or they can request to talk to you while you're already online.
You're paid per minute at the rate you set while creating your profile.
---
How Does PalFish Pay?
Once you've earned some money chatting with students, you can get paid in two ways. AliPay and PayPal are both options, but I'm assuming most of us will be using PayPal. Payments are made on the 1st-5th of each month.
The best part is that there's no minimum cash out amount so you could tutor for a few minutes and cash out after that with just a few cents in your account if you'd like.
---
PalFish Teacher Helpful Features
My Students
The most helpful part of the PalFish app is that you can see all the students that you've chatted with in the past. I've reviewed many tutoring websites and know a few online tutors. The whole key to the business is that you build long term students that keep coming back.
With this features it's very easy to see the students you've tutored before and to connect with them more. If you're looking to make really good money, or if you'd like to avoid waiting for students to find you, having some recurring students is key.
If you're just looking to make a few extra bucks here and there, this won't mean much to you, but can be key to building a larger income!
---
Earn More By Inviting Friends
The PalFish App does have a referral program; you can invite Teachers or Students. You'll earn around $3 for every teacher that you invite that signs up and gets accepted as a teacher.
For students, you'll earn around a $1.50 once your referral signs up and makes their first call that lasts over 5 minutes.
You're given your referral link that you can post on social media, text, or put on your website!
---
PalFish Teacher App Complaints
Sounds TOO Easy!
I know when I first came across this app, it almost seemed too good to be true, so I wanted to clarify a few things that I found after researching this app. It's not as easy as it sounds, but it's still a legitimate way to make money.
Although this app is new, there's still a lot of teachers, and if you don't have a way to sell yourself, some students will not order you over someone with experience. With that being said it's not difficult to just pick up work while you're online, as long as you have a decently low rate.
Really the PalFish app isn't as easy as it sounds, but it's still pretty easy. The most difficult part will be getting your first few clients and getting positive reviews so you can raise your rate and start building long term students.
---
Is The PalFish Teacher App A Scam?
The PalFish Teacher App is not a scam; there's a lot of payment proof on the internet, and there're teachers making $30 or more an hour doing this. Just to let you know the average teacher is making around $13.50 an hour, so it's still really good money. At first, you won't be able to charge that, but after a few positive reviews you should be able to raise your rate to average or higher.
Overall it's a unique way to make some good money. If you'd like to learn more or to join, visit iPalFish.com to start the sign-up process!
If the PalFish app doesn't sound like it's for you, don't worry. Here're some other great ways to make an extra income online in your spare time. If extra income won't cut it, here's My #1 Recommendation, it's how I make a full-time income from home and how I started my own business online!
Do you think the PalFish Teachers App is a Scam? If you're currently a teacher, I'd love to hear your experience in the comments below this review!
Summary
Reviewer
Review Date
Reviewed Item
Author Rating