2
Is BestReviewApp.com A Scam? Best Review App Review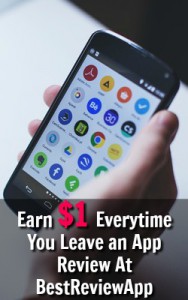 I recently came across a pretty cool site called  BestReviewApp.com. You'll get paid to download apps and leave detailed honest reviews in the app store.
Some of you may have read my review of MyAppAware; it's very similar to Best Review App.
Please understand that reviewing apps is going to be a tiny income. If you're looking to make a full-time income online, check out My #1 Recommendation, it's how I made over $13,000 online last month!
I decided to take a look at Best Review App and see if it's a scam or one of the better paid to leave review apps out there.
In this review I'll show you how this site works, how they pay, complaints I have, and if this site's a scam.
---
BestReviewApp Review

Name: BestReviewApp
Type: App Reviews
Score: 80 out of 100
Verdict: Legitimate
In this BestReviewApp Review, I gave them a good score and marked it legitimate. If you decide to use this site and review apps you'll get paid for any app purchase prices and the bonus, but know this won't be a large income. You'll be earning $.50-$1 per review.
Last Month I Made

$13,841 Online
I Bet You're Tired Of Making Pennies Online. No More BS. If You're Serious About Making A Full-Time Income Online You Need To See The TRUTH. Stop Wasting Your Time With The Next Big Thing When There's Already A Proven Method That Works!
I'm glad to see that they pay every week and that it only takes 24 hours for them to confirm your review, but again please know this site won't make you rich.
---
How Does The Best Review App Work?
1) Sign Up
The first step to getting started with Best Review App is signing up at BestReviewApp.com. If you're an Android user, you can easily download the app. If you're an iPhone user, you'll have to visit the website in Safari and sign up that way.
Once you've signed up, you'll see a long list of apps that they'll pay you to download.
2) Find Apps To Review
On the list of apps, you'll find free apps and paid apps. It will show the name of the app, how much it costs, and how much you'll get paid (referred to as bonus) for leaving a review.
I highly recommend starting out with some free apps at first, so you can get paid a few times before spending money on apps.
3) Download, Use, and Leave Review
Once you find an app that you'd like to review, simply claim a review, download the app in the apps store, and use it. Once you've used the app for a bit and have an understanding of how it works, it's time to leave a review.
Go to your app store and leave a review on the app's page.
4) Get Paid
It says that all reviews get approved in under 24 hours. Once you leave your review and it's been approved you'll get an alert from BestReviewApp.
Within a few hours of your review being approved your earnings show up in your account balance.
---
How Does BestReviewApp Pay?
The BestReviewApp pays via PayPal or AliPay. Once you review an app they have 24 hours to verify your review. After they verify your review money will be available for withdrawing.
BestReviewApp pays it's members every Friday. You'll need to request a payment on or before Thursday to get paid that week.
---
Best Review App Complaints
Paying For Apps Up Front
If you only review free apps, you don't have to worry about this, but for you who are looking to maximize your income, reviewing paid apps does pay more.
The concern is that you do have to pay for the app up front. Most of the apps only cost $.99-$2.99, so it's not a huge expense, but some people may be concerned about getting paid back.
From what I've seen, BestReviewApp does pay you the purchase price for the app and the bonus due, so there should be no issues getting paid!
Small Income
As you probably guessed, this opportunity won't make you rich. You'll earn $.50 for free apps and $1-$1.5 reviewing paid apps.
Yes you can make money with BestReviewApp, and it doesn't take long to download and bust out a review, but it's still not going to make you rich.
As long as you know this going in you should be happy with this site!
---
Is the BestReviewApp A Scam
I've seen similar sites that have been legitimate, and it looks like BestReviewApp is legitimate as well. I like that they send your payment via PayPal and it only takes 24 hours or less to approve your review.
There're a few concerns with this site, but overall it's a pretty easy way to make some extra cash for leaving reviews.
If you'd like to join or learn more, visit BestReviewApp.com. Please remember that this is just an extra income opportunity you won't earn much on this site.
If you'd like to see some other ways to make extra income, check out all the extra income sites I recommend.
Extra Income is awesome, but please understand that BestReviewApp is not going to earn you much. If you're interested in making a full-time income online, check out My #1 Recommendation, it's how I made over $13,000 online last month!
Do you think BestReviewApp is a scam? Let me hear your thoughts on this review below! 🙂
Summary
Reviewer
Review Date
Reviewed Item
Author Rating