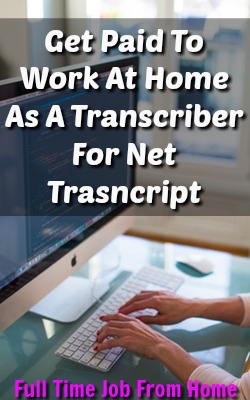 Net Transcript is a transcription company that hires a work at home transcription job position. Net Transcript provides transcription for law enforcement agencies, so they don't accept beginners. If you're a beginner, make sure to check out the course at TranscribeAnywhere. The course will teach you how to transcribe and how to find high-paying transcription jobs. You can also sign up for their Free 7-day course just to make sure Transcription is right for you!
If you have some experience in transcription, Net Transcript might be right for you. There're some pretty strict requirements, but I've included them all in this review.
In this Net Transcript Job Review I'll cover the requirements, how much they pay, and all the important details of this job!
---
Net Transcript Requirements
To apply for a position at Net Transcript, there're some requirements you'll need to meet. Here's a list of what to expect.
US Based
Type 80 Words Per Minute
Be Able To Begin Immediately
Pass Full Background Check
Great Grammar & Proofreading Skills
Some Legal Transcription Experience
The computer requirements are listed below:
They don't give an exact requirement for experience, but they can be selective so I'd say at least a few years of legal transcription is necessary. If you can meet these requirements, you can begin the application process.
As you can see, there're some initial investments, such as transcription software, headphones, and foot pedal. If you have experience most likely you already have everything you need to apply!
---
Net Transcript Application Process
If you meet all the requirements, you can fill out an application on their website. This will include basic information, past work experience, a background check, and tests.
I'm not 100% sure, but it looks like they cover the cost of the background check, which some online companies make you pay for.
If all goes well and you're accepted, they'll want you to begin working immediately.
---
How Much Does Net Transcript Pay?
Unfortunately, there's not much information how much much Net Transcript pays. I believe they make you sign a form when you get hired that asks you not to reveal the pay rate. But from what I can see this company does pay monthly via Direct Deposit.
You'll be hired as an independent contractor, meaning no taxes are taken out of your payments and income over $600 must be reported.
If anyone has additional information about pay rate, please comment below!
---
Net Transcript Schedule
Part of the application process is providing how much you'd like to work. Part time and full time are both options, but it seems that it all depends on how much work is available.
I'd say it's much more likely for this to be a part time job, especially when starting out. The schedule is flexible, there's not a set time frame that you'll need to be transcribing, but there're deadlines on every project.
As long as you find time to transcribe and meet deadlines you should be able to set your schedule.
---
Is Net Transcript Legit?
Net Transcript is completely legit. I took a look in the forums, and all feedback is pretty positive about the company. It's unfortunate that they make employees sign a form that prohibits them from giving out a lot of information about the job, but I did my best to compile everything I could find.
One thing to mention is Net Transcript also hires general transcribers from time to time. I didn't really cover this in the review mainly because it's very rare, and they still look for people that have experience.
If you can meet the qualifications for the legal transcriber, you'll have no problem getting hired as a general transcriber.
If you'd like to learn more or to apply, visit Net Transcript Jobs.
To see some transcription jobs that don't require experience visit WAH jobs I recommend or visit my #1 recommendation and learn how I work at home!
Have payment information to add to this Net Transcript Review? Let me hear what you know in the comments below!