One legitimate way to make money with your smartphone is by downloading apps. Today I'd like to cover a new site called MyDollarApp that pays you to download apps on your IOS or Android mobile device.
The first thing you should know is this actually isn't an app you'll need visit MyDollarApp.com on your mobile device to access the apps they pay you to download.
I have to say that I highly recommend FeaturePoints over MyDollarApp. FeaturePoints has a lot more offers to complete and pays via PayPal starting at $3.
In this MyDollarApp Review, I'll cover how it works, the rewards, and if this site is a scam.
---
MyDollarApp Review

Site: MyDollarApp
Type: Paid To Download Apps
Verdict: Legitimate Not Recommended
In this MyDollarApp review, I marked them legitimate, but it's not a site that I highly recommend. They do have some apps you can download to earn and some offers to complete, but it seems that they are limited on the number of ways to earn.
The reward system is decent, but it would be better if rewards started a bit cheaper.
With that being said, MyDollarApp does pay, but I prefer FeaturePoints over this site.
---
How Does MyDollarApp Work?
1) Join MyDollarApp For Free
MyDollarApp is relatively easy to use. To get started you'll need to visit MyDollarApp.com in your mobile device's browser (if you're on an iPhone you must use Safari.) Once you visit the site, just click "start earning."
2) Earn By Downloading Apps & Completing Offers
Once you click start earning a new page will load that shows you all the ways you can earn. They have apps you can get paid to download and offers you can complete for points.
You can see the name of the app/offer, how much it pays, and what you need to complete to get paid.
Most offers pay from 20-150 points.
3) Get Paid
Once you earn 250 points, you can cash out via PayPal, Amazon, and Google Play gift cards!
---
MyDollarApp Rewards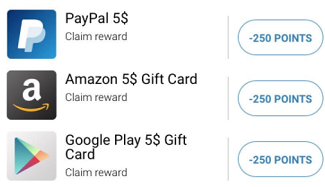 Once you earn 250 points, you can exchange them for $5 gift cards to PayPal, Amazon, or iTunes.
In their FAQs, they state that you should receive your gift card within 24 hours of cashing out.
---
MyDollarApp Complaints
No Referral Program
A lot of my earnings come from referral programs, and a refer a friend program is an easy way for you to earn easy money on extra income sites. MyDollarApp does not have a referral program so you can't let friends earn for you.
Small Income
Obviously, getting paid to download apps won't make you rich. It's a minimal income that you can earn on your phone in your spare time. As long as you know this going in you should be happy that you're getting paid to download apps.
New Site
New ways to make money online and with your phone spring up all the time. MyDollarApp is a relatively new site so there's always a concern that they won't last. That's why I recommend checking out this list of established make money online sites.
---
Is MyDollarApp A Scam?
MyDollarApp is not a scam, but it's not really a site I highly recommend using. There're much better sites out there that pay you to download apps, so I can't say that I recommend MyDollarApp.
The ways to earn are limited, and it would be nice if the rewards started at a lower cashout amount.
With that being said, MyDollarApp is legitimate, but it won't be a site that I use to make money.
I highly recommend using FeaturePoints to get paid to download apps. They have more ways to earn and start paying at just $3.
If getting paid to download apps isn't for you, make sure to check out all of the other ways I use to make an Extra Income Online!
MyDollarApp won't make you rich; it's a very small income if you're looking to earn more, check out My #1 Recommendation for making money online!
Do you think MyDollarApp is a scam? Have experience with this app? I'd love to hear your thoughts in the comments section below!
Summary
Reviewer
Review Date
Reviewed Item
Author Rating