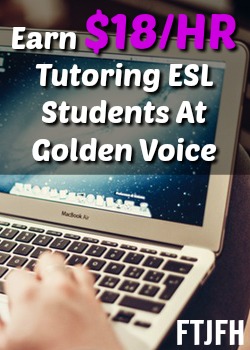 Golden Voice is an online company that hires a work at home ESL tutoring position.
I decided to check it out and see if it's a scam or a legitimate work at home job. From what I know the company is reputable and completely legitimate.
In this review, I'll cover the requirements, application process, how it works, and how much Golden Voice pays.
There are some requirements, but if you've done any ESL tutoring in the past you can most likely meet them!
VIPKid, another ESL company is actively searching for new tutors. They pay up to $22 an hour! Learn more by reading my full VIPKid Review!
---
Golden Voice Tutor Requirements
To become a Golden Voice Tutor, there're some requirements you'll need to meet. I've listed them below:
Minimum 3 months teaching/tutoring experience
TESL/B.Ed certificate (preferred)
Post secondary education (preferred)
Enthusiastic and encouraging
Computer Literate
Computer Requirements include a well-working computer and updated browser
Located in the US or Canada
If you can meet the requirements, you can apply on their website. You'll see that some things are preferred, meaning they aren't required but are a significant advantage. I'd say you'd need a lot of experience if you don't have the preferred requirements.
---
Golden Voice Tutor Application Process
To start the application process, you can fill out a form on their website. The application is pretty typical where you'll provide personal information (name, address, etc.) along with education and work experience.
Once you submit your application, a recruiter will review it. If they're interested, they will schedule a time to conduct a phone interview.
If all goes well in the phone interview, there will be an online discussion (from what I can see it's a mock tutoring session.)
If they decide you're a good fit, you'll be offered a contract and wage is discussed at this point.
You are required to pass a background check including a criminal record report. 
---
Tutoring at Golden Voice
Now, I'd like to talk about what tutoring at Golden Voice is like. I recommend visiting their open job board here. If you click on the job listing that says various locations you can see the WAH job requirements and more description of what you'll be doing.
Once you're accepted, you need to set your schedule. Golden Voice will line up tutoring sessions for you in the time frame you say you'll be working. Most tutoring sessions are around 30 minutes long, and they have an interactive tutoring system that you follow along with.
It's your job to help and provide constructive criticism to the student.
---
Golden Voice Tutor Pay
On the Golden Voice Tutor Website, they say that they have competitive pay. Unfortunately, I could not find much information about what the pay is or when they pay.
I did some searching, and I've seen the number $18 an hour with room to grow thrown out there a few times, but I've also seen complaints about low pay. If anyone has information, I'd love for you to share in the comments below 🙂
I've also seen that some people saying they pay monthly.
---
Golden Voice Tutor Schedule
Tutoring for Golden Voice is a flexible schedule. There are peak hours, and you're required to work at least one hour in the 6am-10pm Eastern Time Zone a day, but you can set your schedule to whatever you'd like. Once you set your schedule, Golden Voice will set up tutoring sessions in that time frame.
---
Is Tutoring at Golden Voice a Scam?
Tutoring at Golden Voice is not a scam, it's a completely legitimate work at home ESL job.
If you can meet the requirements, you can start the application by filling out the form on their website.
If ESL tutoring at Golden Voice doesn't sound right for you, here's a few helpful links to other ways to make money online and work at home.
If you're interested in other work at home jobs, check out my WAH Job Directory, or learn how you can make a significant income as your own boss with My #1 Recommendation.
Need a way to supplement your income, here're some excellent extra income sites to check out!
Have you worked for Golden Voice? Have additional information about this ESL tutoring job? I'd love to hear what you know in the comments below! 🙂
Summary
Reviewer
Review Date
Reviewed Item
Author Rating