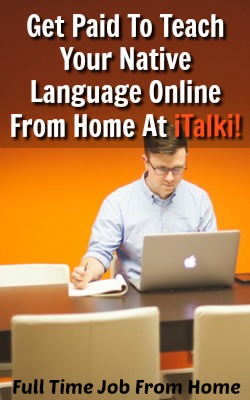 ITalki is a site where certified teachers or experienced tutors can go and teach their native language online for extra cash.
Today I'd like to write an ITalki Teacher Review to give you an idea of what's required and what teaching at ITalki is like.
This site is 100%, not a scam. It's a legitimate tutoring site where thousands of tutors make extra income in their spare time.
Teaching English is an extremely popular way to make money online right now, but the schedule won't be for everyone. If you'd like to make a full-time income online with a flexible schedule, check out My #1 Recommendation to learn how I made over $13,000 online last month!
In this review, I'll cover the requirements, the pay, complaints, and what to expect if you join this site as a teacher.
VIPKid, another ESL company is actively searching for new tutors. They pay up to $22 an hour! Learn more by reading my full VIPKid Review!
---
iTalki Teacher Requirements
There're two types of teachers at iTalki, so the requirements differ a bit. The two types of teachers are professional teachers and community tutors.
As a professional teacher, you'll need to provide documentation that you have a certificate and experience as a teaching professional.
As a community tutor, you'll need to be fluent in your native language and have the ability to help students with informal tutoring or conversational practice.
The only other requirements is a computer, internet connection, Skype, and a headset.
---
iTalki Teacher Application
Overall the entire application process should take about two weeks to complete, so it's not an extremely quick process like some other tutoring jobs.
You'll need to provide a quality profile photo, accurate description of language levels, a written introduction, a video introduction, and if you're applying for a professional teacher position, documentation proving your experience and certificate.
Within 2 weeks iTalki will review your application and send you an email letting you know if you're accepted.
Once you're accepted, you'll need to provide your schedule of available times and prices for lessons.
---
How Does iTalki Teaching Work?
Once you're accepted, the key to teaching at iTalki is your profile. At first, the main way to get students is by them finding your profile and scheduling a tutor session based on what they see on your profile. You should include detailed information about you personally, schooling, and career. You'll also be able to set your hourly rate for tutoring. You should add a video introducing yourself as well.
If a student decides they'd like to have a tutoring session with you, they can contact you and set up a session up based on your schedule. Tutoring sessions take place on Skype and can last 30 minutes or more.
At the end of the tutoring session the teacher and student will both leave ratings for each other.
Your earnings will be added to your account balance once the tutoring session ends.
---
How Does iTalki Pay?
As you tutor students, you'll earn credits called ITC. 10 ITC is equal to $1 USD,
iTalki pays via PayPal, Alipay, Skrill, and Bank Transfer. iTalki pays teachers twice a month. You can cash out your ITC at any time, but they do not make payments until the 10th and 26th.
*Bank Transfer payments pay once a month on the 10th.
---
iTalki Instant Tutoring
One impressive feature at iTalki is called instant tutoring. This skips the step of students scheduling tutoring sessions and lets you log on at any time and try to find a session. Keep in mind there's no guarantee you'll find a session, but this makes it a very flexible schedule.
When you log on and don't have sessions to teach just log into Instant tutoring, and you might get paired with a student.
---
iTalki Teacher Tips & Tricks
Make sure to complete your profile and upload a video of you introducing yourself.
Set your prices low to start out, then raise them as you get positive feedback.
Repeat students are key to a full tutoring schedule.
No matter what you're teaching/tutoring goals are the key to being successful and getting work is starting low and working your way up. As you get more positive feedback, you can raise your rate, get more new students, and keep your schedule filled with repeat students.
---
Is iTalki Teaching A Scam?
Being a teacher/tutor at iTalki is 100% legitimate and scam free, there's some pretty good testimonials out there from current and former teachers with all good things to say. The key is getting accepted and putting in the work to get your first few sessions. From there you should be able to scale pretty quickly if you're an excellent tutor.
If you'd like to learn more or to apply, visit iTalki.com to get started!
If tutoring isn't for you no worries, I have plenty of other ways you can make extra money in your free time. Take a look at all the Legitimate Extra Income Sites I Recommend.
Extra Income not enough? Check out My #1 Recommendation to learn how I made over $13,000 online last month!
Already an iTalki tutor? I'd love to hear your experiences teaching/tutoring for iTalki below! 🙂
Summary
Reviewer
Review Date
Reviewed Item
Author Rating