3
Gift Hunter Club Review: Another Reward Site Scam?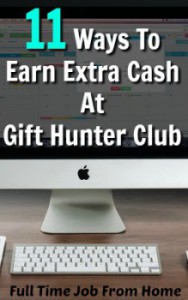 Gift Hunter Club is a rewards site that pays you to do things like take surveys, complete offers, watch videos, and much more. A reader recently left a comment on this site, so I thought I'd check it out and post a Gift Hunter Club review.
After using this site for a bit Gift Hunter Club is not a scam, it's a completely legitimate rewards site that is pretty popular, not sure how I hadn't heard of this site before.
In this Gift Hunter Club Review I'll cover how to earn, how to get paid, the complaints I have, and if this reward site is a scam!
---
Gift Hunter Club Review

Site: Gift Hunter Club
Type: Reward Site
Score: 80 out of 100
Verdict: Legitimate
In this Gift Hunter Club Review, I gave them a good score and marked it legitimate. There's a ton of great feedback about this site and proof of payment.
I like that they have many ways to earn, plus they have PayPal payments starting at $2!
The only real complaint is with some of the $10 gift cards cost different point values.
Last Month I Made

$13,841 Online
Make sure to learn how you can get started for free!
Overall a pretty good reward site that will pay you your earnings, but it's not my highest ranking reward site. Check out the Extra Income Sites I use.
---
How To Earn At GiftHunterClub
Offers
Gift Hunter Club has a ton of free and paid offers available. If you're not familiar with offers, here's how they work.
Free offers usually require you to sign up for a free site, mailing list, or service. These pay 50-200 points.
Paid offers require you to make a purchase or sign up for a free trial of something (must provide credit card information) they pay 200-1000 points.
Surveys
Gift Hunter Club has a long list of surveys provided by different companies. You'll be able to see how much it pays, what the survey is about, estimated time to complete, and how many times the survey's been completed by other members.
Most surveys take under 30 minutes and pay around 50-200 points.
Videos
Gift Hunter Club has videos from a few different companies. Most videos pay 1/2-2 points a piece. Most videos are under 3 minutes long.
You must watch the entire video to get paid.
Tasks
Tasks are very short projects that pay a few points a piece; they usually have to do with rating a website or putting items into categories.
There's a 100 point bonus if you earn 1000 points in a week from tasks.
Radio
You can earn points by listening to the radio on a 3rd party site called Radio Loyalty. You'll earn .5 points for every 10 minutes of radio that you listen to.
You do have to enter a CAPTCHA code so you'll have to be around to continue to earn points.
Refer Friends
There is a referral program available at Gift Hunter Club that can help you earn more extra cash. It's a 2 tier program, and you'll receive 10% of all your referrals earnings. There's also a bonus of 50 points once your referral earns their first 50 points.
If you're going to refer many members, there's also a 1000 point bonus for every 50 referrals that earn at least 50 points.
Share and Earn
You can earn 5 points just for sharing Gift Hunter Club on Facebook or Twitter.
Mobile App
Gift Hunter Club does have a mobile app that's available in the Google Play Store. You can use the app to earn in most of the ways listed above, so if you're interested in making money on your smartphone, I recommend downloading the app. Also, Swagbucks is a similar app that I highly recommend!
---
Gift Hunter Club Rewards
Gift Hunter Club has a few different reward options, all starting at different amounts, but some gift cards include PayPal, Amazon, Apple, and Payza.
PayPal payments start at $2 for 250 points.
Amazon gift cards start at $10 or 1030 points.
The rest of the gift card options vary on how many points they cost, but most rewards start at $10.
Once you cash out a reward, it will take 1-3 business days to arrive via email.
---
Tips, Tricks, & Cheats To Earn More
Contests
Each month Gift Hunter Club holds contests rewarding their top member's extra points for scoring in the top 10 of referrals and most points earned. If you finish in the top 10, you'll earn at least 100 points, and the 1st place winner receives 3500 points equal to $35.
This is an excellent way to maximize your earnings if you can make it in the top 10, but it won't be easy.
Testimonials
Every time you cash out a reward, you can leave a testimonial of how awesome Gift Hunter Club is. Every time you leave a testimonial, you'll get an extra 5 points.
Daily/Weekly Bonus
Gift Hunter Club offers a few other bonuses that can help you earn more. The weekly bonus is if you log on and earn at least 1 point each day for a week, you'll get 10 points.
The daily bonus is 20 points; you'll just need to earn 200 points in a single day to receive the bonus.
---
Gift Hunter Club Complaints & Concerns
$10 Gift Cards Cost Different Point Values
I see this a lot with reward sites, and it's unfortunate because it makes it hard to tell exactly how much a point is worth. For example a $10 Amazon gift card costs 1030 points (at the time of this review), but a $10 Google Play Store gift card costs 1500 points.
It's not a huge deal because it seems the more popular gift cards are cheaper, but why not just make all the gift cards the same price.
Just Extra Income
I don't know why, but people always think that since an opportunity is online, it's going to make them rich. Gift Hunter Club is not a full-time job or an income that will let you quit your day job.
It's what I call an extra income site. You can expect to make $10-$50 a month from this site if you put in the time to earn points.
---
Is Gift Hunter Club A Scam?
Overall Gift Hunter Club is not a scam, it's a legitimate reward site that I do recommend joining, but it's not the highest ranking reward site I've reviewed. You can see the site I recommend over Gift Hunter Club at Extra Income Sites That Pay.
If you're interested in learning more or joining, visit Gift Hunter Club to get started.
I love making an extra income online, but I wouldn't be able to work at home with just that income. If you'd like to learn how to make a larger income online visit My #1 Recommendation, and you'll never take another online survey again! 🙂
You can even work directly with me building your own profitable online business for completely free.
Do you think Gift Hunter Club is a scam? Let me hear your experiences/thoughts on this review below!
Summary
Reviewer
Review Date
Reviewed Item
Author Rating