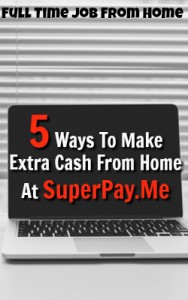 SuperPay.Me is a reward site that pays you to complete offers, surveys, watch videos, and much more. I decided to write a review of SuperPay.Me to make sure it isn't a scam because it's growing in popularity and some of my readers have asked about it.
It looks like an entirely legitimate site that does pay its members, and it has a pretty low cash out amount, which I always love!
SuperPay.Me will never be a large online income, you'll be earning pennies for completing tasks. If you're interested in making a full-time online income, check out My #1 Recommendation to learn how I made over $13,000 online last month!
In this SuperPay.Me review I'll cover how to earn, how to get paid, the complaints I have, and if this site is a scam!
Update 3/12/18: I never recommended SuperPay.Me but it seems they've stopped paying so make sure to avoid this site and check out some legitimate options.
---
SuperPay.Me Review

Name: SuperPay.Me
Type: Rewards
Verdict: Not Worth Joining 
In this SuperPay.Me review, I gave them a good score and marked them legitimate. Overall it's a pretty good rewards site that offers a few different ways to earn.
The thing I like about SuperPay.Me is that they offer many ways to get paid and the cash out amounts are extremely low!
It's not my top rated extra income site, but overall it's a pretty good site that I'd say is worth joining.
---
How To Earn At SuperPay.Me
Paid Offers
SuperPay.Me has free and paid offers available worldwide.
Most free offers pay from $.50-$2 and usually consists of signing up for another rewards/survey site.
Paid offers usually pay $2-$10. They might require you to purchase a product/service or might require a free trial, but you'll have to enter your credit card information.
Paid Surveys
They have surveys that they host themselves and from other 3rd parties. Most surveys pay from $.50-$2.
It will show what the study's about, how much it pays, and estimated time to complete the survey.
You'll need to qualify for the survey before you can complete it and get paid.
Paid Videos
In this section, you'll see videos that you can watch for points. Most videos are 2 minutes or less and usually, pay .5-1 point.
There's usually just 2-5 videos available, so this won't be a huge earner.
Paid To Click
In this section, you'll get paid to visit websites/ads for 15-30 seconds. You'll see a long list of sites available. Just click on the site, stay on the page for the required time, and your earnings show up in your account balance.
Most paid to click websites pay $.01-$.0001 and require you to stay on the page for 30 seconds or less.
Referral Program
They do have a referral program that can help you earn more. You'll receive 25% of your referrals earnings for life. They give you your own link, and they have banners you can place on your Blog/website if you have one.
Prize Contests
SuperPay.Me runs quarterly contests that let top earners win a large cash prize. The terms change each quarter, but it's usually the top 20-25 members win a cash prize.
The cash prize is divided up between the top earners; total prize amount is generally around $1,000.
---
SuperPay.Me Rewards
My favorite thing about SuperPay.Me is the payment system. You can cash out via PayPal, Payza, or Skrill.
Each payment type has a minimum cash out amount of $1. Once you earn $1 you can cash out at any time.
All payments are reviewed and made within 24 hours. They do say that most happen within 2-8 hours though.
---
SuperPay.Me Complaints
Won't Make You Rich
It's a pretty common misconception that all online opportunities are going to make you rich. SuperPay.Me will not make you rich; it's one of those extra income sites that can help supplement your income.
I wouldn't expect to make more than $50 a month, and most members will make less than that.
As long as you know ahead of time, you should be pretty happy making an extra income at SuperPay.Me.
---
Is SuperPay.Me A Scam?
SuperPay.Me is not a scam; it's a legitimate rewards site that offers a few different ways to earn and does pay its members.
If you're interested in joining, you can learn more or join at SuperPay.Me.
I honestly don't use this site and recommend some other reward sites over SuperPayMe. You can see the sites I recommend at Legitimate Extra Income Sites.
Extra Income is great, but you might as well learn how to make a larger income. Here's how I make a full-time income with My #1 Recommendation. You can even work with me directly building your own profitable online business for free! 🙂
Do you think SuperPay.Me is a scam? Have payment proof? I'd love to hear more in the comments below!
Summary
Reviewer
Review Date
Reviewed Item
Author Rating