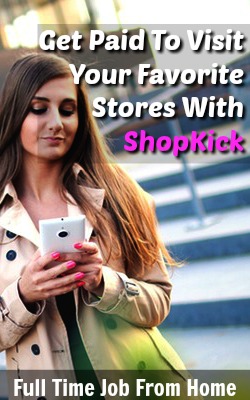 Check out my New ShopKick App Review
Today there are more and more apps that you can earn money with. ShopKick is a new app that actually pays you to visit stores, scan products, and buy products.
It's very similar to a few different apps that I've reviewed in the past so check out these apps as well!
ShopKick is not a scam, it's actually completely legit. ShopKick will pay you points, which they call kickbacks, that can be redeemed for rewards. ShopKick is completely free to join and can be added to any android or apple mobile device.
In this ShopKick Review I will prove to you that ShopKick is not a scam, and also give you some ShopKick Tips and Tricks to earn more!
---
ShopKick Review

Website: ShopKick.com

Price: Free
Score: 90 Out of 100
Verdict: Legit
Check out my New ShopKick App Review
In this ShopKicks Review I gave this app a great score and marked it legit. ShopKicks is a completely legit app that actually pays you to shop and visit stores. This app is pretty cool because it doesn't require you to do anything that you're not already doing.
They have a great rewards system that has tons of gift cards and physical products. I do have a few complaints about this app, but if you know what you're getting in to you should be pretty satisfied.
I recommend this app to anyone looking to make some extra money while doing something that you already do!
---
How Does ShopKick Work
Check out my New ShopKick App Review 
The ShopKick app process is actually very simple. I've broken down exactly what you will be doing to earn rewards with this app.
Of course, before you can start earning with this app you need to download it from their site here.
Next open the app anytime you go to the store.
Once you walk into the store you will be rewarded just for entering the store!
Once you're in the store you will see a list of products, all you need to do is find the item and scan the bar code to earn kicks.
You can also get paid to buy a product as long as it's listed inside the ShopKick app!
After you earn some kicks you can exchange these for great gift cards and physical products.
Still a little confused? Watch this video to learn more:
---
ShopKick Rewards
Check out my New ShopKick App Review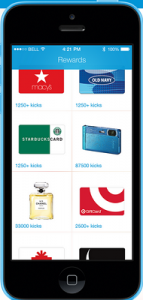 ShopKick offers an amazing rewards system. As you know you will be earning kicks when walking and shopping in stores. These kicks can be exchange for a variety of different items such as gift cards and physical products.
ShopKick has Gift Cards to most major retailers such as Target, Walmart, Home Depot, StarBucks, Best Buy, Old Navy, and many more. Most of the gift cards start at the $5 amount which means you can get paid sooner!
ShopKick also offers physical products as rewards. Most of these products are electronics, beauty, and clothing. These products are going to cost you much more then gift cards, but if there is a certain product you want, you can get it within the rewards store!
---
ShopKick Concerns
Check out my New ShopKick App Review
Just like every product I review, there are a few things about this app I don't really like. I've covered a few of these below.
No Cash
The biggest concern to me is the fact that there is no cash option, neither check or PayPal is available. For some this might not be a concern, but I'm in the business of making money online and I want to get paid in cash for my time and work.
They do offer a ton of different store gift cards, so even if you do prefer cash you can probably find a gift card that will suit your needs.
Weird Price For Rewards
The next concern I have is how many kicks some of the items are. To make it easy let's take a look at some gift cards. It looks like $5 gift cards are 500 kicks which makes it seem like 100 kicks equals $1. But when you get up to the $10 gift cards you expect it to cost 1000 kicks.
The weird thing is most $10 gift cards cost 1250 kicks instead of 1000. Which isn't a huge deal, since you can purchase the smaller cards for the correct rate, but if you're going to be earning a lot with this app it's going to get annoying cashing out all of those smaller gift cards.
---
ShopKick Tips and Tricks
Check out my New ShopKick App Review
Of course, there really isn't a way to trick the system with this app, but there are a few things you can do to earn more with this app.
Refer Your Friends: ShopKick does offer a referral program, where you can easily invite your friends by letting the app connect to your contacts. Then a simple text message could turn into a referral.
Use the app daily: Every once in awhile this app will have a few different bonuses that gives you kicks and you don't really have to do anything special.
Connect Your Credit Card: If you connect your credit card to this app you can actually get paid to buy items. This can really increase your earnings, because they pay much more then you get for walking into a store and scanning items.
Start A Website: If you really want a lot of referral you should start a website. You can see how to do this at Start Your Own Online Business.
All of these ShopKick Tips and Tricks should help you earn more kicks with this app and keep you out of trouble because they are all legal inside the app!
---
Is ShopKick A Scam?
Check out my New ShopKick App Review
As you can see from this review, ShopKick is not a scam. It's a completely legit app that will pay you money to visit stores, scan products, and buy products. If you're interested in joining this site visit ShopKick.com to get the app.
Making money with apps is pretty cool, but there are also a lot of way to make money online that are even cooler! To see all the legit sites that I've reviewed visit All Scam Free Online Jobs.
If you're looking to make a full-time online income I recommend checking out how I make money online at Start Your Own Online Business. 
Thank you for reading this ShopKick Review. If you have any questions about this app or any of the sites above make sure to leave comments below!
Summary
Reviewer
Review Date
Reviewed Item
Author Rating