I honestly don't know how I've haven't heard of SavingStar before today. SavingStar is a website and app that pays you cashback on your shopping. SavingStar is basically a combination of Ebates and Ibotta, where it lets you earn money for shopping online and shopping in store.
SavingStar is not a scam, you can find proof of them paying all over the internet. If getting paid to shop is something you're interested in SavingStar is a great option to try out.
In this SavingStar Review I'll cover how it works, what items you can get cashback on, how your paid, and much more!
---
How Does SavingStar Work?

Like I mentioned, Saving Star is very similar to Ebates and Ibotta, but all in one place. To get started you of course need to sign up for a completely Free SavingStar Account.  Once you've confirmed your email you can begin to shop and get paid cash back. Since SavingStar pays for in store and online shopping, I'll cover each individually below.
In Store Shopping
If you're looking to get paid to shop in store here's how it works. You can see all the items that SavingStar will pay you to buy on the website or mobile app. Basically you'll find particular items or brands that they pay cash back on. Most of them require you to buy a certain quantity or a dollar amount of a brand or product. I've provided an example below!

As you can see you'll earn $5 if you spend $20 or more on Little Debbie products. All you need to do is go to the store, purchase the products, upload a receipt using the SavingStar app, and you'll get paid.
Online Shopping
If you'd like to get paid to shop online just visit SavingStar.com and click on the shop online tab. You'll see a list of all the stores they pay cashback to. They pay cash back to over 500 stores including major retailers like Walmart, almost any store you can think of is available on SavingStar.
The process is very simple. Visit the store through SavingStar, shop normally, complete a purchase, and get paid a percentage of your order total.
With online shopping you can purchase any product from the store to get paid. In store shopping only pays you cash back on certain items!
---
SavingStar Paid To Shop Review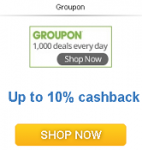 Website: SavingStar
Price: Free To Join
Score: 90 Out of 100
Verdict: Legit
In this SavingStar review I gave them a great score and marked it legit. If you're a returning visitor to my site you'll probably notice that I gave Ebates and Ibotta higher scores then SavingStar, but that's mainly because they specialize in either online or in store shopping.
But SavingStar has both, even though it might not be as great as the site that is specialized it's awesome that you can have all your cash back earnings in one spot instead of splitting it up.
I really like that payments start at $5, overall SavingStar is a really good site to get paid cashback from shopping!
---
What Items Give You Cash Back?
I want to make something very clear to everyone, when shopping online you get paid for any items that you purchase through a store on SavingStar. But with in store shopping you only get paid for items they have listed as cash back options.
I'm looking at their site now and most are food or grocery items, but they do have some personal care items such as shampoo.
I'm not going to say never, but items like electronics are not available for in store cash back, but could be bought online for cash back!
---
How Does SavingStar Pay?
SavingStar lets you cash out after reaching $5 in your account. They have a few different methods of payment available such as Direct Deposit, PayPal, Amazon Gift Cards, and donations.
With multiple ways to earn and a very low cash out amount you should be able to get paid within a few shopping trips after joining!
---
How To Earn More With SavingStar?
Linking Rewards Card Of Your Favorite Store
If you do most of your grocery shopping at one store you probably have some sort of rewards or loyalty card. Well with SavingStar you can link your card and if you ever buy anything they pay cash back on you'll get paid!
Really this is a lot easier than uploading your receipt every time you shop and you don't even need to check what items are available. Just shop normally and if you meet any cash back deals you'll get paid!
SavingStar CashBack Toolbar
Is a browser toolbar available on Chrome, Firefox, and Internet Explorer. Basically this toolbar is going to notify you if you visit a store that's available on SavingStar, making sure that you always get cash back for your online shopping!
The toolbar also offers an easy to use search bar, where you can search for stores and products to see your cash back options!
SavingStar Credit Card
If you really want to maximize your earnings at SavingStar you can apply for a credit card through them. Another site I've seen that does this is SwagBucks.
The card is an American Express, so almost everywhere accepts it. You'll earn 10% cash back on all items at the grocery store, 5% cash back on all items at a mall (or online shopping), and 1%  back on everything else.
One thing to keep in mind is if you use this card to make a purchase online through SavingStar you'll earn 5% cash back along with any cash back earnings you'd already receive if you didn't use the card!
---
Is SavingStar A Scam?
SavingStar is completely legit and a scam free way to earn cash back on your shopping. I really like that you can earn in store and online cash back all in one place. The low $5 cash out amount should make it easy to get paid within a few shopping trips.
Honestly if you're only going to do one type of shopping I prefer Ibotta for in store and Ebates for online, but if you want to do both SavingStar is a great option to get it all in one place!
If you'd like to learn more or to join visit SavingStar and sign up for a completely free account!
If you'd like to see some other ways to make money online take a look at these extra income sites.
SavingStar and other cash back sites won't make you rich, if you're looking for a large online income make sure to check out My #1 Recommendation.
Do you think SavingStar's A Scam? Been paid in the past? Let me hear your thoughts and experiences with SavingStar in the comments below!
Summary
Reviewer
Review Date
Reviewed Item
Author Rating