3
Get Paid To Receive Text Messages With FreeEats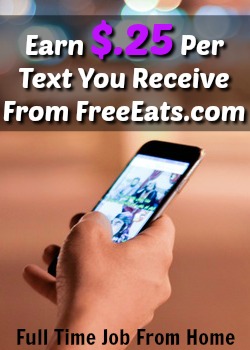 I'm not going to lie, when I heard I could get paid to receive text messages I thought it had to be scam. But you never know until you try.
Turns out that the site I found called FreeEats will actually pay you to receive text messages! Now this isn't going to make you rich or even pay off your major bills, but if you spend a few minutes today you can make some extra cash each month, and even earn $1 instantly today!
Today I'll show you exactly how to start getting paid to receive texts on your mobile device, proof that FreeEats pays, and even talk about how to earn more!
---
How To Get Paid For Text Messages!
1) Sign Up For Free: Earn $1 Instantly
First you need to sign up for a completely free FreeEats account. All you need to do is enter in your phone number and zip code.
2) Click The Link On Your Mobile Device
After you enter your phone number and zip code on their website, you'll receive a text message with a link to confirm your account. Click the link and you'll be taken to FreeEats.com on your mobile device where you can log in.
After you log in you'll receive $1 instantly to your PayPal account, I'll show you proof of this later, usually shows up within 10 minutes of joining!
3) Get Paid For Viewing Ads
After you complete your registration and receive your $1 payment you'll occasionally receive text messages with ads. You can interact by clicking on the ad, or just completely ignore it. Either way you'll get paid $.25 to your PayPal account instantly!
Last Month I Made

$13,841 Online
Make sure to learn how you can get started for free!
---
Does FreeEats Really Pay You For Texts?
I can show you how to join and earn $1 today, but that doesn't do much if it's not legit. Luckily, FreeEats is completely legit and I've included a screenshot of my $1 sign up bonus below!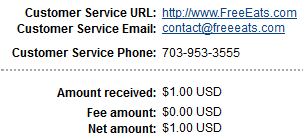 Here's proof you get paid $.25 per text message!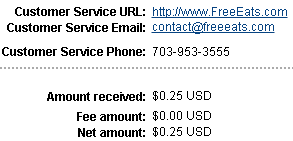 If you're going to refer your friends here's proof you'll receive $1 for each!
Get Your $1 Payment Instantly Here!
---
How To Earn More With FreeEats!
It's awesome that you can get paid just for receiving a few ads via text each month, but there's a way to earn a whole lot more with FreeEats and I'll talk about it below.
Referral Program
After you join Free Eats and get your $1 PayPal payment instantly you can start to refer your friends. Most ads pay $.25 a piece, that's good money considering you don't even have to click on the ad. But with the referral program you can earn a whole lot more!
For every friend you refer to free eats you'll earn $1. These payments are paid via PayPal instantly after your friend joins!
They give you an easy way to share your link on Facebook and a referral link that you can post on other social media and a website if you have one.
This should be a super easy way to earn more with FreeEats!
---
I want To Get Paid For Texts Too!
So I've shown you exactly how FreeEats works and proof that they actually do pay you to receive text messages on your mobile device.
I'm already getting paid to receive text messages and chances are you text every single day, why are you not getting paid yet?
Start getting paid to receive texts by signing up for a free FreeEats.com Account. You'll even get $1 paid instantly for joining below.
Get Paid $1 Today To Receive Texts!
If you like free and easy cash here's some other ways to earn some extra money online!
Hopefully you take advantage of this cool and easy way to make some extra money with your mobile phone. Before you sign up, Have You Ever Been Paid To Text Before? Let me know in the comments section below!