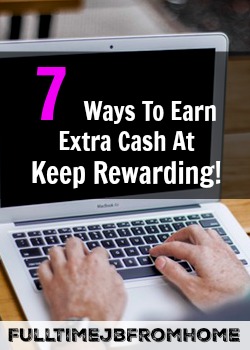 Please check the comments about payment delays. You probably want to stay away from keep rewarding. Check out these legitimate extra income sites!
Keep Rewarding is what many people call a reward site. You'll earn by taking surveys, watching videos, completing offers, and much more. You can exchange points for gift cards to your favorite stores.
I decided to write a review and see if Keep Rewarding is a scam or a legitimate way to make money online. It does look like this site is available to anyone over 13 and in most countries so almost anyone can join.
Please keep in mind that Keep Reward and other reward sites won't earn you much. If you can make $10 a month with reward sites you're doing really good! If you're interested in making a much larger passive income online, check out My #1 Recommendation, it's how I made over $13,000 online last month!
In this Keep Rewarding Review, I'll cover how to earn, how to get paid, complaints, and see if this site's a scam.
---
Keep Rewarding Review
Site: Keep Rewarding

Price: Free To Join
Score: 75 Out of 100
Verdict: Legitimate  No longer Paying
In this Keep Rewarding Review I gave them an okay score and marked it legitimate, but it's not a site I recommend. If you're looking to get paid to complete tasks, offers, surveys, etc. I recommend many other sites over Keep Rewarding.
The biggest complaint I have with the site is that it seems outdated in the design and layout, but some people may prefer it.
Overall Keep Rewarding is a legitimate "paid to do" site, so if you're already a member don't worry, you'll get paid, but it's not a site I recommend using.
---
How To Earn At Keep Rewarding
Keep Rewarding is set up a bit different than some reward sites, where they have ways to make money from many different providers, but instead of searching by type of "way to earn" you just can visit each provider and see what's available. To make it simple here's a list of the different ways to earn, but not each provider has every option.
View Websites
They call this CPC, but it's getting paid to view websites and ads. There's a long list of ads to see and most require you to view the site for a few seconds. These only pay 1 point or less.
There's also some websites that require you to view a slideshow (multiple pages of the site) and then enter a code at the end. Most of these pay from 5-10 points each.
Watch Videos
Keep Rewarding does pay you to watch videos, you'll see a list of the different videos they'll pay you to watch. It seems that most range from 1-2 minutes and pay 1/2-2 points per video watched.
They also have some that require you to watch more than one video that usually pays 3-5 points.
Take Surveys
Surveys are a bit different then what I was expecting on this site because they are surveys, but they seem to be more like offers. You fill out your information like a free offer, but there're some questions like a survey as well. Either way, it's a pretty good way to earn on this site because most pay around 50 points. Unfortunately, it does not give you a suggested time to complete the survey.
Social Media
Keep Rewarding occasionally pays you to share information on social media. At the time of this review, they have a few products you can share on Twitter to earn cash, or you can follow them on social media to earn.
It looks like all of these social media offers pay under 10 points.
Offers
There're three different categories that I lumped into one way to earn. On their site, they list Registration, Download/Install, and Trails/Purchases into categories, but these are all considered offers.
Offers require you to sign up for a free site, join a site on a credit card trial, or sign up for a mailing list.
Most of the free offers are easy to complete and pay anywhere from 5-50 points. The paid (credit card trials) do require you to give out your information but usually pay more, 50-500 points.
Shopping
Keep Rewarding does offer cash back shopping, similar to a site called Ebates. If you're looking to get paid cash back for your shopping, I highly recommend using Ebates because this sites cash back is extremely limited. But if you do decide to use it you'll find a store you'd like to shop at and visit it through Keep Rewarding Just shop normally and complete an order to earn cash back.
There's only a few stores available and most pay under 3%.
Refer Friends
Keep Rewarding does offer a referral program. You can post your unique referral link anywhere you'd like, and they do have many banners to place on your website.
You'll earn 10% of all your referrals earnings for life.
---
Keep Rewarding Rewards
Keep Rewarding offers a few different ways to get paid. PayPal, Amazon, and Starbucks Gift Cards are the main ways. All of the standard rewards start at $5 and cost 500 points.
As a first-time user, you can exchange points for a $1 PayPal or Amazon payment, but these are a bit overpriced. For example, the $1 PayPal payment starts at 125 points.
It looks like most payments will arrive with 24 hours of requesting a cashout.
---
Keep Rewarding Complaints
Just Extra Income
Just like all other reward sites that pay you to do various things, Keep Rewarding is just extra income. This site won't make you rich, but can make you an extra $20-$50 a month.
For some reason, people get the idea that all making money online opportunities have huge payouts, but with KeepRewarding you'll be earning dollars and cents to complete tasks, take surveys, etc.
As long as you know it won't be a huge income you should be decently happy with this site. If you're looking for a Full-Time income check out My #1 Recommendation, it's how I made over $13,000 online last month!
Unprofessional Layout
I'm sure people will disagree with me on this, but I don't like how the site's set up, plus there's a lot of ads on the sidebar. I'm used to sites like Swagbucks and Fusion Cash where everything is laid out nice, and it looks like they've updated the website.
With that being said the website seems to function just fine so it just comes down to preference.
---
Is Keep Rewarding A Scam?
KeepRewarding is not a scam, but it's not a reward site that I highly recommend. Personally, I prefer sites like Swagbucks over Keep Rewarding, but it comes down to personal preference.
I like that they offer a $1 cash out to all new users and that they have many ways to earn, but overall the layout and usability of the site makes me recommend these rewards sites over Keep Rewarding.
If extra income won't cut it, check out My #1 Recommendation, it's how I made over $13,000 online last month!
If you didn't find what you were looking for here, check out these helpful links to other ways to make money online:
Work From Home Companies Hiring Now
All The Extra Income Sites That Pay Me
How I Made Over $13,000 Last Month
Do you think Keep Rewarding is a scam? Let me hear your thoughts on this review in the comments below! 
Summary
Reviewer
Review Date
Reviewed Item
Author Rating