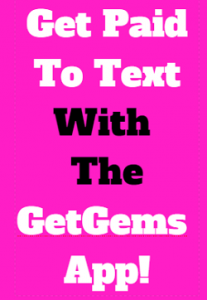 GetGems is a new text/chat app that's becoming more popular every day. The main reason for this is because you can get paid to text and chat just like you normally do. Now the full version of this app hasn't been released (you won't be paid for texting just yet) but I still wanted to write a review to let you know about this app and some extra income opportunities in the future.
Even though you can't get paid to text/chat at this time, you can still earn cash a few other ways. In this GetGems Review, I'll cover all the ways to earn, the negatives/positives, and see if this app is a scam.
---
GetGems App Review
App: GetGems

Price: Free
Score: 80 out of 100
Verdict: Legitimate
In this GetGems review, I gave them a good score and marked it legitimate. Unfortunately at the time of writing this review, getting paid to text is not available. I think the app will be much better once that feature is released, but for now, the only real way to earn is by inviting your friends to join the app.
Once all of the features are released, I think this will be a pretty awesome app. As long you don't mind making a few bucks a month and dealing with ads on the screen while texting.
---
How To Earn At GetGems?
Signing Up
As soon as you sign up for Getgems, you'll earn 25 gems.
Inviting A Friend
Right now the main way to earn gems is by inviting your friends since messaging is not available yet. You can copy your referral link and post it on social media, email, or on your website. You'll earn 25 points for every friend you invite to GetGems.
Sharing On Social Media
Very similar to the referral program, but you can also earn a few points just by sharing a post about GetGems on social media without having any friends join. You can also earn a few points for following GetGem's social media accounts.
Daily Giveaway Bonus
Each day that you log in and use the app, you'll be given a few points for your time. The first day you'll earn one gem, but I believe the longer your streak, the more points you'll earn.
Texting/Messaging
The final way to earn at GetGems is through messaging, but at this time it's not available. They say they're waiting for their user base to build before releasing this feature.
When it does become available here's how it will work. You won't get paid per message you send, but there will be ads shown on the screen.
You'll get paid for using the app and viewing the ads. From what I've heard it does not matter if you interact with the ads.
This will by far be the easiest way to earn, but won't be a huge income by any means.
---
How To Get Paid By GetGems?
There're a few different gift card options that GetGems offers. Rewards start at 1,000 gems or $10 to Amazon, eBay, Starbucks, and GameStop. They also offer a $25 iTunes gift card.
All are e-gift cards, so they will be delivered to your email within 24 hours of cashing out.
---
GetGems App Positives
Easily Add Phone Contacts
One thing I was worried about when I first started using this app was that none of my friends would be in the app. Well, that was the case, but you can easily allow access to your contacts where you can see if anyone's already using the app or invite anyone in your contacts.
Secure Wallet
Personally, I prefer PayPal, but the GetGems app does have a wallet where you can send cash or bitcoin to any GetGem contact. When I say cash, you'll be sending gems (currency used to exchange for prizes/cash).
GetGems App Complaints & Concerns
No Paid To Text At This Time
Currently, the app says they're waiting for their user base to build up to make sure that they have the cash to support paying all of their members, so getting paid to text/chat is not available at this time. To the best of my knowledge, there's no set date of when it will be available, so you never know, it may never happen.
If you're reading this and texting is now available, please comment and let me know 🙂
Small Income
As with most extra income sites and apps, this isn't going to make you rich. Really at this time the only way to make any money is by referring friends. Once paid to text comes out you still won't be earning much. You'll be making a few cents for having ads shown on the screen while you're texting. Some people may find this distraction not worth the cents you'll earn to text inside the app.
---
Is GetGems A Scam?
GetGems is not a scam; it's a completely legitimate way to earn some extra cash doing things you already do every day. The real concerns I have are when will the paid to text feature become available and how annoying will the ads end up being.
Overall the app seems pretty cool and easy to use, so it's a good join if you're interested in getting paid to text, they also have some additional features that are pretty cool and help with privacy.
To learn more or to join visit GetGems.org to get started.
If you like extra income apps, check out these awesome extra income sites that pay me each month. Don't forget that these sites are just extra income, so if you'd like to make a larger income check out My #1 Recommendation.
Do You Think GetGems Is A Scam?
Summary
Reviewer
Review Date
Reviewed Item
Author Rating