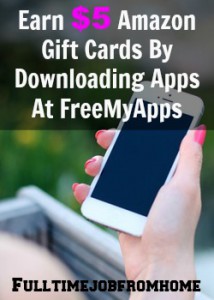 FreeMyApps is an app available in the Apple and Google Play App store. FreeMyApps is a scam free way to get paid to download other apps.
Inside this review, I'll show you why this app is legit, how it works, how to earn more, how to get paid, and some complaints about the app.
FreeMyApps isn't the only app like this, check out this huge list of other apps that pay you to download apps!
Overall FreeMyApps is a good way to get paid to download free apps on your mobile devices. Read on to learn more.
---
How Does FreeMyApps Work?
1) Download the App (Join)

FreeMyApps is available on Apple and Android mobile devices, but the process is a bit different on each device. The best thing to do is visit FreeMyApps.com and download the app from there. Android users can easily download the app in the Google Play Store, while iPhone users need to visit the FreeMyApps website on Safari. I say Safari because I use Google Chrome and it would not work. It must be done on Safari!
2) Download Apps
Once you're inside the app, you'll see a full list of apps available for download, how much they pay, and the requirements. Click on the app, and you'll be redirected to the app store to download the app.
3) Open and Use The App
Once you've downloaded the app, just open it. The requirement on every app I've seen is use it for 30 seconds. As long as you open the app and mess around a bit, you should receive credit.
4) Earn Points Exchange For Rewards 
Once you earn some points you can exchange them for excellent rewards. The lowest cash out amount and most desirable is a $1 Amazon Gift Card.
---
FreeMyApps Review
App: FreeMyApps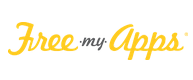 Price: Completely Free
Score: 90 Out of 100
Verdict: Legit 
In this Free My Apps review, I gave them an excellent score and marked it legit. I have to say that I'm pretty impressed with this app and the low cash out amount of $1. I was able to reach the cashout amount in a few minutes by downloading three apps.
The app was very easy to download, even on iPhone and cashing out was super easy. Now this app isn't going to make you rich, but you could easily make $5 while you're waiting in a doctors office or waiting for class to start.
It's super easy to get started, and since the cash out amount is so low, it's easy to stay motivated, even if it's just a $5 Amazon gift card. I highly recommend this app, and I'll show you why in the rest of this review.
---
How Does FreeMyApps Pay?
FreeMyApps has a few different forms of payments available. I'll give you a list then discuss dollar amounts after. The available rewards include Amazon, iTunes, Google Play, CVS, Best Buy, Starbucks, Skype, Fandango, RedBox, Groupon, Nike, Nascar, XBox Live, Facebook, Verizon, AT&T, and a few charities to donate your earnings to.
Almost all gift cards start at $5 or $10, except for the Amazon gift card. You can get Amazon gift cards starting at $1 or 300 points. To put that in perspective you can get a $5 gift card for 1500 credits.
Gift Cards are usually delivered within 48 hours of cashing out. One thing to know is that your first cash out can't be made until 24 hours after joining, but download the app today, and you can easily reach a $5 gift card that can be cashed out tomorrow.
---
How To Earn More At FreeMyApps
Check In Bonus
The easiest way to earn more with this app is by taking advantage of the daily check in bonus. Now this won't be a huge income, but log in every day for a month, and you've reached the minimum cash out amount.
Every day you use the app, you'll earn ten extra bonus points!
Referral Program
Free My Apps does have a referral program that can help you earn more inside the app. You'll have your own referral link and the ability to easily share your link on social media inside the app.
For every friend you refer, you'll earn 200 points once they download their first app. The awesome thing is, almost every single person that goes through the trouble of downloading FreeMyApps will at least download one app, so you should be able to make a decent income off referring your friends!
---
FreeMyApps Complaints
Just Extra Income
For some reason, people always think that apps like this are going to change their financial life. I guess huge easy income has been associated with "making money online" so much that it's just expected.
Well if you go in with that attitude you'll be disappointed. FreeMyApps is a great way to make an extra income. It's super easy to sit down for 20 minutes and earn enough for a $5 gift card, but it's not something that will be more than extra income. Join with that in mind, and you'll be very happy with this app.
iPhone Users Have It Tough
I covered this at the beginning of the review, but Android users can easily download the app in the app store. iPhone users will need to visit FreeMyApps.com on Safari to get started. I'm not a tech guru, but it seems that all apps that pay you to download other apps have the same issue on iPhone. Must be something in the programming of the phone that requires you to do it from a browser.
But I joined on an iPhone, had no problems, and was still able to get paid. It's just not as convenient as downloading the app from the app store.
---
Proof FreeMyApps Is Legit!
Since there's some people out there saying FreeMyApps is a scam I thought I'd go ahead and prove that it's not. I downloaded the app when I started this review. Within a few minutes of using it, I'd already reached enough points to cash out. You do have to wait 24 hours before you first cash out, though. You can see proof of payment below; I cashed out a $1 Amazon Gift Card: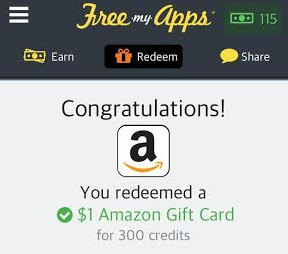 ---
Is FreeMyApps A Scam Or Legit?
As I proved above. FreeMyApps is a completely scam-free legitimate way to get paid to download free apps. If you'd like to get started earning cash for downloading apps, you can join at FreeMyApps.com.
I highly recommend this app; it's easy, and you'll get paid for something you already do! Download the app here.
If using your smartphone for extra cash isn't for you, here's a few other ways to make an extra income online! If extra income isn't enough, here's how I make a full-time income online with My #1 Recommendation!
Do you think FreeMyApps is a scam? I'd love to hear your comments on this review below!
Summary
Reviewer
Review Date
Reviewed Item
Author Rating