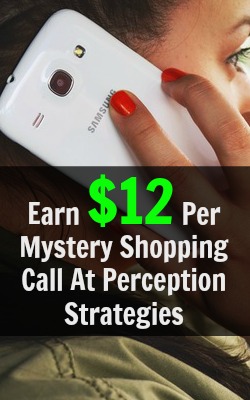 Perception Strategies is a Mystery Shopping site that deals with HealthCare. I came across this site while researching each company on this huge list of mystery shopping jobs.
Perception Strategies is a company that offers many types of shops including telephone and in-person visits. The pay seems pretty good, but there're some requirements based on location, and you have to be a good fit for the company.
Mystery Shopping won't be a huge income, but it's a decent income for the time it requires.
In this Perception Strategies Mystery Shopping Review I'll cover the requirements, application, pay, and all the important details of this job.
---
Perception Strategies Job Review

Perception Strategies offers a few different types of shops. Once hired you'll have access to in-person and telephone shops. I've listed a few shops that are available.
Information Calls, Appointment Calls, Call Center Calls, Basic In-Person Visits, and 24 hours in patient stays.
Now not all will be available; it just all depends on what's needed in your area. The schedule is very flexible like other Mystery Shopping jobs. No shops are mandatory so if it doesn't fit into your schedule just skip it.
Members say that most areas have a few shops available each week, but this is just extra income, and should not be relied on as a full time position.
---
Perception Strategies Requirements & Application
The only requirements to join is internet access and live in one of the areas they hire. You can see a full list of locations on their website here. They do ask if you've worked in the Health Care industry or been convicted of a felony. I'm not for sure if either of these are deal breakers, but they do leave a spot to explain. So maybe they do take some people. I'm not 100% on what type of job would keep you from being eligible.
You start the application by completing a form on their website. This includes demographic information and the health care employment question I covered above. After completing the form you'll have to complete a sample over the phone shop. You'll have to write, in detail, how the call went. From the forums they are looking for very specific information, like who answered, how many times the phone rang, etc. Make sure to be as detailed as possible, even over doing it is better then not including enough information.
If they are interested, they will contact you with additional information on your acceptance.
---
Perception Strategies Mystery Shopping Pay
Unfortunately, I could not find exact details on how much each type of shop pays. From what I can see most phone shops pay around $10-$12 and other in person shops pay more based on what you're required to do.
I'd say most in person shops pay $50+ because you'll be going to the doctor's office and most likely spending a good amount of time.
---
What Others Have To Say
It looks like members who've been hired are pretty happy with the amount of work they receive and the flexible schedule mystery shopping provides. But there're some complaints.
The biggest complaint is the sample phone shop. From what I understand they don't give out much information on exactly what they want.
People who have applied say you need to be very very detailed. Things like time of the call, how long the call was, who you talked to, how many times the phone rang before answering, etc. should all be included and documented.
To me, I don't see how anyone would know to include that information without being told, but it's what they're looking for.
If you do apply make sure to be extremely detailed in your sample phone shop and you'll have a much better chance of being hired.
---
Is Perception Strategies A Scam?
Perception Strategies Mystery Shopping seems to be a scam-free way to get paid to mystery shop. I like that they offer different types of shops. I'm assuming you can pick which ones you'd like to do, so if you don't want to visit a doctor's office, you can probably just do phone shops.
Most of the complaints have to do with the application process. If you apply, know to be over detailed about the sample call. This will give you a much better chance of getting hired.
If you'd like to learn more or to apply, visit Perception Strategies and start the application by filling out the form on the bottom of the page.
Mystery Shopping isn't for everyone, and it's usually pretty difficult to get hired. No worries, here're some other ways to make an extra income online.
Extra income not for you? Here's how you can make a large online income with My #1 Recommendation.
Have you applied for Perception Strategies? Have any pointers for new applicants? Let me hear your thoughts on this review in the comments section below.
Summary
Reviewer
Review Date
Reviewed Item
Author Rating