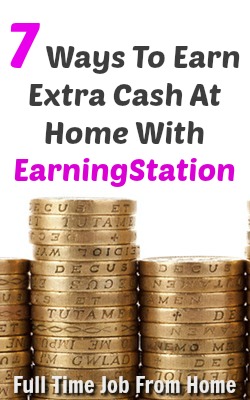 No Longer Available, Check out these Extra Income Sites That Pay Me Each Month!
If you follow my site you know I'm a big fan of extra online income. Well today I have a brand new site called Earning Station that someone contacted me about asking if it's a scam. Of course, I checked it out and put together this EarningStation Review.
Honestly, for a brand new startup site it's pretty darn good, and it's parent company, Massfinity is a very reputable company.
Earning Station is not a scam, it's a completely legitimate rewards site that I actually recommend.
Please understand that Earning Station and other reward sites won't make you much money. If you're looking for a large online income, check out My #1 Recommendation, it's how I made over $13,000 online last month!
In this Earning Station Review I'll cover how you can earn, how to get paid, and some other important information about this site!
No Longer Available, Check out these Extra Income Sites That Pay Me Each Month!
---
Earning Station Review
Name: Earning Station
Price: Free To Join
Score: 70 out of 100
Verdict: Legit
In this Earning Station Review, I gave them a good score and marked them legit. For a start-up company that's not very old, it's a very good site. I liked that they have many ways to earn and have the site laid out easily.
At this time the rewards are pretty limited, but I'm hoping to see some improvements overtime on this.
Overall Earning Station is a good "get paid to" site that I'm sure will get better as they're more established.
---
How Does Earning Station Work?
Well if you're familiar with "Paid To Do" sites you already know how it works, but if not basically you'll be earning points, which they call Station Dollars. You earn this points by taking surveys, completing offers, watching videos, and more.
Once you've earned some Station Dollars you can exchange these for gift cards to popular stores. It's a pretty simple concept, but here's a video to explain some more:
---
How To Earn With Earning Station
Like I mentioned Earning Station is very similar to SwagBucks. They have a similar site layout and offer most of the same ways to earn. Below I've laid out all the ways Earning Station lets you earn. The site is new so I'm sure more will be added in the future.
Offers
On this page you'll find free and paid offers. Offers usually have to do with signing up for a site or purchasing a product or service. Free offers could be signing up for a survey site. These usually pay around 100 points each.
The paid offers pay higher. An example would be a free trial of a service or buying a membership. These usually pay from $3-$10+. Note that all free trials require a credit card. If you don't want to get charged you'll need to cancel your membership!
Surveys
What would a paid to do site be without surveys. Earning Station has a few different types of surveys you can take. They have some that they provide themselves and you can also complete surveys from companies like Peanut Labs.
From what I can see, there's nothing special. If you've taken surveys before you know the drill. It will show the name of the survey, how much it pays, along with estimated time to complete.
Express Deals
In this section you'll find a lot of offers that are hosted by other companies. There really isn't anything new here other than it gives you more offers to complete and the ability to earn more Station Dollars.
Videos
Earning Station Videos is very similar to SwagBucks. They have 1,000s of videos to choose from, most are pop culture and news related. Most range from 1 minute to 3 minutes.
Start watching videos till the very end. Once you watch 10 full videos you'll earn 2 Station Dollars.
Coupons
The coupons section has a wide variety of coupons to be redeemed at most stores. It works by cutting coupons online though earning station, go to the store, and redeem the coupon. Since you got the coupon off of Earning Station, you'll receive a few Station Dollars for using the coupon.
Invite Your Friends
Earning Station does offer a referral program and gives you the tools to promote it. They have a built-in emailing system, easy to use share buttons, and a referral link to post on a website.
Every friend you refer to Earning Station becomes your referral. You'll earn 10% of their earnings for life.
Codes
Very similar to SwagBucks where they post promo codes that give you a few free Station Dollars when you redeem them. You can find these codes by following them on social media and reading their blog. Simply type the code into the code bar and get some free Station Dollars.
---
Earning Station Rewards
Now that you know how to earn points how can you get paid? Well right now I'd say this is the most negative thing about Earning Station, and I'm hoping to see improvements on this, but for now, you can only exchange points for gift cards starting at $10 or 1000 points.
Right now the best reward they have is an Amazon Gift Card, which starts at $25 or 2,500 points.
They do have $10 gift cards to sites like 1-800 flowers, Best Buy, Home Depot, Office Depot, and more. Hopefully they'll have a $10 Amazon Gift Card and PayPal soon!
---
My Thoughts On Earning Station
I've reviewed hundreds of get paid to do sites, and overall Earning Station is pretty good and scam free. I have to keep in mind that this site is new and still making improvements, but they're off to a good start.
I really liked the multiple ways to earn and the easy to use layout of the site.
Personally I like to get paid in cash, so I wish there was a PayPal option, but hopefully the rewards will improve soon!
Overall this is a scam free legit paid to do site that can earn you some extra spending money each month!
---
Is Earning Station A Scam?
No Longer Available, Check out these Extra Income Sites That Pay Me Each Month!
You've probably already figured out that Earning Station is not a scam. Overall this is a good site to join to make some extra spending money each month. Hopefully, I'll get to update this review soon with some improvements they've made.
But for now, this new site is on the right path. If you'd like to learn more or to join visit Earning Station and start the easy sign-up process.
If you're interested in some other sites that can make you a few bucks each month visit the extra income sites I recommend. If extra cash sounds like a waste of time, check out My #1 Recommendation, it's how I made over $13,000 online last month!
Have more information for this Earning Station Review? Used this site before? Let me hear your Earning Station experiences in the comments below!
If you didn't find what you were looking for here, check out these helpful links to other ways to make money online:
Work From Home Companies Hiring Now
All The Extra Income Sites That Pay Me
How I Made Over $13,000 Last Month
Summary
Reviewer
Review Date
Reviewed Item
Author Rating