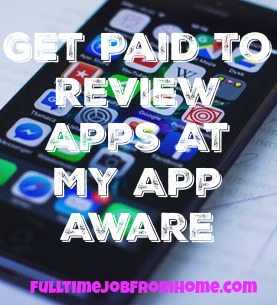 I'm a huge fan of making money any way I can and lately I've been using my smartphone a ton to earn extra cash. I recently came across a super cool site called MyAppAware. This site pays you to use apps and leave reviews in the app store.
The first thing to know is this won't be a huge income, but it is a scam free way to make some extra cash. App owners are looking for detailed reviews so they can rise the ranks in the app store, luckily they'll pay you for your help.
If you don't think earning a tiny income reviewing apps is for you, check out My #1 Recommendation, it's how I made over $13,000 online last month!
In this MyAppAware Review I'll cover how it works, how to earn, how to get paid, the complaints I have with this site, and answer is it a scam.
---
MyAppAware Review
Site: MyAppAware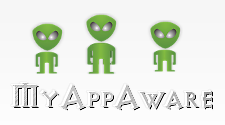 Price: Free To Join
Score: 83 out of 100
Verdict: Legitimate
In this MyAppAware Review, I gave them a good score and marked it legitimate. It seems that this is a pretty cool way to make some extra cash in your spare time. I've seen payment proof so I know this app pays and they have a pretty good referral program as well.
I do have a few complaints with this site, but overall this is an excellent way to get paid to review apps. Just so you're aware you will need an Apple ID and PayPal account to make this process work.
---
How Does MyAppAware Work?
1) Join And Enter Your Apple ID
To get started head over to MyAppAware and join as a reviewer. Just for joining and completing one review you'll earn $1 straight to your PayPal account. During the sign-up process, you'll need to enter your Apple ID nickname so they can tell you wrote your review. The sign-up process is pretty simple, but they do have to approve your account which can take 6-12 hours.
2) Find Apps To Review
Once you've joined, you'll see a long list of apps you can review. It shows the name and type of app, how much it cost, and how much you'll get paid to review the app. If you'd like to review the app, just click on the "Review this App" button, and you have 36 hours to complete your review.
3) Download, Use, and Review
Once you find an app you'd like to review, visit the app in the app store, download it, use it, then head back over to the app store to leave your review. Some apps cost money, but you will be reimbursed the purchase price.
They're looking for detailed, honest reviews. They do give you some instructions on how to write a good review so make sure to follow them to get paid.
4) Get Paid
Once you complete a review, it usually takes 24 hours for your review to be approved and the funds added to your account. You can choose to get paid upon completion or wait until you reach the cashout amount (more on this later). Payments are made via PayPal.
---
How Does MyAppAware Pay?
Once you submit a review you can either choose to get paid right after your review is approved or decide to wait until your account reaches $5. The advantage of waiting till $5 is that all of your bonus earnings are doubled. Along with getting paid for app reviews, you'll earn $1 just for joining.
All payments are sent to your PayPal account within 24 hours of cashing out or once your review is approved.
---
MyAppAware Referral Program
MyAppAware does have a referral program. For each friend you refer, you'll earn $1, and they also make $1 after joining and completing their first review. They give you a referral link that you can share on social media or post on your website.
Just a heads up, the referral link is a bit hard to find. You have to use the social media share buttons and copy the link if you want to post it on your site.
---
MyAppAware Payment Proof
When I joined, I decided to go with the combined payment plan where I had to reach $5 before I could cash out. But I also received my $2 sign up bonus after completing my first review.
You can see proof the payment below. Once my review was approved, the money was in my PayPal account within a few minutes!

---
MyAppAware Complaints & Concerns
Small Extra Income
When joining MyAppAware you should know that this app won't make you rich, it's just a small extra income. Most of the apps are going to pay you from $.25-$1 to download, use, and write a review.
I'd say that you can easily make $10-$20 a month with this site, depending on how many apps are available, but it seems there's always a long list of apps to review.
Some Apps Are Paid
There're some free apps that you can review, which I recommend starting with, but there's also paid apps that pay more. Luckily you do get paid back the purchase price of the app, plus a bonus for writing your review.
The issue here is that you don't get paid for the price of the app until you write your review and it's approved. Most of the apps are just $.99, but if money is tight, you'll have to spend a bit of money up front. It seems that most payments are approved within 24 hours, so it's not a huge deal.
---
Is MyAppAware A Scam?
MyAppAware is not a scam; it's a legitimate way to get paid to review apps. It sucks that it's such a small income, but as long as you're aware of this, you should be happy with this site. I'd say you can make $10-$20 a month pretty easily if you use the site consistently.
I also really like the referral program and that you'll earn $1 just for joining. If you'd like to learn more or to join, visit MyAppAware.com to get started.
I recommend reviewing one of the free apps first so that you can understand the process and see it's legitimate before spending money on paid apps.
If MyAppAware doesn't sound like a big enough income to you, check out My #1 Recommendation, it's how I made over $13,000 online last month!.
Do You Think MyAppAware is a Scam? 
Summary
Reviewer
Review Date
Reviewed Item
Author Rating