No Longer Available Check out these Legitimate Sites That Pay Me Each Month
GiftHulk is a rewards site that I came across yesterday. If you're familiar with sites like CashCrate, Fusion Cash, or Swagbucks you already have a general idea of how GiftHulk.com works.
GiftHulk lets you earn points, which they call Hulk Coins, by taking surveys, completing offers, watching videos, shopping, and much more.
Once you earn some points you can exchange your Hulk Coins for great rewards like gift cards and PayPal payments.
Please understand that GiftHulk and other reward sites will never be a large online income, you'll be earning pennies for the tasks you complete. If you're serious about making a full-time income online, check out My #1 Recommendation, it's how I made over $13,000 online last month!
In this GiftHulk Review I'll show you how it works, how you can earn, how to get paid, and answer is Gift Hulk a scam!
No Longer Available Check out these Legitimate Sites That Pay Me Each Month
---
How Does GiftHulk Work?
1) Sign Up And Earn 250 Hulk Coins
You can easily join Gift Hulk through email or through Facebook, Google Plus, and Twitter. When you join you'll earn an extra 250 Hulk Coins!
2) Start earning more Hulk Coins
Start taking surveys, completing offers, downloading apps, completing tasks, searching, watching GiftHulk Tv, shopping, and inviting your friends to earn more Hulk Coins.
3) Exchange Hulk Coins For Awesome Rewards
Once you earn 5000 Hulk Coins you can exchange your coins for awesome rewards. There are over 100 gift card options, most start at $5 including Amazon and PayPal.
---
GiftHulk Review
Site: Gift Hulk
Price: Free To Join
Verdict: Legit, It's Okay (Check Comments for Recent Changes/Issues)
I gave Gift Hulk a very good score and marked it scam free in this review. I've reviewed a ton of Rewards sites and I have to say Gift Hulk is a decent rewards site.
I really like that they have many ways to earn, and that PayPal payments start at only $5.
If you decide to join Gift Hulk you'll be making a good decision and will be earning on a scam free rewards site.
---
How To Earn Hulk Coins
Offers: This tab shows offers from 5 or 6 different companies. These usually have to do with signing up for a site or downloading a program. These usually pay from 100-1000 hulk coins.
Surveys: Take surveys to earn hulk coins. Similar to most sites where it shows what the survey is about, how much it pays, and estimated time to complete. Most surveys pay from 250-2500 hulk coins. They do give you points for taking surveys even if you do not qualify!
Apps: This section gives you a list of apps that you can download and use on your mobile device. Downloading apps pays 100-500 hulk coins.
Tasks: Complete short and easy tasks. Most have to do with visiting websites and collecting information. Pays 5-50 hulk coins per task.
Search: Use the GiftHulk Search bar to earn. You can set it as your default browser to earn more. Get 4 Hulk Coins for every search you do. Limit 1 per hour.
GiftHulk TV: Earn 10 Hulk Coins for every video you watch. There's a huge library of videos to watch, most range from 1-5 minutes. Every 10 videos is called a round. Limit of 30 rounds a day, get paid more then 10 coins after your 5th round of videos each day!
Shopping: Shop online at popular stores, similar to Ebates, but not as many stores available. Get paid hulk coins for every dollar you spend. Most range from 5-20 hulk coins per dollar spent.
Engage: Is basically getting paid to view websites. Every 10 sites you visit earns 25 hulk coins. You'll need to stay on each page for at least 45 seconds. No limit on how many websites you can view a day.
Start Earning Hulk Coins
---
GiftHulk Rewards
To redeem your Hulk Coins for rewards enter the GiftHulk Store. Inside the store you'll find thousands of Gift Card options. If you're familiar with SwagBucks, the rewards available are very similar.
Most gift cards start at $5 and cost 5,000 Hulk Coins. You'll also find $10, $25, $50, and $100 amounts for most gift cards. Occasionally waiting for a larger gift card will give you a deal, for instance a $50 gift card might be 49,000 hulk coins.
You'll find gift cards to most major retailers such as Amazon, Walmart, Target and more. You can also redeem coins for PayPal payments starting at $5.
No matter what stores you shop at, you should be able to find a gift card that works for you, if not just get cash via PayPal!
---
GiftHulk Payment Proof
Just to prove GiftHulk is legitimate. Here's proof of a $5 PayPal payment!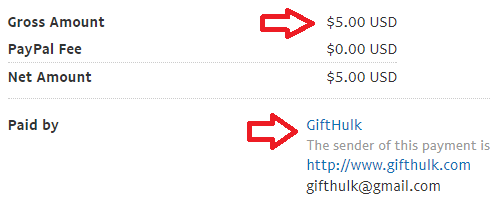 ---
GiftHulk Referral Program: Invite Code
One way to earn more with GiftHulk is through the referral program. Inviting your friends can earn you up to 600 hulk coins per referral. They give you some great tools that can be used to promote the site such as a referral link, referral code, easily share on social media, invite by email, and banners for a website or blog. Here's what you'll get when referring your friends.
Earn 100 Points when your friend joins and confirms their email
Earn 500 additional points when your friend reaches Silver level (earns 1000 points)
If your friend joins through you, they'll receive 250 hulk coins just for signing up.
To earn 250 free hulk coins you can enter the invite code: BR1061020
Start Referring Your Friends
---
How To Earn More Hulk Coins
GiftHulk gives you tons of ways to earn, but there's a few ways to earn more, other then the referral program that I wanted to cover in detail!
Guess The Card
Everyday you'll have chances to play the "guess the card" game at GiftHulk. Basically there's three ways to play. Guess the exact card, meaning suit and value, guess the card number, or just the suit.
You'll earn 50 hulk coins for getting the exact card, 10 coins for the value, and 4 coins for the suit!
There's also a few bonus cards that occasionally come up, these earn you more coins then normal.
Sweepstakes
Personally I'm not a huge fan of sweepstakes, but they can be used to earn more at GiftHulk. They usually have 5-10 Sweepstakes going on at once. It's usually for a $5, $10, or $25 gift card to stores like Amazon or PayPal payments.
Most entries cost 25 hulk coins, but you can get a better deal if you buy more then 1 entry at a time.
Fountain Of Youth
You can earn free Hulk Coins by entering codes in the fountain of youth. You can earn codes by playing the Guess The Card game and watching the GiftHulk Facebook and Twitter pages.
Entering codes into the fountain of youth usually pays 20-50 hulk coins!
---
GiftHulk Levels
The last thing I'd like to cover about GiftHulk is the levels. Basically GiftHulk levels is a way to track how active of a member you are. Raising your level will unlock bonuses, faster payments, and free Hulk coins. I've broken all the levels down below.
Bronze: All new members start at the bronze level. There's no real benefits other then having 5 chances on the guess the card game every day!
Silver: Become silver after earning your first 1000 hulk coins. Now receive 10 card guesses every day.
Gold: Reach Gold by earning 10,000 Hulk Coins or inviting 10 friends. You now receive 20 card guesses a day and have a 2.5% discount on rewards!
Platinum: Become platinum by earning 25,000 hulk coins or by inviting 25 friends. Get 40 card guesses a day, 5% discount on rewards, and faster reward delivery!
Diamond: Become Diamond by earning 50,000 hulk coins or inviting 50 friends. Get 60 card guesses a day, 10% discount on rewards, faster reward delivery, and a free $10 gift card of choice once you reach this level!
---
Is GiftHulk Legit Or A Scam?
No Longer Available Check out these Legitimate Sites That Pay Me Each Month
GiftHulk is a legit and scam free rewards site that offers many different ways to earn Hulk Coins that can be exchange for great rewards.
There's nothing about GiftHulk that makes it a scam and I really like that they have PayPal payments starting at just $5.
They also have plenty of ways to earn more including inviting your friends. If you want to earn some extra income online GiftHulk is a great option.
To join visit GiftHulk.com or enter the invite code: BR1061020, to earn 250 Hulk Coins just for joining! Check Comments For Recent Changes/Issues
If you're interested in making more income with sites like GiftHulk, check out some of the extra income sites that I highly recommend!
Extra income not enough? If you're serious about making a full-time income online, check out My #1 Recommendation, it's how I made over $13,000 online last month!
Do you think GiftHulk.com is a scam? Have proof that GiftHulk is legit? Let me hear your thoughts on this GiftHulk review in the comments section below!
Summary
Reviewer
Review Date
Reviewed Item
Author Rating