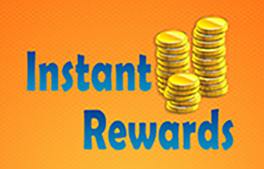 As most of you know I'm a huge fan of making extra income from different scam free sites, lately I've been earning some extra cash with smartphone apps.
One app I came across recently is called Instant Rewards. If you're familiar with "paid to do sites," Instant Rewards is very similar but on your mobile device.
After doing some research and using the app, I decided to write a review and figure out if this app is a scam.
In this Instant Rewards App Review I'll cover how you can earn, how they pay, and all the necessary details of making money with this app!
---
Instant Rewards App Review
Product: Instant Rewards App
Price: Free To Join
Score: 70 Out Of 100
Verdict: Legit
In this Instant Rewards App Review, I gave them a decent score and marked it a legit. There're a few complaints about the app, but overall only positive feedback about this app.
They offer a few ways to earn, and I love that they pay via PayPal.
The Instant Rewards App is a good way to make some extra cash each month on your mobile device in your free time!
---
How Does Instant Rewards Work?
1) Download the App:
You can download the app on their website or within the Apple or Android app store.
2) Sign Up For An Account
This just takes a few seconds, enter your name, email, and password. Enter the code: HXP09rzoJ9ITb to earn an exclusive sign up bonus!
3) Start Earning Points
Instant Rewards pays you points for completing offers, surveys, tasks, and watching videos.
4) Exchange Points For Prizes
Once you earn some points, you can exchange your points for gift cards to sites like Amazon and PayPal.
Just in case you're more of a visual learner, here's a video explaining the process!
---
How To Earn With Instant Rewards?
Instant Rewards offers a few different ways to make money. I've listed and covered them all in detail below:
Offers
If you're familiar with sites like Swagbucks you've seen offers before. This section will pay you points to sign up for sites, sign up for free trials, and purchase products.
Most offers are free, but you'll run into some that require a credit card trial period or cost you money.
An example of a free offer would be signing up for a survey site or downloading an app. These usually pay around a $1 (100 points) or less.
An example of a paid or trial offer would be signing up for a credit score site 30-day trial. You won't get charged unless you don't cancel your membership. These usually pay $3-$10.
Tasks
This section of the app is more offers, but third parties provide them. You're going to see some free and paid offers, just like the offers tab. In this section, you'll also find a link to some surveys that you can complete directly on your phone!
This just gives you more offers and more ways to earn points that aren't provided by the Instant Rewards App.
Videos
Each video that you watch gives you one point, basically one cent. All you need to do is visit the videos tab of the app, and watch a short video. After watching, you're rewarded one point.
Most videos are ads or trailers for apps or other products. I've watched quite a few, and I'm seeing videos from 15-30 seconds long most of the time. I think I saw one that was a minute long.
---
What Rewards Are Available?
Instant Rewards lets you exchange your points for gift cards. They have six different options: PayPal, Amazon, Walmart, Best Buy, Starbucks, and Target.
All Rewards start at $10 and cost 1,000 points.
PayPal payments are sent right to your account a few days after cashing out, and other gift cards come straight to your email!
---
How To Earn More With Instant Rewards
The best way to earn more with the Instant Rewards app is through the referral program. Start referring your friends to this app and make 10% of their lifetime earnings.
They give you the ability to easily share your link on social media, email, and also give you a referral code that can be entered when your friends sign up!
Not only will you be earning more, but people will be making money for you!
---
Is Instant Rewards App A Scam?
The Instant Rewards App is not a scam, but there is some negative feedback about this app. Some reviews say that their account got suspended when nearing the cashout amount. Now there's only been a few people that have reported this, and a ton of people who are very satisfied.
To me, you'll always have a few people that violate the TOS and get their accounts shut down. As you know, the pissed off people are usually the ones that leave reviews, so only seeing this from a few people doesn't bother me that much.
Either way, Instant Rewards App is a cool way to make some extra cash on your smartphone. This isn't going to make you rich by any means, but a $10 gift card each month in your free time isn't too shabby.
If you'd like to learn more, you can visit the Instant Rewards website or download the app in your app store. If you don't mind enter the referral code: HXP09rzoJ9ITb while signing up to get an exclusive bonus!
Instant Rewards isn't the only app that can make you some extra cash, check out the other extra income sites I recommend or see how to make a larger income with My #1 Recommendation.
Used this app in the past? Think the Instant Rewards App is a Scam? Let me hear your thoughts on this review in the comments below!
Summary
Reviewer
Review Date
Reviewed Item
Author Rating