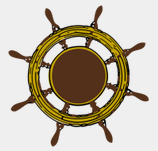 The Forum Wheel is a pretty cool site that pays you to write content and post in forums on other websites.
I'd never seen this concept before so I decided to write this review and see if this was legit or just another scam.
From what I found it seems to be legit, but there're some difficult steps you'll need to take to sign up.
Don't worry, in this Forum Wheel review I'll cover how it works, how you get paid, and a lot more important details.
---
How Does Forum Wheel Work?
I will cover exactly how signing up works next, but first, how is forum wheel able to pay you? Well, when starting a forum or a site it's hard to get it going. The truth is even if members find you forum if there's not any activity they won't stick around.
That's why forum owners pay Forum Wheel to get activity and grow their forums. This makes it possible for you to get paid to post in forums!
Here's how signing up works:
Create an account with Forum Wheel
Confirm your email
Create an account with the Forum Wheel Gateway
Create 10 posts on forums
Wait For A Response On Acceptance
One thing to notice is you'll need to sign up for two separate accounts, but you'll need your information to be the same at both. You'll then need to link your two accounts so Forum Wheel can track your activity.
After creating ten posts, Forum Wheel will get back within 24 hours on your acceptance. If you're accepted, you can begin to post on forums and earn 1 point per post.
Once you earn some points you can exchange them for PayPal payments.
---
The Forum Wheel Review
Site: The Forum Wheel
Price: Free To Join
Score: 60 Out of 100
Verdict: Legit
In this forum wheel review, I gave them an okay score and marked them legit. Honestly, it's a pretty cool concept to get paid for, but the sites a bit confusing when getting started and during set up.
This site isn't going to give you a huge income but does seem actually to pay.
Overall if you're into forum posting, you might as well get paid for it, but I'm not going to say I highly recommend this site. I prefer other ways to earn an extra income, but I have to say The Forum Wheel is a decent scam free way to make some extra income posting in forums.
---
How Does Forum Wheel Pay?
There're two different ways to exchange your points with Forum Wheel. The first is with PayPal. They have no minimum cash out amount and payments are made at any time.
Each Forum Wheel point is worth $.05. That means 100 points will get you a $5 payment via PayPal.
The second way to use points is in the Monthly Jackpot. Each entry cost 2 points. Every entry pushes the jackpot price up.
At the end of the month, one entry will be chosen as the winner. From what I can see most jackpots get up to around $5.
---
The Forum Wheel Complaints
Hard To Sign Up
As long as you know that you'll need to make all information the same on both accounts, it's not too bad, but it can be pretty confusing when trying to link your main account to the account that tracks your activity and posting.
If you follow the steps, you should be able to get through it.
Why Do You Have To Apply
Since you do get paid for every post in a forum, I do understand why they do this, but it sucks you have to post ten times to complete your application.
It should take you 30 minutes to an hour to complete the whole sign up process which is a bit excessive in my opinion, but I do understand they only want people who add value to forums and aren't just trying to earn a quick buck.
Not A Huge Income
As you can see this isn't going to be a huge income, by any means. Luckily Forum Wheel does not have a minimum cash out amount, which means you can cash out just $.05 if you wanted to.
Although people complain they don't make much, there're no complaints of not getting paid!
---
How To Earn More With Forum Wheel
Get Paid More Based On Level
When starting out you'll be at level 1, but there're 5 levels that all earn a bit more than the previous level per post.
After posting, the forum owner will rate your post. Consistently get high-quality feedback and you'll begin to raise your level.
As a level 5 member, you'll earn $.13 cents per post instead of the level 1 $.05.
Referral Program
The forum wheel does offer a referral program. You'll earn 20% of all the points your referrals earn.
This is a good way to earn more points, and you let others earn them for you!
---
Is The Forum Wheel A Scam?
When I first came across forum wheel, I thought it was going to be a scam. After reviewing it further, I have to say that this site is legit.
It's not going to be a huge income, but if you like contributing to forums you might as well get paid for it.
I like that they have an easy payment system, but also think there's room for improvement in a lot of areas. Either way, if you'd like to learn more or to join visit The Forum Wheel.
Forum Wheel isn't a site I highly recommend, but here're some extra income sites that I do! If you haven't yet, make sure to check out My #1 Recommendation. It will teach you how to make a significant online income, and you won't ever think about getting paid cents to post in forums again!
Have you ever used The Forum Wheel? Think this sites a scam? Let me hear your thoughts on this forum wheel review in the comments section.
Summary
Reviewer
Review Date
Reviewed Item
Author Rating