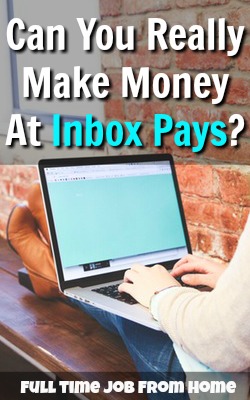 I recently ran across a company called Inbox Pays. I was thinking it was going to be similar to Inbox Dollars which actually pays you for opening emails, but I was incorrect. Inbox Pays only pays you for completing offers. I was surprised by this because most sites are offering multiple ways to earn now but Inbox Pay does not even have Surveys as an option.
Inbox Pays is not completely a scam, but there are just too many things that I dislike about the company to mark it legit and have you join this company. There are so many better paid to do sites that offer more ways to make money and have much lower cash out amounts.
In this Inbox Pays Review I will be covering exactly how the company works, tell you all the things that make it scammish, and give you some great alternatives to this company.
---
Inbox Pays Review
Website: InboxPays.com
Price: Free
Score; 50 Out Of 100
Verdict: Scamish
Inbox Pays is a company that will pay you for completing offers. Some of these offers are completely free, but the larger paying offers do require at least a credit card down on a free trial.
I gave Inbox Pays a 50 Out of 100 and marked it as scamish, because there are just to many negatives about this company. I know that there are much better companies for you to join that will make it much easier to make money each and every month.
Read on to learn exactly what I didn't like about this company.
---
What I Don't Like
Cash Out
The biggest thing that jump out to me right away with Inbox Pays is their minimum cash out amount is $50. This is extremely high for a paid to do site. Although they pay with PayPal, which I like it's just going to take to long to reach this amount each time.
With a site that only offers one way to earn I would much rather see the cash out amount in the $10 range.
You Have To Spend To Earn
Since the cash out amount is extremely high to reach it each month you will have to do the paid offers. Most of these paid offers are a free trial and you can cancel your membership before you get charged, but that's a lot of work just to earn a few extra bucks each month.
If you don't want to complete the offers you have to pay for you're looking at offers that pay around $1 each most of them being less. They require you to usually give out a lot of your personal information and also sign up for other offers to get credit. It's a lot of work for very little kick back.
One Way To Earn
Why companies still only offer one main way of earning I am not sure. They have to be getting blown out of the water by other paid to do sites. But Inbox Pays offers cash offers as their only main way to make money. They do also offer coupon clipping which means you print off coupons and get a few cents each time you use one in store, but this is not going to earn you very much money.
Inbox Pays would be a lot better if they offered paid surveys, polls, paid emails, and more options like SwagBucks, Cash Crate, and Inbox Dollars do.
Supplemental Income
Even if you work your butt off with this company you're not going to get rich. This is a supplemental Income Opportunity that can make you a few extra bucks each month. These opportunities are meant to be combined with others like it to build a solid income online. You can see the full list of others at All Scam Free Jobs.
---
Final Verdict
I do not recommend joining Inbox Pays. I feel like there are too many problems with the company and that there are much better sites out there for you to try. Since they have such a high cash out amount it's going to be very hard to reach it every month without paying for offers which I don't recommend doing.
If Inbox Pays had more ways to earn I might be able to justify the high cash out amount, but since they don't offer paid surveys and other ways to earn the $50 cash out amount is ridiculous.
There were a few things that I liked about Inbox Pays such as payments by PayPal and offering a referral program, but the negatives out weigh the positives heavily so I can't give this company a good score or recommend it.
Stay Away from this company because you will be wasting your time. Read on to learn about some great alternatives to Inbox Pays.
---
What To Do Now?
I want you to first know that I am not against "paid to do" sites. I have a few that I highly recommend and get paid by each month. I just don't think Inbox Pays is one that you should be joining. If you would like to see the full list of sites I recommend visit companies that paid me or All Scam Free Online Jobs.
I mentioned that Inbox Pays is a supplemental income opportunity. Some of you might not be looking for this kind of income and want a full-time income that allows you to work from home. You are not going to get this from Inbox Pays or other supplemental opportunities. If you would like to learn more about how I make a full-time income online visit Start Your Own Online Business.
Thank you for reading my Inbox Pays Review. I don't recommend this company, but I hope you allow me to help you get started making money online by using the links above to find Legit Online Jobs.
Summary
Reviewer
Review Date
Reviewed Item
Author Rating