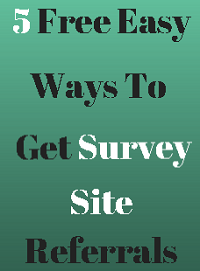 Today I'd like to talk about the Top 5 Best Free ways to get referrals for Survey Sites. I recently posted some of the best survey sites to promote, you should check that out too.
I'm going to give you a few options, but honestly using many of the options is the best recipe for success. Remember these are all free ways, so no paid advertising will be included on this list.
I'll be including some of my personal experiences on how I get referrals and I think that will give you an excellent idea of how effective each method is. Let's get started on some great ways to get referrals and tips on how to get more.
---
Top 5 Free Ways To Get Survey Site Referrals
Start A Website
The most effective way to get survey site referrals, in my opinion, is by starting a website. It's how I get almost all of my referrals to sites and any other making money online product or site.
The awesome thing about this method is once you do the work once, you can get referrals and earn money from your website forever. This method does take some work to get going, but you can get started for free, and to me, this is the most effective method for getting a ton of referrals long term, which should be the goal.
Some negatives of this method are having some knowledge on how to create a website and how to get traffic to your site. Although it does take some knowledge, it's pretty easy, and there're some awesome places to learn how to do this for Free.
In my experiences, this is the most effective method for a few reasons. First, you control and can explain exactly how the site works. You can cover the positives of the site and exactly why someone should join the survey site that you're promoting. The second positive is that once you write a review, it can get you referrals and make you money forever, without you having to do anything else.
From what I've found, showing payment proof, covering positives and negatives, and telling exactly why this site is better are the most effective ways to get as many referrals as possible.
Like I mentioned this method does take some knowledge and initial work. If this sounds like something you'd be interested I'd check out My #1 Recommendation to learn how to build a website and get referrals for free.
YouTube Video Reviews
One of the most effective and long term ways to get survey site referrals is by starting a YouTube channel and creating videos. I use YouTube to do video reviews and promote some extra income sites. You can see my YouTube Channel here.
Some of the awesome things about video reviews are YouTube is free to join, and once you create a video, it can make you money and get you referrals forever.
Some negatives are it will require a camera or way to record yourself, and some people are not comfortable recording themselves. You can easily make videos with your smartphone nowadays, and it's not a requirement to be on camera when you create your videos.
As long as your showing something about the site and they can hear your voice, video reviews can be effective. From my experiences showing how a site works, talking about positives/negatives, and showing payment proof are all things that you should include in your videos.
Another thing to consider is that to get many views, which translates into many referrals, you may need to post multiple videos. To make videos as effective as possible, you'll want them to get ranked high in YouTube search and in Google search. But even if they don't you can still promote your video on social media to get views.
Starting a YouTube channel and making survey site reviews is a pretty easy and effective way to get referrals for many years down the road.
Use Social Media
Almost everyone has social media accounts now. An easy free way to get some referrals is by posting about the survey sites that you use to make money. If you decide to go this route, I highly recommend showing a picture of payment proof in the post, so people know it's legit.
In my experiences this a way to get a few referrals. The real concerns with this method are how much reach you have (followers to promote to), are are they even interested in making money online. You'll also have to post consistently for this to work.
I personally only promote on my business social media accounts, but you can use your personal accounts if you'd like. The reason I don't use my personal accounts is that most of my friends and family aren't interested in making money online, so you might run into that problem as well.
Another issue is it's hard to give a lot of detailed information about the site in a social media post. For this to be effective, you need a great attention grabber that makes people interested in joining the site in just a few words.
But if you think you have a big enough reach and interested followers, social media can be an effective way to get referrals.
Make Money Online Forums
Posting in Making Money Online Forums is another great way to get some survey site referrals. It's similar to posting classifieds, but you know everyone in the forums are already interested in making money online, which is a huge bonus.
The key here is not to be in the forums just promoting your referral program. For this to be effective, you just need to be helping people out in the forums. If you help them, it builds trust, and they'll be much more likely to take your recommendation on what sites to join.
This method does take some work, and you'll have to be active in the forums for this to get you some referrals, but it's free and can be effective.
If you decided to go this route, I recommend checking Google for making money online forums and work at home forums. The forums won't just be about survey sites, but you can still promote survey sites inside of these forums.
Classifieds Sites
Classifieds sites seem to be the least effective way to get survey site referrals, mainly because most of the promotions already posted here are scams or misleading products. But if you're looking for a free way to get referrals it can get you some.
When I first started making money online, I used Craigslist and other classified sites to promote some different products and free sites. In my experiences, I was able to get a few referrals each week with this method.
It seemed that most of the referrals that signed up weren't very active. They appeared to use the site for a day or so and then nothing after that. That's something to think about when using this method because most survey sites require them to use the site for you to make a percentage of their earnings.
Although it's the least effective method, in my opinion, it's an easy free way to get some referrals if you don't want to spend much time. I recommend starting on Craigslist if you decided to go this route.
---
Tips & Tricks To Getting More Free Referrals
Include Payment Proof
One of the most effective ways to get more referrals, no matter the avenue, is including payment proof. The truth is that there're many sites out there that seem legitimate, but people are always skeptical of "making money online" sites.
Including proof of payment in a review, video, or social media post is a fantastic way to show that the site pays and also gives you the credibility that you've used the site and know what you're talking about.
Why Is This Site Better
It seems pretty obvious, but just covering how the site works or how you earn isn't enough. Make sure to list the positives of the site. If the site has a low cash out amount or a great way to earn more, make sure to let them know.
In my experiences, people will join a site because it's better in one aspect. Find the key to why people would want to use the site and promote it.
No Site Is Perfect Be Honest
Honesty is a huge key to getting referrals. If a site sucks, don't promote it. Every site has some negatives about it, even if it's a great survey site. Make sure to list the negatives of the site, it builds trust and makes members comfortable after joining.
In my experiences, people will still join a site with some negatives, and most of them are more active after joining because they know exactly what they're getting into!
---
Survey Sites To Promote and Make Extra Money
There's probably ten different survey sites that I promote on my website, but only a few that I promote heavily. Find a site that you like and promote the crap out of it to get referrals. If you'd like to see some of the survey sites I promote, visit this list of extra income sites.
I promote many other sites, not just survey sites. If you'd like to promote other ways to make money online check out these other ways to make money online.
If you're interested in creating a website and writing reviews of survey sites, I highly recommend checking out My #1 Recommendation. It will take you through the whole process on how it works, and you can actually get started with your website for completely free!
How Do you Get Referrals? What's the Most Effective Way? Let me hear your thoughts below!