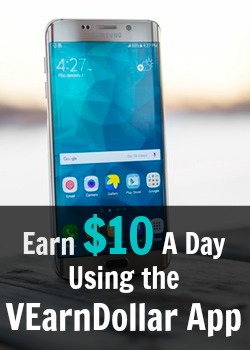 vEarnDollar is a newer site that lets you earn cash by downloading apps on you Apple products such as the iPhone and iPad. I decided to write a review of this app because there's not much information out there and some people are saying it's a scam.
One of their big marketing points is being able to make $10 a day with the app, and to me, it seems more than possible to do so.
In this review, I'll cover how it works, how to earn, how to get paid, and the complaints I have with vEarnDollar.
---
vEarnDollar Review
App: vEarnDollar
Price: Free To Join
Score: 80 Out of 100
Verdict: Legit
I gave vEarnDollar a good score and marked it scam free in this review. I've seen similar apps like this, and I have to say it's a pretty good site even though it's not been around for that long. I do have some complaints about the app, but overall it's not bad.
It isn't the easiest app to install and get started, but once you get it going, it's very easy to use. If you'd like to earn $1 just for joining use the code: LOba31
---
How Does vEarnDollar Work?
1) Visit vEarnDollar.com On Your Mobile Device
To get started, you'll need to visit vEarnDollar.com on your mobile device. You can earn $1 just for joining by entering the referral code: LOba31. 
2) Give Access To The Key
Depending on what version of software your mobile device is running you might have to give access to the key. The key must be installed, or the app will not work. It's used to track the apps that you download so you can earn money. If you're version of software needs you to manually approve the key, they have detailed instructions on how to do so!
3) Download Apps for Cash
Once you have the key working, you can start to download apps for cash. You'll see a full list of apps they pay you to download. It shows the app name, how much it pays, and any additional requirements. Just click the app to download. You'll be redirected to the app store where you can download the app. Make sure to open the app and use it for a bit. Once you do, you should get credit for downloading and using the app.
4) Cash Out Your Earnings
Once you earn $10 through vEarnDollar, you can cash out at any time via PayPal.
---
How To Earn More?
vEarnDollar Referral Program
vEarnDollar does offer a referral program that is two tiered, which means you can earn off your referrals and the people your referrals invite. You'll make 10% of all referrals earnings and 5% of all sub-referrals earnings. For example, if your friend earns $10 with the app you'll make $1.
You can easily share your link on social media inside the app. When your friend joins with your referral code, they'll earn $1 just for signing up. My code is LOba31 if you'd like to earn $1 when joining.
Scratch Lotto
A simple way to earn more is through the scratch lotto. You get one scratch ticket each day you log in, or you can purchase a scratch for $.50 off your account balance. It's very simple, once you have a scratch just click the scratch button.
You'll earn a random reward. I've done it a few times and won $1 and $.50. It's a super easy way to earn a bit more cash each day!
---
How To Get Paid By vEarnDollar
vEarnDollar pays via PayPal. You'll have to earn at least $10 before cashing out. It says they limit you to 3 cashouts per month. Also, there's a fee taken out of the payment. It's pretty small, but know that you won't get the full amount of your cash out.
Payments will be in your account within a few days, but usually within a few hours.
---
vEarnDollar Complaints
Hard To Get Started
Unfortunately, it's not as easy as just installing the app through the app store. You'll have to visit vEarnDollar.com on your mobile device to start the process. Depending on what device you have, you may have to manually give access to the necessary key to get started. It's easy, and they give you instructions on how to do it, but it's extra steps that make it more difficult to start making money.
Most people will be able to handle it, but it's not as easy as just clicking install in the app store.
Giving Key Access
One big complaint is that you need to install and give access to a key on your device for this whole app to work. Basically, the key is necessary to be able to track when you download and install the apps.
Some people will have problems with this, but almost all other similar apps require this as well. I probably wouldn't install this on my phone, but I only use my iPad for money making apps, so I have many similar apps installed and have had no problems with privacy or any other concerns.
---
Is vEarnDollar A Scam?
vEarnDollar is not a scam, but I know some people will be afraid to install the key on their mobile device. But I've used this and similar apps on my iPad and have never had any problems. If you're comfortable, this is a good and easy way to make some extra income on your mobile device downloading apps.
If you'd like to get started you should visit vEarnDollar.com on your mobile device and enter the referral code: LOba31 to earn $1 when joining.
If you're not comfortable with this app here's a huge list of smartphone apps that can help you make an extra income each month.
You can also learn how to make a larger income by visiting My #1 Recommendation.
Do you think vEarnDollar is a scam? 
Summary
Reviewer
Review Date
Reviewed Item
Author Rating