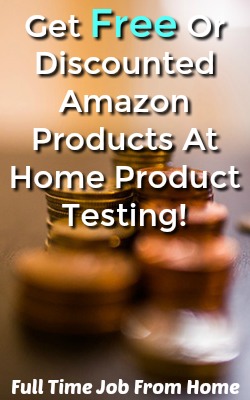 Home Product Testing is a site that offers free or discounted Amazon products in exchange for a review. I decided to write a review because I've seen other sites that are scam free and wanted to make sure this site was too before recommending it.
HomeProductTesting.org seems to be the least popular of the few available sites. They don't have many offers available, but the ones available are usually huge discounts. You can see more sites like this by visiting 6 Discounted Amazon Product Sites.
If you're looking to learn more about getting Free products to keep, there's an awesome ebook to get here.
Please understand that yes you can get discounted products on Amazon but these sites could cause you to buy something you don't need just for the deal. Which is why I prefer to just use sites that make me money. If you're serious about making money online, check out My #1 Recommendation to learn how I made over $13,000 last month online!
In this Home Product Testing Review I'll show you how it works, what products are available, and cover the complaints of this site.
---
Home Product Testing Review
Site: Home Product Testing
Price: Free To Join
Verdict: Legit 
In this Home Product Testing Review, I gave them a good score and marked them legitimate. Honestly out of all the Free Amazon Product sites, this is my least favorite. They have the least amount of discounts available, but it seems that they do have a wide variety.
I'm not saying this site is not worth joining, but if you're just looking to join one or two sites, this shouldn't be one of the sites you join.
But if you do join, it's completely scam-free and a legitimate way to get free and discounted Amazon products.
---
How Does HomeProductTesting.org Work?
1) Find Products You Like
The first step is joining, then you can see all the products available at Home Product Testing. As I mentioned, there's usually not that many products available, but there's a wide variety. Once you find a product you like, click on it to learn more.
2) Request a Coupon Code
Another page with more details about the product and how much it will cost you opens. If you feel like moving forward, you can apply for a coupon code by entering you email and Amazon Review Profile. The coupon will have to be approved by the seller. You'll usually hear back within 48 hours, but I've used this site a few times and didn't hear back at all one time.
3) Check Out & Enter Your Coupon
If you're approved, you'll get an email with the coupon code. Now visit Amazon, add the product to your cart, and check out. During the checkout process, you can enter the coupon code, and the price will lower to the set amount. The checkout process is the same as normal after that.
4) Use and Review Product
Once you receive the product you should use it. They're looking for honest reviews, not just positive ones. Use the product and list the pros and cons as you see them in your Amazon product review.
---
What Items Are Available
As I mentioned, there aren't many products available on this site, but the variety seems to be good. After using the site for a few weeks, I've seen baby products, electronics, pet supplies, health care products, clothing, clothing accessories, and a few other categories of products.
I've only seen one product that was free. It seems that most products range from $.99-$5 after the discount. One thing to keep in mind is that you may have to pay for shipping if you're not an Amazon Prime member, and some products require you to pay shipping either way.
---
Home Product Testing Complaints
Shipping
One of the biggest complaints with Home Product Testing is paying for shipping. Although you get a discount, you might have to pay more than the advertised price once you go to pay for shipping. Some products will have free 2-day shipping if you're a prime member. Other products make you pay for shipping even if you're a prime member.
It's not a huge deal I guess, but it can be misleading and cut into the discount that you'll be receiving.
Applying For Coupons Codes
I'm not a huge fan of the sites that make you apply for coupon codes. It's not a huge deal as long as you have some past reviews on your account. If you do, you'll most likely get accepted, but it does slow down the process, and sometimes the seller doesn't ever respond.
My advice would be to go back on a few of your past purchases and leave detailed reviews. Most likely you won't get approved for any codes if you have no reviews on your account.
---
Is Home Product Testing A Scam or Legit?
There's no doubt that Home Product Testing is a legit site to get free and discounted Amazon products. Honestly, it's probably my least favorite site, but if you're looking for the most deals possible you might as well join.
The items seem to be pretty limited, but you can find some decent deals. If you'd like to give it a try, you can sign up for a free account at HomeProductTesting.org.
I'm a huge fan of making extra income while shopping. Getting free and discounted Amazon products is great, but what about all of your other shopping. I like to use Ebates and Ibotta to earn the most cash back on my shopping possible.
If you're interested in making a larger online income and starting your own online business, check out My #1 Recommendation to learn how I made over $13,000 last month online!
If saving money on Amazon isn't for you, check out these helpful links to other ways to make money from home:
Extra Income Site That Pay Me Each Month
How I Made Over $13,000 Online Last Month
Work From Home Jobs Hiring Now
Do you think Home Product Testing is A Scam? Already a HomeProductTesting.org member? Let me hear your thoughts on this review below!
Summary
Reviewer
Review Date
Reviewed Item
Author Rating