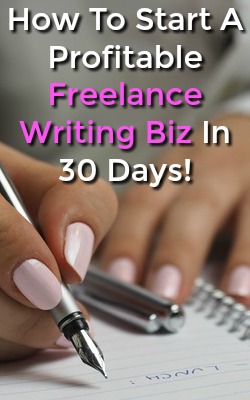 30 Days or Less to Freelance Writing Success is a 30-day email course created by Gina Horkey. Gina is a successful freelance writer who made a $4,000 a month income within six months of freelance writing.
In this course, she will show you exactly what it takes to become a successful freelance writer and give you actions to take to reach your goals.
This is a paid course, but a limited time you can get a free ebook: 200 Freelance Writing Niche Ideas!
In this review, I'll show exactly what you'll learn and give you more information about freelance writing.
---
Who is Gina Horkey?
You can see a full bio on her blog HorkeyHandbook.com.
Gina started freelance writing back in 2014 and within six months she was making $4,000 a month. Since become a successful freelance writer she created 30 days or less to freelance writing success to share her experiences and help new freelancers get started on the right foot.
If you questioned her being the real deal, her writing has be featured on sites like The Huffington Post, Business Insider, ProBlogger, and Woman's World. There's also tons of great feedback from current course members.
---
Who Is This Course For?
30 Days or Less To Freelance Writing Success is for new inspiring freelance writers and struggling freelance writers trying to break into the field.
The primary requirement is being a good writer, of course, but you also need to be willing to work. You can't just buy the course and become successful. You need to decide you want to become successful and put in the time and effort to make it happen.
If you follow the training, you will see results.
---
What Will I Learn In The Course?
There's a detailed list of what each course covers at Horkey Handbook, so click over there to see more details. Here's a short overview of what you'll learn.
The training covers topics such as types of posts to write, tips on improving your writing, how to build a portfolio, pitch a writing topic, setting your rate, promoting your business, and much more.
The training includes 32 lessons that cover everything you need to start, grow, and become successful as a freelance writer.
---
How Much Does It Cost?
As mentioned, there's a free 5-day email course, but to get the bulk of the training, you'll have to make a small investment. There's a money back guarantee if you apply the training and don't see results.
There're three levels of membership, and you can upgrade at any time and have lifetime access to any updates.
Starter Package $59: 32 lessons, follow up from instructor (support), access to Facebook group
Growth Package $99: Everything in starter package, plus independent contractor agreement, list sites to pitch to, pitch to sites checklist
Rock Star Package $199: Everything in Growth package, plus a personalized pitch written by Gina, and a 30 minute 1 on 1 coaching call from Gina
The packages are pretty detailed so to see the exact contents of each visit HorkeyHandbook.com.
As you know you can get started for as little as $59; it's a small investment for the value you'll receive with this 32 lesson course.
---
How To Get Started
If you have any interest in freelance writing, I highly suggest checking out here free post on how to become a freelance writer and get here free ebook 200 Niche Ideas For Freelance Writers!
If you're ready to jump right in to your own freelance writing business, you can visit HorkeyHandbook.com to become a member of this excellent 32 lesson course.
Gina has a very detailed page about the course, so I highly recommend checking out 30 days or less to freelance writing success!
If you're interested in freelance writing, it might be a good idea to start a blog! You can use it to attract new customers, and they always have a place to find writing examples! Check out How To Start A Profitable Blog to learn more!
Have more information about this course? Are you a success story? I'd love to hear your feedback in the comments section below! 🙂
Summary
Reviewer
Review Date
Reviewed Item
30 Days To Freelance Writing Success
Author Rating