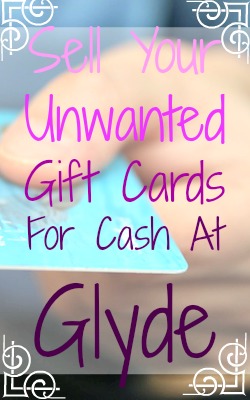 Glyde.com is an awesome site that lets you buy and sell you old phones, tablets, video games, and more. Since my site has to do with "making money," in this Glyde.com Review, I'll be covering the selling portion of the site.
Yes there's many other options for selling used things like eBay, Amazon, etc., but Glyde seems to differentiate themselves by streamlining the shipping process. As someone who ran an eBay store for a few years it's a pain in the butt to handle all the shipping. Luckily with Glyde they just send you a package to use to mail your item.
In this Glyde.com review, I'll cover how you can earn by selling your old stuff, what you can sell, and how much you can earn!
---
What Items Can You Sell On Glyde
Glyde lets you sell smartphones, tablets, macbooks, broken phones, books, and even video games. Pretty much all popular items in the list of categories are avialble, but you may run across a few items that aren't.
My recommendation would be visit Glyde and type in the product you'd like to sell. You can figure out if it's available and have a better idea of what it's selling for by doing some research yourself!
---
How To List Your Item On Glyde
Selling and listing your item on Glyde is super easy, but I went ahead and listed an item myself. Here's a breakdown of how listing and selling an item works, I used an iPhone for this example. Other products may differ a bit, but the proccess is still very similar!
1) Find Your Product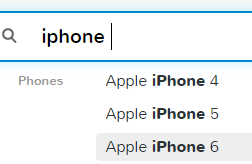 You can easily search for the product that you'd like to sell on Glyde by entering the name or product number.
Once you find the product just click on it to continue listing the item for sale.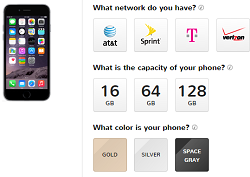 2) Product Specifications and Details
This step may differ from product to product, but with phones you'll need to select the carrier, the memory, and color of the phone.
For example a Macbook would not have a carrier, but there's other specifications like size of display screen, etc.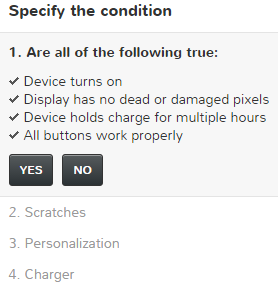 3) Product Condition
Once you select the specifications, you'll select the condition of the item. You'll need to report if the item works, if there's scratches, and any chargers and add-ons that you'd be including.
This section differs depending on the product, but the general idea is the same. Make sure to report the condition correctly or the buyer may be unhappy with the product when they receive it!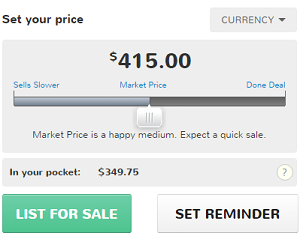 4) Set A Price, Sell, or Reminder
Once you select the item, details, and condition, Glyde gives you a suggested price to sell your item within a week. You can drag the price lower or higher and set the exact price you'd like to sell the item for.
You can see the exact amount you'll earn after fees if your item sells.
After setting the price you can list the item for sell or set a reminder to list it at a certain date.
5) Your Product Sold Time To Ship
When your items sells you'll be notified via email and Glyde will send you a prepaid envelope. Once you receive the package insert your item, close it, and drop it back in the mail the next day!
Shipping is super easy and the main advantage to using Glyde.com to sell your used items.
6) Get Paid
Once you've shipped your item and the buyer has received the item you'll get paid. Funds are available 3 days after the buyer receives the item. You can cash out at anytime with Direct Deposit, Bitcoin, or Mailed Check.
---
How To Get Paid By Glyde
Your earnings become available three days after the buyer receives the item. Glyde takes 15% of the sell price, so don't expect the full sell amount.
You can transfer funds via Direct Deposit, Bitcoin, or Mailed Check. Mailed Check does have a fee of $2. Direct Deposit will be in your account within 3-5 days of requesting payment.
---
Other Ways To Earn With Glyde
Trade In
Now this actually is through a Glyde partner site, but it seems to be completely legit. You can trade in items like CDs, DVDs, Cameras, Video Games, and many other electronics.
Enter in the product number and build a batch worth more then $25. Glyde BuyBack will then send you a pre-paid shipping label by email.
Once they receive your items they'll send you a check.
Refer A Friend
Another way to earn more with Glyde is through the refer a friend program. Here's how it works:
You'll earn $15 for every friend that you refer who signs up and completes a sale of $50 or more.
They give you your own referral link and let you easily share you link on social media sites!
---
Glyde Selling Information
I've covered how to sell on Glyde, but there's some important information that I think you should know. Here's a quick reminder of the important details of selling on Glyde.
Glyde Takes a 15% cut of the sell price.
Shipping isn't actually free. You'll be charged $1-$6 depending on item
No Upfront Listing Fees
Your items might not sell..Ever
Have to put a credit card on file when selling
---
Glyde.com Review: Is It A Scam?
Hopefully you enjoyed this Glyde.com review and learned a bit more about selling your used items on Glyde. Honestly Glyde is a completely legit and scam free way to sell your used items and electronics.
It's similar to eBay where you will be selling to an actual person instead of to the company, but the major advantage is the hassle free shipping.
The cut of 15% is pretty large, but it may be worth it just to avoid some of the headaches of shipping, insuring, and making sure the buyer is happy with the item that eBay involves.
I've used eBay for many years now and prefer it, but if you'd like to sell or even buy visit Glyde.com to get started!
Want to make some extra cash at home? Here's all the extra income jobs I recommend, or check out my Free WAH Jobs Directory.
Want To Work At Home Full Time? Here's how I work from home with My #1 Recommendation.
Have you used Glyde to sell your used items? Think Glyde.com is a scam? Let me hear your thoughts on this review in the comments below!
Summary
Reviewer
Review Date
Reviewed Item
Author Rating