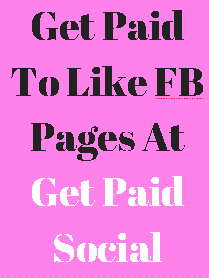 I recently came across a site called GetPaid.Social that could be an easy way to make some extra money online. I decided to write a quick GetPaid.Social review because some of my readers were confused on exactly how to earn with this site.
I don't think that GetPaid.Social is a scam, but they do have a premium paid membership that puts some restrictions on the free account.
In this GetPaid.Social Review I'll cover how to earn, how to get paid, the referral program, paid memberships, the complaints I have with this site, and if it's a scam or legitimate way to make money online.
---
GetPaid.Social Review

Site: GetPaid.Social
Price: Free and Premium Memberships
Verdict: Not Recommended
I've seen many sites similar to this which are traffic exchange sites, but for social media. The big difference with Get Paid Social is that you actually make money instead of points to use to get others to like your social media accounts.
You can use it to earn money, but there're some complaints I have mostly with the restrictions on the free account.
Overall it's an okay site to make some extra cash on, but it's not a site I highly recommend. There're other ways I recommend over GetPaid.Social to make an extra income online.
---
How Does Get Paid Social Work?
Reward Center
The way to earn money at Get Paid is by completing different tasks created by other members of the site. For example, you may be asked to like a Facebook Page, Share a Google+ post, or like a tweet on Twitter. I've also seen some tasks that require you to sign up for a mailing list, similar to offers on rewards sites.
Most of the tasks pay from $.05-$.25 and are available upon competition.
Something to watch out for is that each task has a limit of how many times it can be completed. Make sure to complete tasks that are about to expire first.
My eWallet
This is where you can find all of your earnings from GetPaid.Social. You'll see all the money you've earned, plus all the cash your referrals have made you.
You have the option to spend your earned money on tasks, or you can cash out once your account reaches $10.
At this time free members can cash out via Walmart, Amazon, Google Play, or Bitcoin Gift Cards.
PayPal is available but only to premium members.
---
GetPaid.Social Referral Program
GetPaid.Social does have a referral program that's available to free and paid members. You'll earn 40% of all your referrals earnings.
They give you your own link and banners to place on your website if you have one.
If you're a premium member at GetPaid.Social you have the ability to earn 40% of all referrals earnings, plus receive 40% commission on any referral that upgrades to Premium.
---
GetPaid.Social Premium Membership
GetPaid.Social does have a premium membership that unlocks some features that the free membership doesn't allow. Before I get started explaining, you can make money with the free membership; it's not a requirement to pay for a membership.
You have a few options to purchase the premium membership. You can pay $9.97 a month, $97 for one year, or a $297-lifetime premium membership.
Here're the advantages of the premium membership:
2nd tier earnings on the referral program. Earn 10% of the earnings your referrals refer.
40% commission on any premium upgrade of your referral, plus 10% on 2nd tier upgrades
VIP live chat support
Access to gold Tasks that pay $.50 or higher
Waived $10 fee to start a new job listing
Unlocks PayPal payments, but still has 10% processing fee
To be honest, the premium membership does offer some pretty good advantages, especially if you'll be referring a lot of members or running many tasks.
---
GetPaid.Social Complaints
Limited
I hate when sites have free and paid versions. All this does is limited the free membership so they can make the paid membership seem so much better.
As a free member, you can still make money, but you have a limit of completing 25 tasks a day, no PayPal payments, and the referral program is a bit limited.
Tons of Fees
The next complaint I've seen is there're some fees happening at GetPaid.Social, not even talking about the Premium membership. After $10 in earnings, $1 is automatically set aside for you to use on creating tasks only. That would be okay, but it turns out there's a $10 listing fee for each task!
Even when you become a premium member and get access to PayPal payments, there's still a 10% processing fee on your payment.
Facebook Issues
When you join, you'll probably try to start jumping into tasks right away so you can earn some money. If you try to do any tasks involving Facebook, you'll have some issues.
You have to allow access to get paid social on Facebook before any of this will work. It's pretty easy to do, and they have a video explaining how, but it's not something they say to your right away. You'll have to go digging in the FAQs to come across why it's not working for Facebook.
---
Is GetPaid.Social A Scam?
From what I've seen, GetPaid.Social is not a scam; it's a completely legitimate way to make money completing easy tasks. With that being said, I wish that a membership was free and that the Premium features were available to all members.
If that were the case, this would be a site that I highly recommend. Let me make it clear that you still can make money and cash out your earnings with a free account. There's just some restrictions on your account; that affects people who rely on referral earnings the most.
Overall it's a pretty good site that's still new and growing if you'd like to learn more or to join, visit GetPaid.Social to get started.
If GetPaid.Social doesn't sound like it's for you, here's some other ways to make an extra income online. Personally, I don't mess with small task sites anymore.
I prefer to make passive income with a website; you can learn how I do this with My #1 Recommendation for Free! You can also see how you can work with me directly building your own online business for just $19!
Do you think GetPaid.Social is a scam? 
Summary
Reviewer
Review Date
Reviewed Item
Author Rating