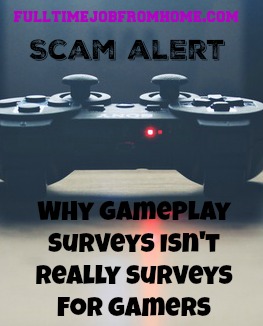 After doing some research, I decide to write a review of GamePlaySurveys and see if this site's a scam or a legitimate paid survey site.
When I landed on this site, my first impression was that they only offered surveys about video games, but that's not the case. They offer surveys just like any other survey site on all topics, at the time of joining I didn't even see any surveys that had to do with gaming!
In this GamePlaySurveys Review I'll cover how it works, how to get paid, the complaints I have with this site, and is it a scam or a legitimate survey site!
---
GamePlaySurveys Review
S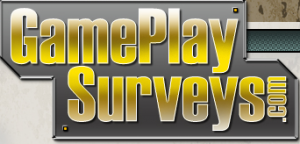 ite: GamePlaySurveys.com
Price: Free To Join
Score: 50 out of 100
In this GamePlaySurveys Review, I gave them a bad score because this is not a survey site I recommend. What surprised me the most about the site is that it's not even gamer surveys. I figured, based on the name, that the surveys would have to do with video games, but that's not the case.
The surveys cover all areas, not just gaming. There's no reason to take surveys on this site when you could take them on a much more established survey site like Swagbucks or Fusion Cash.
My advice is to stay away from GamePlaySurveys because it's nothing special!
---
How Does GamePlaySurveys Work?
Signing Up
The sign-up process at GamePlaySurveys is very similar to any other survey site. You'll first need to create an account by providing your name, address, and phone number. Next, you'll be asked demographic, employment, and household information.
The whole signup process takes around 5 minutes, but after signing up, there's still many more profile surveys to take to complete your profile. I'd say there're another 15-30 minutes of surveys just to finish your profile.
Taking Surveys
Taking surveys at GamePlaySurveys is the only way to earn. Once you sign in you'll see a long list of surveys with the estimated time to complete and payment amount. Unfortunately, it doesn't tell you what the surveys about, it just says "survey#1393."
If you're familiar with taking surveys, you know that even though there's a long list of surveys available, to take the survey and get paid, you need to qualify. Each survey has some screening questions to make sure you are eligible before taking you to the survey. Answering the screening questions does not earn you any money, you need to complete the survey to get paid!
---
What Rewards Are Available?
I was a bit confused when reviewing the reward section of GamePlay Surveys. They initially say the minimum cash out amount is $10, but all of the rewards start at $25, so the minimum cash out amount is really $25.
They have gift cards to Amazon, PayPal, Kmart, Lowe's, Groupon, CVS, BestBuy, and many more, all starting at $25.
You can also donate your earnings to charity if you'd like starting at $10.
All rewards are delivered via email. No information on how quickly you get your reward.
---
GamePlaySurveys Complaints
Qualifying For Surveys
The worst part about taking surveys is qualifying. The only survey site that only sends you surveys you're already qualified for is PaidViewpoint, make sure to check it out! There're many complaints that people never qualify for surveys, and if they do they're occasionally kicked out of surveys before completing and getting paid.
This is a very common complaint when it comes to taking paid online surveys, but it's a hassle to waste time trying to qualify when you're not paid for trying and risk getting kicked out anyways!
Rewards Suck High Cash-Out Amount
Although it says the minimum cash out amount is $10, it's really $25 once you get into the reward catalog at GamePlaySurveys. They do have some good options such as PayPal and Amazon, but a $25 cash out amount is just too high when you can only earn by taking surveys.
With surveys only paying $.50-$2, it will take you awhile to reach the cashout amount.
---
Is GamePlaySurveys A Scam?
I was pretty excited when I first came across GamePlaySurveys because I thought they might have surveys only about video games. As you found out, this isn't true, and it's the same as any other survey site.
GamePlaySurveys is not a scam, from what I can see there has been some payments made to members, but I do not recommend this survey site.
You can take all of the surveys at other more established survey sites, the cash out amount is too high for me, and the design of the site isn't for me. I highly recommend checking out some of these other Survey Sites that are much more established and have lower cash out amounts!
If you do decide to join a different survey site, it's not going to be significant income. $20-$50 is pretty much the max monthly income taking surveys, and that's if you put a lot of time into it. To learn how I make a full-time income online check out My #1 Recommendation, you can also learn how to work directly with me for $19!
Do you think GamePlaySurveys is a scam? 
Summary
Reviewer
Review Date
Reviewed Item
Author Rating