One site I've heard a ton about recently is called Airbnb. Airbnb brings people looking for a place to stay, together with hosts, or individuals who have rooms for rent. Now these rooms aren't at a hotel, but they're rooms in people's houses.
I decided to write a review of what it's like to be an Airbnb host and see if making money renting out rooms with Airbnb is legitimate or a scam!
In this Airbnb review, I'll cover how it works, how much you can earn, the complaints I have with this site, and if it's a scam or legitimate extra income opportunity.
---
Airbnb Host Review
Site: Airbnb
Type: Rental
In my Airbnb Host Review, I'll be covering how the process works and bringing up some complaints I have with this opportunity.
Overall I think this is a good way to make some extra income as long as you're in a popular area that's in demand and you're comfortable inviting strangers into your home.
If either of these are concerns, I recommend skipping this opportunity!
This site won't make you rich, but it can be some extra income each month for a space you don't use often.
---
What's it like being an Airbnb Host?
List Your Space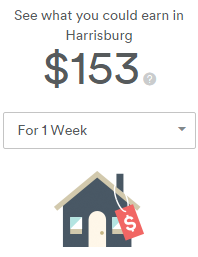 The first step to becoming a host at Airbnb is to create your listing. You first need to list lthe ocation, type of space, and how many people it will accommodate.
After, there're more details you should include such as amenities, type of bed, and detailed photos of your space.
The next step is to set your price. Based on your space information and location, Airbnb will suggest a price, but you're free to set your price, plus other fees, and discounts for longer bookings.
Booking Your Space
Once you create your space listing, the only thing you need to do is keep your schedule updated. If you receive a booking, it will automatically mark off those days, but you need to let Airbnb know if there're any days you don't want the space available for rent.
Airbnb stresses that keeping your calendar up to date for more than a month out is key to getting as many bookings as possible.
Preparing Your Space
Airbnb does have a guide that they call Hospitality Standards. Once you receive a booking for your space, you need to make sure it's clean and orderly before your guest arrives.
If you do not meet the standards or have a misleading listing, guests can make a complaint and possibly receive a refund on a portion of the rent rate.
Make sure to meet all standards and have an accurate listing to avoid all problems!
Payments
Airbnb releases payments a day after your renter arrives. There're no fees for listing, but there is a 3% booking fee taken out of your payment.
You can choose to get paid via Direct Deposit, PayPal, Bank Wire, or Prepaid Debit Card. I highly recommend using PayPal because the payments show up faster than any other option.
---
Airbnb Host Complaints
Location Based
Airbnb is location based, obviously. Anyone can post a listing on their website for free, but there's no guarantee you'll ever book anything.
Big cities have much more activity, and Airbnb is much more popular in some countries and cities. The only real way to tell if this is popular in your area is to check their website. If there're many listings in your area with bookings, it's a reasonable to assume that this could work in your area.
Safety Concerns
There's one obvious concern with being a host at Airbnb and that's safety. You'll be inviting people to your house, apartment, or whatever space you're renting.
Airbnb does do security checks on all members, but that doesn't mean there won't be problems.
My advice is if you have any safety concerns, Airbnb is probably not for you. There's no reason to go outside of your comfort zone, just skip this opportunity if you're not comfortable inviting strangers into your house.
Review System
After someone stays at your home, you'll write a review about them, and they'll do the same. There's been a bunch of press about Airbnb and the reviews that are left on their site.
For the most part, you'll see positive reviews, but you know that not all hosts or renters are that great of people.
Some media reports say that the reasoning for this is that no one wants to completely trash someone they just met, and hosts/renters can see all the reviews left and who they're from.
As a host, I guess it's a good thing that most reviews will be positive, but it's giving Airbnb some bad press, so I don't know how it will affect the company in the future.
---
Is Being an Airbnb Host A Scam?
Airbnb is not a scam; it's a legitimate way to make money renting out extra space in your home. Personally, I think that biggest concern here is inviting strangers into your home. If you're not comfortable with this in any way, I recommend skipping this opportunity. If you feel comfortable, you can make some decent income in a popular area.
I like that payments are handled through Airbnb, and they have some protection for hosts if a booking falls through.
If you'd like to learn more or to join, visit Airbnb.com to get started.
If you're like me and don't like strangers in my personal space, there're some other great ways to make an extra income online here.
If you're just interested in making money, you can learn how to build your own online business for free with My #1 Recommendation. The best part is strangers are on the other side of the computer screen!
Are you an Airbnb Host? Is it a Scam?