Future Talkers Review: Another Survey Site Scam?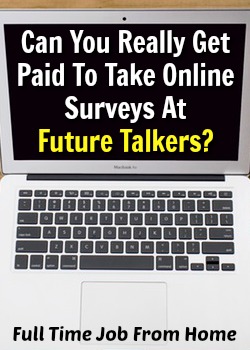 Future Talkers is a relatively new survey site that I just came across and decided to write a review. Future Talkers is open in most countries and offers online surveys and focus groups.
I have to say right away, Future Talkers is not a scam, but is it a site worth joining?
For any US readers, this is more of a site for other countries, check out the Extra Income Sites I Recommend for US extra income sites.
In this Future Talkers Review, I'll cover how to earn, how to get paid, the complaints, and if this site is legitimate.
---
Future Talkers Review
Site: Future Talkers
Type: Survey/Focus Group
Score: 70 out of 100
Verdict: Legitimate
In this Future Talkers review, I gave them an okay score and marked it legitimate. Honestly, it's an okay site, but I do like that it also offers focus groups and some occasional product testing.
The cash out amount isn't too high at roughly $9.50, and I like payments are made via PayPal.
Last Month I Made

$13,841 Online
I Bet You're Tired Of Making Pennies Online. No More BS. If You're Serious About Making A Full-Time Income Online You Need To See The TRUTH. Stop Wasting Your Time With The Next Big Thing When There's Already A Proven Method That Works!
Overall it's a decent survey site, but there're many survey sites I prefer over Future Talkers, especially for US members.
---
How Does Future Talkers Work
Joining Future Talkers is completely free and works similar to most survey sites. You'll need to join and fill out surveys that have to do with your demographics so Future Talkers can send you "projects." Projects include online surveys, focus groups, and occasional product testing.
Project invitations are sent to the email you provide when signing up. Let me make it clear that just because you receive an invitation to a project, does not mean you'll qualify, do the project, and get paid. There's always screening questions to make sure you are eligible first.
Each project will show what's required and how much the project pays.
If you qualify and fully complete the project, your earnings are added to your account balance.
---
How Does Future Talkers Pay?
The only way Future Talkers pays is through PayPal. The minimum cash out amount depends on your country. For most countries, it's roughly $9.30, so I'll just say the minimum cash out amount is around $10.
If you're not in the US, most countries pay out in their local currency. I can't find exact information on how fast payments are made, but judging from the FAQs, it's within a few days of cashing out.
They also say if you do not have PayPal they have other forms of payment available, if necessary.
---
Future Talkers Refer A Friend
Future Talkers does have a refer a friend program that can help you can use to earn more cash! You can easily share your link via social media or email.
For every friend you invite you'll earn $1.38, once they register and complete their first project (survey, focus group, etc.)
---
Earn More As A Super Talkers
If you join Future Talkers and find that you're a big fan of the surveys they send you, you can apply to be a Super Talker.
Becoming a super talker helps you receive more survey, focus group, and product testing invitations. They say that they usually send one project invitation a day to most super talkers.
---
Future Talkers Complaints
Just Extra Income
Future Talkers is what I call an "extra income" site. Don't expect to get rich doing projects with this company. If you happen to qualify for some projects you can make an extra $10-$50 a month with this site.
Have To Qualify
Just like other surveys, except for PaidViewpoint, just because you receive a survey, focus group, or product testing invitation, does not mean you'll get to complete it and get paid.
In most cases, you won't qualify for a project they send you because most companies are looking for very strict requirements. It's honestly just part of taking surveys.
Maximum Cash-Out Amount?
I have to say I haven't seen a site that has a maximum cash out amount before. It honestly doesn't matter much, but I do want you to be aware of what's going on.
In the US the minimum cash out amount is $9.38, and the maximum is $12.50. If you have $13 in earnings you can cash out $12.50, and the $.50 will still be in your account.
I'm assuming the reason for the maximum cash out is because Future Talkers can get by without/paying a small fee on payments in that range. $12.50 must be the cut off for a much higher PayPal fee. Not 100% sure on this, but that's the only reason I could think of lol.
---
Is Future Talkers A Scam?
It seems that Future Talkers is not a scam. It does pay it's members once you reach the cashout amount and request a payment. Overall it's a decent survey company, but I prefer a lot of site over Future Talkers, especially for people living in the US. Visit Extra Income Site I Recommend to learn more!
Did you know that you can make a much larger income online not taking surveys? I build websites and make money with affiliate marketing, ads, and a few other ways. You can learn how to do this for free at My #1 Recommendation!
Do you thin Future Talkers is a scam? Already a member? I'd love to hear your experience with Future Talkers in the comments below! 🙂
Summary
Reviewer
Review Date
Reviewed Item
Author Rating