11
PointClub Surveys Review: Is PointClub A Scam?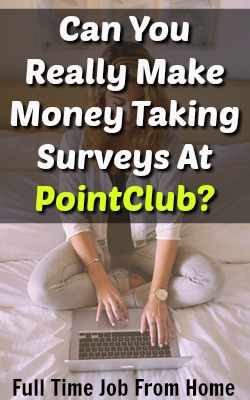 PointClub is a site that pays you to share your opinion by taking surveys. PointClub seems to be a newer site that isn't extremely popular just yet.
I decided to write a PointClub Review to see if this site is worth joining and from what I've seen it seems to be a scam-free survey site that's very modern.
In this PointClub Review, I'll cover how to earn, what rewards are available, and if this survey site is a scam!
Read Comments For Issues With Company. Highly Recommend These Sites Over PointClub. 
---
PointClub Surveys Review
Site: PointClub
Type: Surveys
Verdict: Legitimate
In this PointClub Surveys Review, I gave them a decent score and marked it legitimate. There's nothing special about this survey site, but they do pay and have a lot of reward options.
Last Month I Made

$13,841 Online
Make sure to learn how you can get started for free!
Wouldn't mind seeing a lower cash out amount than $10, but it's not too high. I did like the modern layout of the member's area and the way that the "clubhouse" is set up, makes it seem that surveys are tailored just for you.
Overall, a pretty good site to take online surveys, but I do prefer this list of extra income sites over PointClub.
---
How To Earn At PointClub
PointClub is very similar to most survey sites. It's completely free to join and once you join you'll need to fill out your profile completely. Inside the member's area, which they call the Clubhouse, you'll see a list of surveys they recommend based on the information you filled out on your profile.
It shows how long the survey will take and how many points you'll earn. You can start the survey, but you will need to qualify for the study before you can complete it and get paid.
If you don't qualify, you can start another survey and try again. If you do qualify you can complete the survey and your points are added to your account balance.
---
PointClub Rewards
PointClub has a large variety of gift card rewards available. All starting at $10 or 10,000 points. Some of the gift card options include Walmart, Home Depot, Target, Starbucks, Sears, and many restaurants.
After $10 they also have cashout options at $25, $50, and $100.
The only cash option available is PayPal, and it starts at $50 or 50,000 points.
Rewards are sent via email within 72 hours of cashing out.
---
PointClub Complaints
You Have To Qualify
If you're familiar with survey sites, you know that you have to qualify before taking a survey and getting paid. Just because PointClub has surveys they match for you, does not mean you'll be eligible for the survey.
You still have to answer some screening questions before the survey starts and you can complete the survey to get paid.
The only survey site that doesn't do this is PaidViewpoint; it's a site I highly recommend.
Rewards Start At $10, Where's PayPal?
PointClub has a wide variety of payment options starting at $10, including popular gift cards such as Amazon, Walmart, Target, and much more. The only cash option available is PayPal, but there's not a $10 or $25 option.
PayPal payments don't start until 50,000 points/$50. My favorite way to get paid by survey sites is cash, such as PayPal or Direct Deposit. With PointClub it really won't make much sense to wait for a $50 PayPal payment because it will take a very long time to reach that amount just taking surveys.
Just Extra Income
Survey sites won't make you rich or be more than a $20-$50 a month income. When you break it down, you're usually making less than minimum wage an hour from taking surveys.
Taking surveys is a legitimate way to make money online, but know it's not a huge income.
---
Is PointClub Surveys A Scam?
PointClub Surveys is not a scam, it seems to be a legitimate new survey site that pays, but there's nothing special about this site. I do have a few complaints, especially the PayPal payments not starting until $50.
Overall, it's a legitimate survey site that I don't really recommend. If you'd like to learn more or join, visit PointClub.com.
If you agree with me, here's the Extra Income sites that I Recommend.
Extra income is great, but I prefer to make a much larger income online building websites. There're so many ways to make money with a website, and the earning potential is endless. You can learn how I make money with this blog at Start A Profitable Blog.
Do you think PointClub Surveys is a scam? Let me hear your thoughts on this review in the comments below! 🙂
Summary
Reviewer
Review Date
Reviewed Item
Author Rating