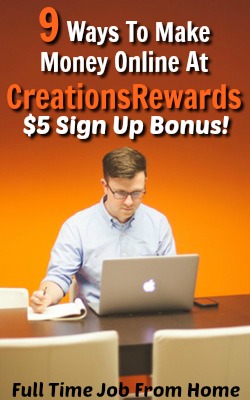 CreationsRewards is a reward site that pays you to do things like take surveys, complete offers, watch videos, and much more. It honestly has a members area that looks identical to my top rated rewards site Swagbucks.
I decided to write a review of CreationsRewards because it's an up and coming rewards site that's starting to grow, and I want to make sure it's legitimate and scam free before recommending it to my readers.
In this CreationsRewards review, I'll cover how to earn, the reward options, the complaints I have, and decided if this site's a scam!
---
CreationsRewards.Net Review

Site: CreationsRewards.Net
Type: Rewards Site
Score: 70 out of 100
Verdict: Legitimate
In this CreationsRewards.net review, I gave them an okay score but did mark them legitimate. They offer many ways to earn and have a decent amount of rewards available. As I mentioned, it reminds me a lot of my top rated rewards site, Swagbucks.
The main issue I have with this site is how long it takes to get paid. They say they're working on this, but at this time I highly recommend checking out the extra income sites that pay much faster!
Overall, a decent rewards site that needs some improvements.
---
How To Earn At CreationsRewards
Watch Videos
Most videos are under 2 minutes long and pay 1 point each. There's usually around 20-30 videos available each day to view for cash.
Take Surveys
You'll see a long list of survey providers you can take surveys with. It shows how much each survey pays beforehand. Click on the survey to begin. You'll need to qualify before you can take the survey and get paid.
Explore Websites
Basically what I call paid to visit websites or view ads. You'll earn 1-2 points for every site/ad you visit. Some require you to spend a few seconds on the page, while others require you to view a whole slideshow.
Discover Offers
They have free and paid offers provided by different companies. Free offers consist of signing up for a free site/service/mailing list and usually pay from $.25-$2. Paid offers require you to make a purchase or start a free trial (must enter credit card information) and usually pay from $2-$10.
Listen To Radio
You can get paid to listen to the radio on a 3rd party site called Radio Loyalty. You'll earn 1/2 point for every 10 minutes of listening. There's a captcha every 10 minutes so you can't just leave it on all day.
Refer Friends
You'll earn 10% of the lifetime earnings of the friends you refer to CreationsRewardz. A super easy way to maximize your earnings without making points yourself!
Shop
Earn cash back for your online shopping at over 700 online stores. Most stores pay 2-8 points per dollar spent, but some pay more.
---
CreationsRewards Rewards
CreationsRewards has a few different reward options such as Amazon, Paypal, Walmart, Target, and Starbucks gift cards.
Most rewards start at the $5 amount but do cost different point values. For example, 1,000 points will get you a $5 Amazon gift card, but it costs 1020 points to receive a $5 PayPal payment.
Gift cards continue up to $10, $25, and $50 amounts and usually cost fewer points than the $5 gift card ($5 might be 1,000 while $10 might be 1,900.)
Once you request a payout, it can take between 8-12 weeks to receive payment. Yikes!
---
How To Earn More At CreationsRewards
Promo Codes
One easy way to earn more at CreationsRewards is by entering in Promo codes. You can find promo codes inside the member's area, social media, and in emails. Enter the promo code to earn 5-10 points.
Daily Goal
Every day they have a bonus called the Daily Goal. It does change daily, but an example is earning 50 points today and receive a 10 point bonus. It's an easy way to maximize your earnings each day at CreationsRewards.
---
CreationsRewards Complaints
$5 Sign Up Bonus?
One thing that jumped out at me right away is CreationsRewards offers a $5 sign up bonus, but there's a catch. To receive the $5 bonus you'll need to earn 5,000 points in your first 60 days of joining.
To put that into perspective, it's equivalent to earning $25 in gift cards before you get the $5 sign up bonus.
It's BS, but that's how it works.
Rewards System
I have a few major complaints with the rewards system. First, some $5 gift cards cost 1,000 points and some cost up to 1,200 points. I see this a lot with reward sites, but I wish they all cost the same amount.
The next complaint is that it takes 8-12 weeks for them to process your reward! That means you'll at least be waiting about two months to get paid.
The last complaint is with how rewards are delivered. PayPal and Amazon are done via email, which is great, but all other reward options are physical gift cards that are mailed to you!
---
Is CreationsRewards A Scam?
CreationsRewards is not a scam, it's a legitimate rewards site that does pay its members, but you'll just be waiting a long time for payments. I prefer some other rewards sites over CreationsRewards; hopefully, they'll make some improvements to their rewards system, and I can change my opinion.
If you're set on joining, you can visit CreationsRewards.Net to get started!
Reward sites and extra income are great; I use them all the time, but you can make a much larger income with a different method. I prefer to start websites and blogs. I can earn money with affiliate marketing, ads, and many other ways. You can learn more about the process for free at My #1 Recommendation!
Do you think CreationsRewards is a scam? Let me hear your thoughts on this review in the comments below! 🙂
Summary
Reviewer
Review Date
Reviewed Item
Author Rating