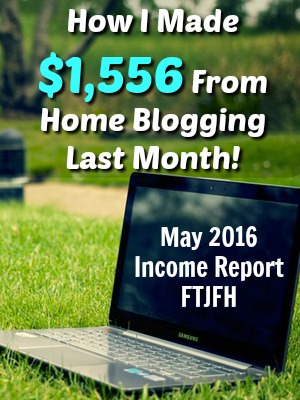 It's time for another blog income report; I'll be sharing my income from May 2016. I just started doing this last month so check out April's Income if you missed it.
My #1 Recommendation, is building websites/blogs and making money from them using affiliate marketing and other ways. On this page, I'll show you where my income comes from and how my income has changed over the last few months.
Let me first make a few things clear. First, this is my income from this blog, Full-Time Job From Home; I won't include any income from other sites I run. Second, this is the money I made referring people to sites. You'll see some extra income sites that I made $100 or more with. This income is from referring people and not taking surveys, watching videos, etc. Third, I started this blog two years ago and have been creating content for most of that time frame. It took me a few months to start making money and a lot of effort to reach this income.
If you'd like to learn how I made this happen, visit Start A Profitable Blog.
Now that we have that out of the way, here's my income for May 2016!
---
FTJFH May 2016 Income Report
Here's the income made from this site, Full-Time Job From Home, in May 2016. I did my best to explain exactly where the income is coming from:
Affiliate Income
Wealthy Affiliate:  $385 (My #1 Recommendation, Website Building Training)
Panthera Network: $584.65 (CPA Network Dealing With Saving Money/Making Money Offers)
Sites I Promote Through Panthera Network:
Other Affiliate Income:
Ibotta : $190 (Cash Back Shopping App)
Ebates : $80 (Cash Back Shopping Website)
CashCrate : $26.99 (Rewards Site)
PaidViewpoint : $34.30 (My Favorite Survey Site)
Instant Cash Sweepstakes : $7 (My Favorite Poll Site)
Swagbucks : $25 (Rewards Site)
Clixsense : $16 (Rewards Site)
Qmee : $8.37 (Paid To Search the Internet)
1Q : $33.25 (Paid To Receive Text Messages)
Earnably : $2 (Rewards Site)
Feature Points : $3 (Paid To Download Apps)
Total Affiliate Income: $

1,399.87
Ad Revenue
Google Adsense : $38.07
Media.net : $89.24
YouTube : $28.77
Total Ad Revenue:

$156.08
Total May 2016 Income: $1,556
Start Making Money Blogging For Free!
---
Changes From Last Months
I earned $516 more than last month, plus I had a decent traffic increase. From what I've found affiliate income doesn't always increase when traffic and page views do, but ad revenue usually reflects the traffic increase. In this case, both income sources increased.
April 2016 Income: $1,040.00
I'm pretty happy with the change in just one months time, and I think June is going to be a great month!
---
Goals For June 2016
The way I've been showing affiliate income is when I get paid, for example, if I earn $15 in one month and don't cash out, I won't show that income here. In June I know I'll be getting a pretty large affiliate payment from Fusion Cash, so I took that into consideration.
June 2016 Goal is $2,000!
---
Get Started Making Money Blogging
If you'd like to learn more about how making money with a blog works or how to start a blog visit, Start A Profitable Blog.
I'll show you how the process works, and recommend a site called Wealthy Affiliate. You can get started for completely free, and I'll be there to help you along the way!
If you have any questions about this income report or would just like to chat, make sure to leave comments below! 🙂