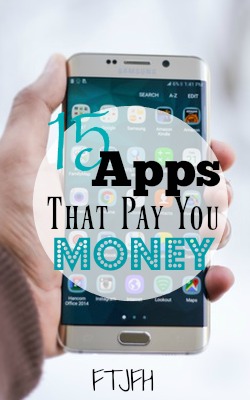 If you're here you're looking for apps that pay you money. I have compiled a list of 15 different scam free and legit mobile apps that can help you make money from your mobile device. Now these apps range from getting cash back while shopping to getting paid to download other apps, but they are all unique great ways to earn money from your mobile device.
Making money from your mobile device is a rapidly growing field, so I expect this list to grow larger and larger the next few years, Making money through your mobile device is completely legit as long as you find the right opportunities, which luckily for you I have already done!
Please keep in mind that these apps are just extra income apps, meaning you should expect an income of $10-$20 with these apps. If you're looking to make a large full-time income online check out My #1 Recommendation, it's how I made over $13,000 online last month!
Most of these apps are available anywhere and on basically any smartphone, but I have listed the requirements out to the side on each app. You can see the best 15 Apps That Pay You Money listed below in no particular order.
---
15 Apps That Pay You Money
2019 Update
Here's a list of some of the new apps I really like to use in 2019!
Dosh – Read Review – Automatic Cash Back
Drop – Read Review – Automatic Cash Back
GetUpSide – Read Review – Gas Cash Back
CoinOut – Read Review – Scan Receipts
---
1) Feature Points
Feature Points is an app that pays you to download other apps. It's a pretty simple process, but you choose an app you want to download from the list on TapBooty. It redirects to the app store where you download the app. Once the app is installed, open the app and you will receive credit. Learn more by visiting my Feature Points Review.

---
2) Viggle: Apple, Android, And Windows
Viggle is an app that pays you for listening to music and watching videos on your mobile device. Once you sign up you can sync your music with this app and actually get paid for listening too it. You are also given a list of videos and can actually watch live TV to earn cash on your mobile device. Learn More About Viggle

---
3) Ibotta: Apple & Android
Ibotta is a free app that lets you earn cash for you're in store shopping. Sign up for Ibotta and use the app before you go to the store to see which items they are giving you cash back on. Go to the store and pick up a few items on their list, take a clear picture of your receipt proving that you actually bought the products and you get paid by PayPal. Learn More About Ibotta

---
4) Checkout 51: Apple & Android
Checkout 51 is extremely similar to Ibotta, but this is a great alternative to people who don't have a smart phone, there is still an app that works, but you can also see all the items and can upload your receipt via their website on your computer. Another great advantage of Checkout51 over Ibotta is you can buy the product at any store that gives you a receipt on Ibotta only certain items are available at certain stores. Learn more about Checkout 51

---
5) Field Agent: Apple & Android
Field Agent is an app that let's you complete simple jobs within local stores. You download the app and find jobs near you. Most jobs are easy like check a price of a product at Wal-Mart. You just go to the store take a picture of the price tag, upload the photo and get paid. Most jobs pay anywhere from $3-$15 and are all pretty simple to complete. Learn More About Field Agent.

---
6) Gig Walk: Apple & Android
GigWalk is very similar to Field Agent. Basically you use this app to find local jobs near you. Most of the jobs are very easy and pay pretty well. The big difference with GigWalk is you have to apply to a job before you complete it and the owner of the job has to approve your work. All this does is slow down the process a bit, but still a great app. Learn More About Gig Walk

---
7) Rewardable: Apple & Android
Rewardable is a bit of a combination of a few apps already mentioned on this list. Rewardable is a lot like Ibotta and Gig Walk. The whole idea is for you to make money while you shop. You can earn by getting cash back on your shopping like Ibotta and also by completing simple jobs like with GigWalk. Learn More About Rewardable

---
8) IPoll: Apple and Android
IPoll is a survey site that makes it easy to take surveys from your phone. With the app they also allow you to make money by taking simple surveys about local stores. Visit a store listed on the IPoll app. Check in and complete a simple survey using your mobile device to earn some cash. Learn More About Ipoll.

---
9) SlideJoy: Android Only
SlideJoy is only available to Android users at this time, but this app allows you to earn money by unlocking your phone. Every time you go to unlock your phone, instead of viewing the lock screen you're shown and ad. You can choose to view the ad in your browser by swiping left or skip the ad by swiping right. No matter what you choose you get paid the same amount for viewing the ad. Learn more about SlideJoy.

---
10) 1Q: Apple & Android
1Q is a very cool app that pays you for taking 1 question, multiple question polls. Basically you sign up and download the app. 1Q will send you polls directly to your mobile app or by text message. These polls pay anywhere from $.25-$.50 and it goes instantly to your PayPal account. Learn More About 1Q. 

---
11) Qustodian: Available In UK & Spain
At this time Qustodian is not available in the US, but should be anytime soon. If you do live in the UK or Spain you can take advantage of this opportunity. Qustodian pays you for viewing ads on your mobile phone. All you do is download the app and look at ads that interest you and you get paid. This is also a great way to find deals from your favorite companies. Learn more about Qustodian. 

---
12) Ipinion: Apple & Android
Ipinion is an app that will let you earn money through sharing your opinion on your mobile device. This is not a very high-ranking app, but it is one of the few apps that let you take surveys within the app itself. If you're looking to take surveys on a mobile device I would highly recommend Paid Viewpoint, They don't have an app, but it's still better than Ipinion. Learn More About Paid Viewpoint. Learn More About Ipinion. 
---
13) Receipt Hog: Apple & Android
Receipt Hog is an app that will pay you cash back for purchases at grocery and major retail stores. This app is great because it pays you based on how much you spent and not based on what items you actually buy. All you need to do is get your receipt, upload a photo, and get paid paints that can be redeemed by PayPal or Gift Certificates. Learn More About Receipt Hog.

---
14) App Trailers: Apple & Android
App Trailers is an app that will pay you for watching short videos on your mobile device. You can watch app trailers, movie trailers, music videos, and other popular videos. You can get paid by PayPal and other gift cards. This is a great way to earn some extra cash just by watching videos on your mobile device. Learn More About App Trailers. 

---
15) Pact: Apple & Android
Pact is more a fitness app, but it's an extremely different way to keep up with your fitness goals and make money on your mobile device. Basically you set you goals for every week and log workouts and healthy eating. If you meet your goals you get paid, and if you don't meet your goals then you have to pay people who did. Learn More About Pact.
---
Thank you for reading my post on 15 Apps That Will Pay you money. I know with the help of this list you can find a few different apps that will earn you some extra cash each month. Making money with your mobile device is a relatively new area, so continue to check back often for new apps that can increase your mobile earnings.
If you would like to learn how I make 95% of my online income by helping people like you find ways to make money visit Start Your Own Online Business. 
Thanks again for reading and hopefully you let me help you make money online and on your mobile device by taking advantage of the list of best 15 Apps That  Pay You Money.