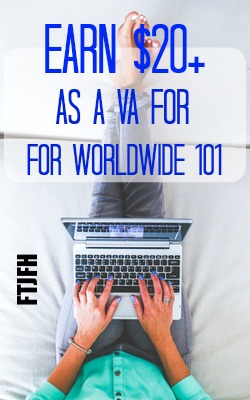 Worldwide 101 is a company that hires Virtual Assistants and matches them with fitting clients. I came across this company a few months back and was waiting to hear back for some information about payments and salary for Worldwide 101.
Now that I've got that information I thought it's a great time to write a Worldwide 101 job review. One thing I want to be upfront about is they require at least 3 years of experience. So if you're a newbie head on over to Work At Home Jobs and find a site that doesn't require experience.
If you have some experience you're going to want to stick around and read the rest of this review because Worldwide 101 seems like a great company to work with!
Make sure to check out 30 days or less to VA Success! It's an awesome course that teaches you how to become a success Virtual Assistant! For a limited time, get a copy of their free ebook: 150 Services You Can Sell As a VA!
Working at home as a VA is great, but I prefer a much more passive way of earning a full-time income online, check out My #1 Recommendation to learn how I made over $13,000 online last month!
---
Worldwide 101 Requirements

Worldwide 101 has some strict requirements, different than most of the sites I review. They do not hire beginners. They're looking for VAs that have at least 3 years of experience in the field, has worked for a reputable company, and has references within the industry. Also fluent in written and spoken English.
The technical requirements include a computer, high-speed internet, webcam, and headset. Basically all industry standard.
Other then the requirements above here are some things they are looking for in employees:
Can Do Attitude
Skills Within Your Industry
Great Time Management
Quick Learner
Friendly
Reliable and Trustworthy
---
Worldwide 101 Application Process
You can apply at any time on their website. It's a pretty lengthy application process, but this is a pretty great VA job. The process starts by filling out an application. This includes basic personal information, skills, work history, and of course why they should hire you.
According to their website, if they feel like you'd be a good fit they will respond within 14 days of your application. They do say that most likely you won't hear back if they're not interested.
If they're interested you will be invited to a video interview via Skype. From what I can see there will be at least two video interviews and a skills test before you're accepted as an employee.
Once you're accepted you'll go through a few day orientation program and will begin work after it's complete.
---
Worldwide 101 Salary (How Much Do They Pay)
I really struggled to find the information for this section, but finally got a response. I've been told that most people start out at $20 an hour, with most workers falling in the $20-$25 range. Some people start higher based on specific skills and previous work history.
There is room for promotion and the longer you work for the company higher paying positions will open up.
They failed to answer my other question, but from what I can see they pay by PayPal monthly.
You'll be an independent contractor for Worldwide 101, this means you're responsible for taxes out of your paycheck if you make $600 with this company in a given tax year.
---
Worldwide 101 Schedule
The schedule relies heavily on the client that you'll be working for. When you're assigned, a clients hours will be decided and agreed upon. Worldwide 101 does say that most members work 25-30 hours a week, and they do require you to be available for at least 20 hours a week.
This job could be part time or full time, but it really depends on what you're looking for and what your client is needing.
---
Worldwide 101 Job Information
Here is a bit more information about the VA job with Worldwide 101 that doesn't fit in any other category.
Is it open outside the US?
As you probably guessed based on the name, Worldwide 101 is available outside the US. There is a full list on their website which I'm not going to repeat here.
What do current employees say about the work?
From what I can see, current employees are very satisfied with the work. One because once you're accepted Worldwide 101 matches you with jobs. Meaning you don't have to waste your time on freelance sites trying to find a long-term position.
If your client doesn't need your services anymore you'll be matched with another client and work will continue.
I can't find any real negative feedback so I have to assume that workers are pretty happy with Worldwide 101!
---
Is Worldwide 101 Legit?
There is no doubt that Worldwide 101 is completely legit. If you're an experienced Virtual Assistant you will be very happy working for this company. The big issue is going to be getting accepted. On their site, they say they receive over 100 applications a week so there is plenty of competition and limited positions.
I will say this is one of the higher paying sites that I've reviewed, but other sites accepted beginners so that's understandable.
Overall I think Worldwide 101 is a great place to work and if you have the experience you should try to apply. To learn more or to start the application process visit their website at Worldwide 101.
New to working as a VA? Make sure to check out the 30 days or less to VA Success. It's an awesome course that will teach you everything you need to know! For a limited time, get a copy of their free ebook: 150 Services You Can Sell As a VA!
If you don't have the experience I suggest not wasting your time. Check out some of the other VA jobs on this list that accept newbies. If you're serious about making a full-time income online, check out My #1 Recommendation to learn how I made over $13,000 online last month!
If you didn't find what you were looking for here, check out these helpful links to other ways to make money from home:
How I Made Over $13,000 Online Last Month
Extra Income Sites I Use and Recommend
Work From Home Jobs Hiring Now
Know more about working for Worldwide 101? Something missing out of this Worldwide 101 Review? Let me hear more in the comments section below!
Summary
Reviewer
Review Date
Reviewed Item
Author Rating