CopyPress Review: How Much Does CopyPress Pay?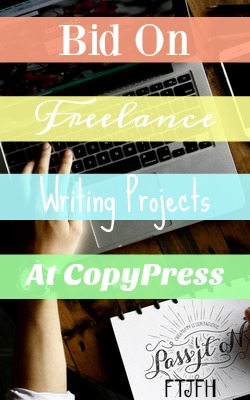 If you're interested in becoming a freelance writer you're going to love this CopyPress Review. Within this review, I'm going to cover exactly what it takes to become a writer for CopyPress, what type of work you will be doing, and how much does CopyPress Pay.
From what I've found CopyPress has a pretty good reputation and most writers are happy with their work, the awesome thing about this site is work is assigned to you so no more bidding on jobs!
Let's jump right into this review and learn more about becoming a writer for CopyPress.
Make Sure To Check out Write Your Way To Your First 1K! It's an Awesome course that will teach you everything you need to know to become a successful Freelance Writer!
---
CopyPress Review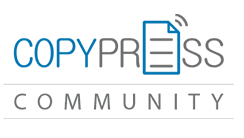 Website: CopyPress.com
Price: Free To Join
Score: 90 Out of 100
Verdict: Scam Free
In this CopyPress Review, I gave them a really good score and marked it scam free. This is a legitimate company to work from home as a freelance writer. The thing I really liked about this job is that work is assigned to you and you won't have to bid on jobs to get paid to write.
For the most part current CopyPress writers are satisfied with the work and pay rate, but of course no company is perfect. There are some things I don't like about the company, but overall this is a great site to look into if you want to get paid to write from home.
---
How Does CopyPress Work?
As a CopyPress writer you will not really be doing freelance work in the sense that you have to bid on jobs or post your writing for sale.
Once you become a writer you will be assigned writing jobs within larger projects for big companies. Although the work will actually be for the company hiring CopyPress you will report to an editor that works for CopyPress.
Along with general writing they offer speciality writing, basically to become one of them you will need to be an expert within a specific niche and be able to provide past work proving so.
If writing isn't your thing CopyPress also hires programmers, application designers, and infographics designers. I won't be covering those in this review, but know that they do hire these positions at this time as well.
---
CopyPress Requirements
As mentioned there are two types of writers at CopyPress and each one has different requirements, but both will need the following things. A good writer, of course, along with excellent proofreading skills. Of course, you also need a computer with high-speed internet access. They also want you to be able to access a grammar checker which, if you have internet you're good here.
For the speciality writers, you will need to be an expert in some field. You will need to prove your expertise by completing a test and providing examples of your work within the field.
---
How Much Does CopyPress Pay?
There is no way of giving you an exact amount of what you will paid, because payment depends on the job and company that you're working for. I will say that a few people who have written for them in the past felt that they were under paid, but then others are happy with the wage.
CopyPress makes payments two times a month, on the 1st and 15th. Looks like payments can be made through PayPal or Direct Deposit.
---
CopyPress Concerns and Complaints
Mixed Emotions On Pay
I know I was in the dark on the exact amount CopyPress writers are making, so if you have some additional information please share!
But from some forums it seems to be split, some are very happy with how much they are making and others feel like they are not getting paid what they're worth.
Without hearing a figure I can't really comment on my thoughts about this, but just know that some writers are not happy with the wage.
Report To A Boss
I know, this isn't really a major concern for most because it is a work from home job. But I feel like a lot of people who decided to jump into the work from home world are looking to ditch the 9-5 along with their boss.
With CopyPress you will always be reporting to someone higher up. If your okay with this CopyPress and a lot of my other work from home jobs are a good fit for you, but if not check out my #1 recommendation. 
---
Is CopyPress Legit Or A Scam?
CopyPress is not a scam, it's completely legit. Overall I think it's a pretty good site to work at home as a writer. I really like the fact that work is assigned to you and you don't have to bid on jobs like some other freelance writing sites. It sounds to me like once you're in your guaranteed at least a little bit of work.
There were some complaints about wage from some writers, but I honestly don't know the wage so can't comment. I do feel like there are always people that complain about wage at every job so take that with a grain of salt.
If you'd like to learn more or to apply visit their website.
Want To learn how to make money as a freelance writer? Check out Write Your Way To Your First 1K!
If you aren't interested in CopyPress you may want to check out some of my other work from home jobs or maybe just some extra income opportunities.
For you real go-getters out there check out my #1 recommendation for making money online.
Have more information for this CopyPress Review? More Details on How Much CopyPress Pays? I'd love to hear what you know in the comments!