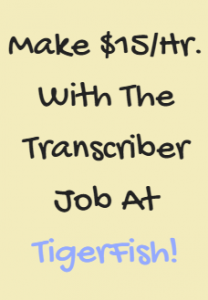 One of the best sites for beginning transcribers is TigerFish. TigerFish is a company that occasionally has work at home transcription job openings. There seems to be some buzz about this company, so I decided to write a review to figure out if this sites a scam and to give you some information about the job.
From what I found TigerFish seems to be a great company that a beginning transcriber may be interested in. If you're a beginner, check out the course at TranscribeAnywhere. The course will teach you how to transcribe and how to find high-paying transcription jobs. You can also sign up for their Free 7-day course just to make sure Transcription is right for you!
Transcription is a legitimate way to make money online, but it's not the easiest skill to pick up, if transcription isn't for you, check out My #1 Recommendation, it's how I made over $13,000 online last month!
Let's jump into this TigerFish Review and learn more about the requirements, type of work, and how much this transcription job pays!
---
TigerFish Requirements
As mentioned, TigerFish does hire transcribers with no experience. The only real requirements are over 18, and you must be in the US.
You'll need a Windows computer, high-speed internet, and a phone so they can contact you if needed. Also, there is a program that you'll need to buy if hired to do the work. From what I can see it's around $250, I took a look at eBay and other auction sites and can't find it any cheaper, unfortunately. They also recommend having a high-quality headset and foot pedal.
---
TigerFish Application Process
The TigerFish Application is a bit different than most sites. Usually, the application and files are built into the site, but not in this case. First, you'll want to check out the TigerFish styling guide. This is how they want their transcription to be laid out. You'll want to pay close attention to this and follow it exactly.
Next, you'll need to transcribe three different audio files that you download off their website. You'll need to download a free program to listen to the audio. Each file is around 5 minutes long and is a good example of a typical audio file that you'll be transcribing when hired.
You need to transcribe all three audio files and then send them to an email that they provide. They also ask for you to include how long it took to transcribe each audio file.
In the email, they ask for any experience you have and education details.
From what I can see they don't always respond, if you're accepted you can expect to hear back within a few weeks, but if you don't get hired you may never hear anything back.
---
Transcribing at TigerFish
If you're familiar with other transcription sites, there isn't any new information here. Once hired TigerFish has a list of audio files that need to be transcribed. You can log in at any time and begin transcribing files.
There isn't a guarantee that you'll have work waiting for you. Sometimes they have a lot of files available and other times just a few. Just like any business they go through slow stages, so this most likely isn't a job where you can work full time unless you're a member of multiple transcription sites.
---
How Much Does TigerFish Pay?
I could not find any information about pay on the TigerFish website, but there is a lot of information in forums. From what I can see you're paid around $.005 per word transcribed. Which is pretty typical for most sites that hire beginners.
Within the forum, one person says that she can make up to $15 an hour, but most likely she is pretty good at transcribing. I'd say most beginners will be around $8-$10 an hour until you improve and can transcribe faster.
---
Is TigerFish A Scam?
TigerFish Transcription is not a scam; they're a very reputable company that hires and pays its workers. I like that they accept beginners, and the going rate is pretty standard for a site that hires beginners.
I'm not a huge fan of having to buy a product to transcribe with them. It's a pretty big investment for someone just starting to transcribe. Despite the initial investment everything in the forums seem to be positive, and current workers are pretty happy with the company.
I'd say TigerFish is a perfect company for someone looking to gain experience in transcription. To learn more or start the application process visit the jobs page at TigerFish.
If you have any interest in transcribing from home, make sure to check out the course at TranscribeAnywhere. The course will teach you how to transcribe and how to find high-paying transcription jobs. You can also sign up for their Free 7-day course just to make sure Transcription is right for you!
TigerFish isn't the only company that hires beginners. To see some other transcription sites visit Work At Home Jobs I Recommend.
My job is to provide you with different ways to make money online, some of you might not be interested in transcription. To see some other ways to make money online visit Extra Online Income Sites. Of course, if you'd like to see how I work from home, check out Start Your Own Online Business, I made over $13,000 last month using this method!
Interested in TigerFish? Have more information to add to this review? Let me hear your thoughts about the transcription job at TigerFish in the comments below!