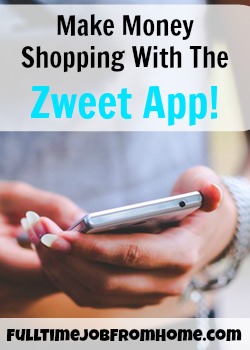 Zweet is an app that pays you to shop. It's available on iPhone and Android smartphones, but is only available in Canada at this time! Now Available in US Too!
I decided to write a Zweet App Review because there's word it will be available in the United States shortly and I'm sure people will be wondering if it's legitimate. Personally, I prefer Ibotta so if you're in the US go ahead and check it out.
In this Zweet App Review I'll cover how it works, how you're paid, the complaints I have, and answer is this app a scam!
---
Zweet App Review
App: Zweet

Price: Free
Score: 78 out of 100
Verdict: Legitimate 
In this Zweet app review, I gave them a decent score and marked it legitimate. Overall it's a decent app that pays you to purchase certain products at the grocery store. If you check the app store you'll see that it's one star and all reviews are negative, but all the reviews just say they didn't make it clear it's not available in the US.
I feel once it's available in the US there will be many more positive reviews. With that being said, I don't recommend Zweet. I prefer Ibotta and if you're in the US Zweet is not available, so make sure to check it out.
---
How Does Zweet Work?
1) Join and Earn $1 For Signing Up
The first step to getting started earning cash back on your shopping is to join Zweet. You can do so by downloading the app on your Apple or Android mobile device of by visiting Zweet.com. It's incredibly easy to join, and you'll be ready to earn within a few minutes.
2) Find Available Cashback Offers
Once you get inside the app, you'll see a full list of items you can buy for cash back. Pretty much all the products are grocery items. You'll find generic offers like purchase a gallon of milk and brand specific offers like buy a box of Glad trash bags.

Most of the generic offers pay .25-.50 CAD. The brand specific offers usually pay more ranging from .50-5 CAD.
3) Purchase Products In Store
The next step is to go to the store and buy the products you can earn cash back on. You can shop at any store that gives you a printed itemized receipt.
Make sure to get a receipt when you check out. The receipt needs to have the store name, date, store address, how much you spent, and itemized list.
Pretty much any store but mom and pop shops give you an itemized receipt, so this should not be much of an issue.
4) Upload Receipt
Once you're done shopping it's time to upload your receipt. You can quickly take a picture of your receipt inside the app; you can also just scan the barcode that's on some receipts.
Make sure to take a picture of the full receipt and include all the required information in the image. It's completely fine to take multiple pictures if you have a long receipt.
5) Cash Out Your Earnings
Once you upload your receipt, it will be approved, and your earnings will be added to your account. This process could take up to 48 hours, but it's usually just a few hours. Once you earn $20, you can request a mailed check for your payment.
---
How Does Zweet Pay?
At this time Zweet only pays via check. You'll need to have at least $20 in your account to cash out. You can cash out at any time. Your check will arrive within 10-15 days after cashing out.
Occasionally some products will also earn you Zweet points. You can exchange these points for gift cards.
*I'm assuming once this become available in the US there will be more payment options available, hopefully, PayPal.
---
Zweet Refer A Friend Program
Zweet does offer a referral program that can help you earn more. Zweet lets you invite your friends via text, social media, and a link to post on your website.
You'll earn $2 for every friend you invite once they complete their first receipt. As a bonus, they'll also receive $1 for joining through you.
---
Zweet App Complaints
Payment System
I have two complaints with the payment system. First I wish that they offered other ways to get paid. PayPal or Direct Deposit would be great because payments are much faster than a mailed check.
The next issue is that the cash out amount is $20, which is a little too high in my opinion. It's possible to reach this each month, but I wish you could cash out your earnings much sooner.
Not Many Offers
If you happen to download this app and live in the US, you won't see any offers. But from what I've heard there're not many cash back offers for Canadians either. It seems that most of the offers are extremely generic, like $.25 to buy a carton of eggs or milk.
You can still earn some extra cash with these offers, but the offers that pay over a $1 are usually brand specific. Since this app isn't super popular, there're not many brand specific offers. It isn't a huge deal since there's still other ways to earn, but it can limit earnings.
---
Is the Zweet App A Scam?
The Zweet app is not a scam; it's a legitimate way to earn money shopping. As I mentioned, this app is only available in Canada at this time. Once it becomes available in the US, I think it will become much more popular and have more offers available.
I wish the payment system were better, but it's a pretty good app overall. If you'd like to learn more or to join, visit Zweet.com to get started.
Personally, I prefer Ibotta; it's a much more popular app so there're tons of offers and it's available in the US. I highly recommend checking out my Ibotta Review.
If getting paid to grocery shop isn't for you, you can see some other great ways to earn an extra income online that I highly recommend.
If you're interested in making a large online income, take a look at My #1 Recommendation. It's how I work at home as my own boss, and it's available in every country!
Thanks for reading my Zweet App Review. Do you think this app is a scam?
Summary
Reviewer
Review Date
Reviewed Item
Author Rating