I recently came across a super cool app called the Panel App and thought I'd write a review. This app lets you download the app and earn points towards sweepstakes and gift cards just for leaving the app running in the background.
This is possible because companies are interested in where you go frequently. Based on your location you might even get a survey to answer that allows you to earn more points. This won't be a huge income, but you can easily make $5-$10 a month with this passive income app.
Make sure to check out the other Extra Income Sites That I Use!
The Panel app will not make you rich, but it is passive income, if you're interested in making a full-time passive income, check out My #1 Recommendation, it's how I made over $13,000 online last month.
In this Panel App Review, I'll cover how it works, how to earn, how you're paid, and answer is it a scam or a legitimate way to make money.
---
Panel App Review

App: Panel App
Price: Free To Join
Verdict: Legitimate
In this Panel App Review, I gave them a good score and marked it legitimate. I'm a huge fan of passive income, with this app all you need to do is spend 5 minutes up front, and you'll earn forever.
It's not going to be a huge income, but if you invite a few friends, you could put together a $10-$20 monthly income.
There're some privacy concerns, but overall it's a great app to earn some extra passive income.
---
How Does The Panel App Work?
1) Download The App & Join A Panel
The first step is to download the Panel App. You can do so by visiting PanelApp.com. Once you join, you'll see a list of available panels.
2) Fill Out the Required Information
Once you join a panel, you'll have to fill in a bit of information, but it only takes a few seconds to complete. Once you're done, you'll earn points every day you have the app installed.
3) Take Surveys & Invite Friends
You'll be earning points every day you have the app installed, but you can earn more points by inviting your friends and taking surveys. Easily share you link with your friends to earn 10% of their earnings. Occasionally you'll get surveys based on your location; these are a great easy way to earn some more points.
4) Get Your Cash
Once you've built up enough points you can cash out your earnings via PayPal or Amazon gift cards starting at $1
---
How Much Does The Panel App Pay?
Now the payment amount depends on the Panel that you end up in, but as a general rule, you'll earn 1,000 points a month for keeping the app installed, but some panels do pay more. You can exchange points for what they call Guaranteed Rewards. Amazon and PayPal gift cards are available both starting at $1 (1,000 points.)
They also have sweepstakes drawings. The drawings are usually for $5, $10, or $25 gift cards. They also have some product sweepstakes as well. It does cost points to enter sweepstakes, but most are 5-25 points which is less than you earn in a day.
If you cash out for a guaranteed gift card, it will be delivered to your email the following Monday. Sweepstakes drawings pay a few days after you win.
PayPal is no longer available
---
Panel App Payment Proof
Here's proof that the Panel App pays. I received a $25 Amazon gift card to my email: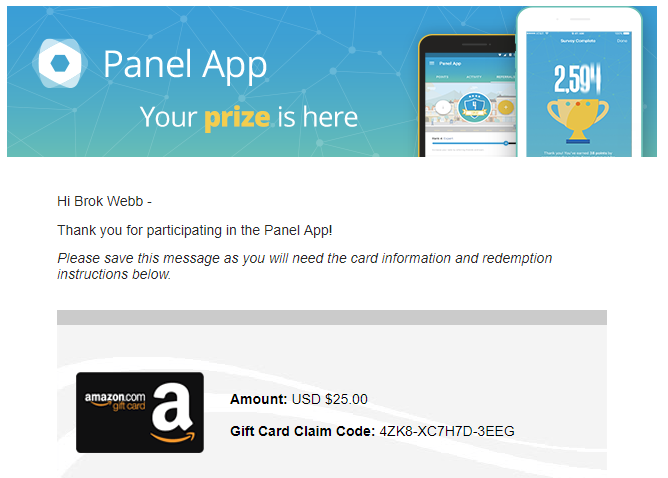 ---
How To Earn More With The Panel App?
The best way to earn more with the Panel App is by inviting friends. They have a referral program that's incredibly easy to use. You can invite friends by email, text, and on Facebook directly in the app. You can also copy your referral link and post it on your website if you have one.
You'll earn 10% of all your referrals earnings and 5% of their referrals earnings.
It does say there's a limit of 1,000 direct referrals, but most won't come close to reaching that limit. It also says that referrals and their earnings are updated each night, so there's a bit of a delay.
---
Panel App Complaints and Concerns
Obviously Privacy
The biggest concern with this app is going to be privacy. In their FAQs, they do go into detail on exactly what they track and who gets to see that information.
From what I've seen there haven't been any complaints about issues with privacy. But the app will be tracking your location.
Personally, I have tons of apps that do the same thing, you might too and not even know it. I'd say if privacy is any concern to you, just don't use the app and you'll avoid all problems. If privacy is a concern, check out these other Extra Income Sites.
Small Income
You can't complain since all you have to do is set up the app one time and let it be, but this won't be a big income. If you invite some friends or win some Sweepstakes, you can earn more, but a $5-$15 monthly income is what you'll  be looking at with this app. It's passive income so to me it's worth the few bucks.
Extra Data Charges?
A few years back when I didn't have unlimited data, I used an app that did some tracking. It wasn't location tracking; it was tracking app usage. I had some additional charges on my phone bill because the app was using data.
I'm not for sure on the exact details when it comes to the Panel App, but just know you may have issues if you don't have unlimited or a significant amount of data.
---
Is the Panel App A Scam or Does It Work?
The Panel App is not a scam; this app has paid me a few times.
There're some obvious privacy concerns with this app, but most of us already have apps that track location either when using the app or all the time.
It's not going to be a huge income, but it's passive income, might as well earn a few extra bucks each month by setting up the app one time.
If you'd like to learn more or to join visit, PanelApp.com to get started.
If privacy is a concern, I have some other options. If you'd like to learn how to make a large income, check out My #1 Recommendation. If you're happy with a small supplementary income, see the Extra Income Sites I recommend.
Do you think the Panel App's A Scam? 
Summary
Reviewer
Review Date
Reviewed Item
Author Rating